Mobile Trader (MT) is a mobile trading and portfolio management app for Apple and Android devices specifically tailored to the needs of our clients. Featuring a user-friendly interface, MT seamlessly integrates with RJO's Web OE and Vantage trading platforms to offer real-time trading and position management while providing detailed views into an account's activity.
MT makes it easy to stay abreast of the markets from any location and ensures trading capability is always within reach. MT uses your current WebOE login for access. To request a login for WebOE, please complete the registration form and we will contact you with details.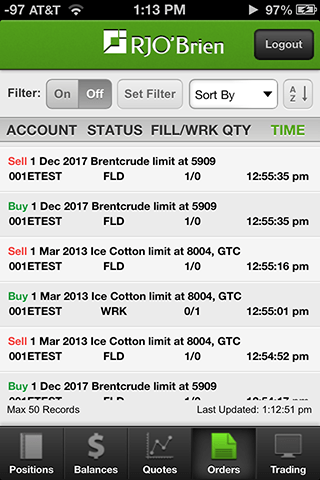 Key Features
Positions

 – View positions in real time with marked-to-market account details, allowing you to manage risk from anywhere.

Balances

 – Monitor real time account balances on the go, so you can always be up to date on your portfolio.

Quotes

 – Access real time and delayed quote data on your phone, so you can always stay on top of your markets.

Orders

 – Share the same order book as your RJO Vantage or WebOE login, giving you seamless integration for order management between home, office, and the road.

Trading

 – Execute futures and option trades with ease on the intuitive trading screen, designed to mimic the feel of order entry on WebOE and Vantage.

Login

 – Feel protected with 128-bit SSL encryption for all data communication, and automatic session expiration that locks you out with no activity.
Introduction to Agricultural Options   Introduction_to_Grain_Oilseed_and_Livestock_Options.pdf AN INTRODUCTION TO FUTURES AND OPTIONS The Birth of Futures In the Beginning In the mid-1840s, Chicago...
Contact
Get In Touch
Capitol Commodity Hedging Services, Inc
3905 Vincennes Road Suite 303
Indianapolis
IN 46268
1-800-876-8050
317-848-8050