Pelosi-Mnuchin stimulus talks plod along as today's goal-date arrives
Markets wait to see if Trump-Biden debate shifts the polls

Pelosi-Mnuchin stimulus talks plod along as today's goal-date arrives — House Speaker Pelosi and Treasury Secretary Mnuchin on Thursday continued to trade proposals. Ms. Pelosi said they are "just about there" on a stimulus bill but there are three outstanding items, including aid for state-local governments, school funding, and a liability shield for employers.

White House chief of staff Meadows Wednesday morning said that the goal is for a stimulus agreement within 48 hours, which is today. However, there isn't really a deadline for a deal, except that the White House and House Democrats would undoubtedly like to have a deal to show voters before the November 3 election.

The markets will be pleased if Pelosi-Mnuchin reach a deal and if the deal is then approved by the House before the election. However, the markets have no assurance that Senate Majority Leader McConnell would allow a vote on a stimulus bill in the Senate. Mr. McConnell has already essentially said that he will not hold a vote on a stimulus bill before the election because his primary goal is to get Amy Coney Barrett approved as Supreme Court justice next week. He then wants to let his Senators who are up for reelection to go home to campaign in the last few days before the election.

After the election, Mr. McConnell will not have any major political pressure to pass a $1.9 trillion stimulus bill because his Senators would no longer be able to get any points from voters ahead of the election. Indeed, Mr. McConnell and his Republican Senators might only be subject to opprobrium from their base for helping to pass a new stimulus and ramping up the national debt by another $2 trillion. The lame-duck session could therefore see a deadlock on the stimulus bill between the Democratic House and the Republican Senate.

The only way that the markets can be assured of getting another big stimulus bill is if there is a Democratic sweep in the November 3 election. That would allow Democrats in early 2021 to pass any sized stimulus package they like, as long as they avoid a Republican filibuster in the Senate by either using the budget reconciliation process or by doing away with filibuster altogether.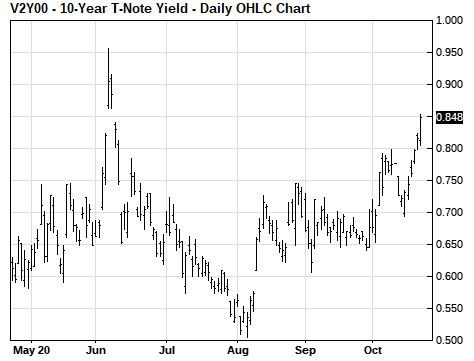 Markets wait to see if Trump-Biden debate shifts the polls — The markets over the next several days will be carefully watching the polls and the betting odds to see if last night's Trump-Biden debate moved the needle.

The election is now only 11 days away. Early voting has been heavy, with 47 million ballots already having been received, according to the University of Florida's U.S. Elections Project. That means that early voting already amounts to about one-third of the total number of votes received in the 2016 election of 138 million and 20% of the overall 240 million people who are eligible to vote.

The betting odds at PredictIt.org, for whatever they are worth, have been surprisingly stable over the past two weeks. Former VP Biden still has a 24-point lead, with betting odds for a Biden win at 65% versus 41% for President Trump.

The betting odds also favor Democrats winning full control of Congress. The odds for control of the Senate are currently at 65% for the Democrats and 40% for the Republicans. The Democrats have even stronger odds for maintaining control of the House, with the odds at 86% for the Democrats versus 16% for Republicans.

The U.S. stock market seems to be unfazed by the odds for a Democratic sweep, mainly because of expectations for a big stimulus package that would boost U.S. economic growth. If Democrats sweep, they are expected to pass a big stimulus package in early 2021 including pandemic aid and aggressive spending on clean energy and infrastructure.

Stock market investors seem to be happier about a stimulus boost than they are concerned about the prospect for higher taxes from a possible Democratic sweep. Former VP Biden is proposing to raise the minimum corporate tax rate to 28% from 21%, which would leave it mildly above the global average of about 24% (according to the Tax Foundation) but still lower than the pre-2018 level of 35%.

A corporate tax hike would take a direct bite out of earnings and thus stock prices, although the stock price decline would be a one-time step-down and is already discounted to some extent by the stock market. Democrats are also expected to raise the capital gains tax and taxes on those earning over $400,000.

Meanwhile, the U.S. Treasury market is concerned about a Democratic sweep because of the implication that the Treasury market would be called upon to finance trillions of more dollars of debt. Indeed, the 10-year T-note yield yesterday rose to a 4-1/2 month high of 0.85%.

However, Treasury yields are not likely to rise very much even with a large Democratic stimulus bill because the Fed will likely keep a cap on yields with its QE program. The Fed could also explicitly impose yield caps if it becomes overly concerned about a rise in yields, even though the Fed so far has not warmed to the idea of yield caps.

Also, foreign demand for U.S. Treasury securities would likely strengthen if U.S. yields were to rise since foreign investors have few options for yield elsewhere. European yields are near or below zero, and the Japanese 10-year bond yield is near the BOJ's target of zero. Indeed, there is still more than $16 trillion of global debt with negative yields, which illustrates how foreign investors would likely jump at the chance to pick up Treasury securities at higher yields.