US/China tensions rise another notch after China says it will push through Hong Kong security law
Clarida lays down some useful markers for Fed policy

US/China tensions rise another notch after China says it will push through Hong Kong security law — US/China tensions on Thursday rose even higher after news that China plans to pass a sweeping security law in Hong Kong, bypassing Hong Kong's city legislature.

Under normal times, that would likely spark massive protests on the streets. However, Hong Kong is under pandemic restrictions where no more than four people are allowed to congregate. That means that Hong Kong police can make mass arrests and impose a 6-month jail sentence for any protesters that congregate. Moreover, Hong Kong extended its pandemic restrictions until June 5, which is one day after the June 4 anniversary of Tiananmen Square, which typically draws commemorative marches in Hong Kong.

The iShares MSCI Hong Kong ETF (EWH) fell sharply by -3.8% on Thursday in response to the news. The Hang Seng index in early trading Friday fell -3.4%. Hong Kong may again face a series of protests that disrupt Hong Kong businesses. Also, the U.S. could eventually react to any impingement on Hong Kong's semi-autonomous status by removing its special trading designation for Hong Kong.

The Hong Kong news followed a tweet from President Trump on Wednesday night that seemed to take direct aim at Chinese President Xi. Mr. Trump said that China is running a "disinformation and propaganda attack on the United States and Europe," and that "It all comes from the top." Up until now, Mr. Trump has been careful to say that he has a good relationship with President Xi. However, if the Trump-Xi relationship breaks down, then US/Chinese relations would likely deteriorate even faster.

In other negative news for US/China relations, Dow Jones reported on Thursday that U.S. Senators plan to introduce bipartisan legislation that would sanction Chinese party officials and entities that enforce new national-security laws in Hong Kong.

Also, the Senate on Wednesday passed a bill by unanimous consent that would require Chinese companies to delist from U.S. stock exchanges if U.S. regulators within three years are not allowed to inspect their audited books. The House has not yet said whether it will vote on that bill, but it seems clear that Washington is moving in that direction. Chinese companies that are listed on the NYSE and Nasdaq are already considering their options about moving their listings to Hong Kong.

The markets also took note of AgResource's view on Thursday that the Trump administration may terminate the US/China trade deal after a progress assessment that is due in July. AgResource President Dan Basse said in a video conference that the current pace of Chinese purchases is too slow to reach the $36.5 billion target this year. He said the U.S. "could even tear up the entire agreement." He said, "We are concerned about the long-term viability of the phase one deal because of what I call the Covid-19 blame game."

Meanwhile, White House economic spokesman Kudlow on Thursday tried to tamp down market worries about US/Chinese tensions and whether the trade deal is headed for trouble. He said that the phase-one trade deal is "intact" and that USTR Lighthizer and Chinese Vice Premier Liu spoke recently. He said that China's commodity buying has lagged a bit due to the pandemic but that China has every intention of implementing the phase-one deal.

In some positive news early Friday, Chinese Premier Li Keqiang told the annual gathering of parliament that, "We will work with the United States to implement the phase one China-U.S. economic and trade agreement." China also announced that it has dropped its annual GDP target due to the turmoil caused by the pandemic.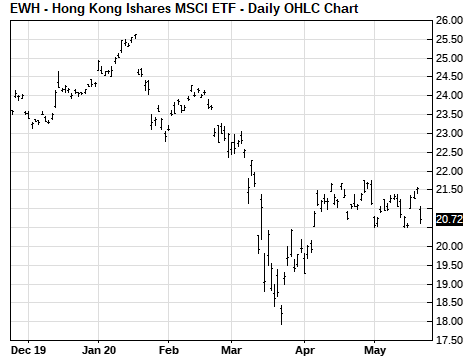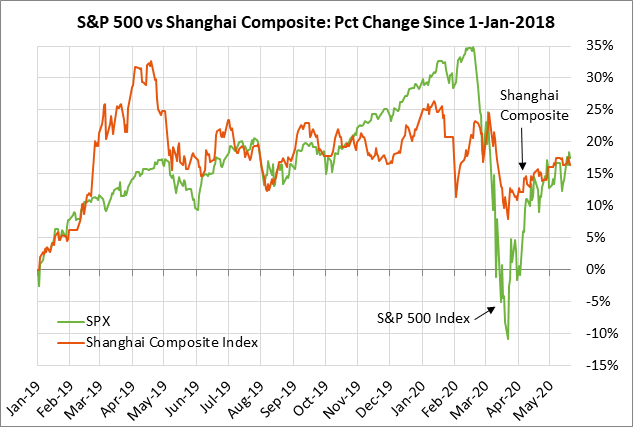 Clarida lays down some useful markers for Fed policy — Fed Vice Chair Clarida on Thursday provided the markets with some mildly useful information about where the Fed is headed. First, he said that the markets will get updated Fed forecasts in 2-1/2 weeks at the next FOMC meeting on June 9-10. The Fed in March suspended their forecasts due to the highly uncertain environment. Mr. Clarida said, "We would expect to return to the SEP (quarterly summary of economic projections) at the June meeting and that is what we will do."

The markets are hoping that the FOMC members return to forecasting the funds rate to give a sense of how long they think the Fed's zero-rate policy will last. The federal funds futures market is forecasting that the Fed will leave its policy target unchanged at 0.00%/0.25% for at least the next three years.

Mr. Clarida suggested that the markets should not expect any strong guidance over the near-term about interest rates or the parameters of the Fed's balance sheet program. He said, "In coming meetings, we may well choose to return to our communication and thinking about our balance sheet, to discuss ways in which we might refine communication or communicate, and think about options for our balance sheet. But that is down the road."

He indicated that the near-term situation remains highly uncertain by saying that, "We'll begin to get a better sense of the scenario and the trajectory that the economy is on in the early fall." That suggested that the Fed will continue with its current monetary blast at least through summer with near-zero interest rates, an unlimited QE program, and the raft of direct lending programs.