Tech stocks fall sharply on worries about inflation and interest rates 
ADP jobs expected to show a sharp rise
U.S. ISM services index expected to build on March's increase

Tech stocks fall sharply on worries about inflation and interest rates — The U.S. stock market on Tuesday fell sharply, led by tech stocks. The S&P 500 index fell to a 1-1/2 week low and closed -0.67%. The Nasdaq 100 index nose-dived to a 1-month low and closed sharply lower by -1.85%.

Tech stock losers included sell-offs of more than -3% in Applied Materials (AMAT), Nvidia (NVDA), ASML Holdings NV (ASML), and Apple (AAPL). Also, Amazon.com (AMZN) and Qualcomm (QCOM) both closed down more than -2% on Tuesday.

Comments on Tuesday by Treasury Secretary Yellen were enough to spark some long liquidation pressure. Ms. Yellen said, "It may be that interest rates will have to rise somewhat to make sure our economy doesn't overheat."

Ms. Yellen likely intended to make the self-evident point that market interest rates will rise if the economy overheats. However, some market participants took her comment to mean that she might be predicting that the Fed could be forced to raise interest rates sooner than expected if the economy overheats. Since GDP growth is expected to soar by +8.1% in the current second quarter, the implication could be that we are already in the midst of an overheating economy and that higher rates might be needed now.

Ms. Yellen Tuesday afternoon after the stock market closed clarified her remarks about higher interest rates by saying, "It's not something I'm predicting or recommending." She said doesn't anticipate persistently higher inflation, but that the Fed has the tools to address higher inflation if the need arises.

Yesterday's sell-off showed that investors are very skittish about any indications that inflation may be about to surge and force the Fed into raising interest sooner than it currently expects.

The markets are getting almost daily reminders about the strong inflation outlook. The 10-year breakeven inflation expectations rate is currently at 2.43%, which is just 3 bp below last Thursday's 8-year high of 2.46%.

Also, the ISM manufacturing prices-paid index on Monday soared by +4.0 points to a 13-year high of 89.6. Last Friday, the March PCE deflator on a 3-month annualized basis rose by +4.3% and the core deflator rose by +2.6%, both well above the Fed's +2.0% inflation target.

Other factors causing investor angst include (1) high valuations, and (2) the prospect of higher corporate tax rates and capital gains taxes for high-income taxpayers under the Biden job and family plans. The markets are also concerned about the slowing vaccination rates in the U.S., which suggest that the U.S. may not reach herd immunity due to vaccine-reluctance by a fairly large number of people.

Tuesday's sharp stock market sell-off caused the VIX to rise on concern that a bigger sell-off could be in store. The VIX on Tuesday rose to a 5-week high of 21.85 although it then fell back to close up +1.17 at 19.48, near the middle of the daily range.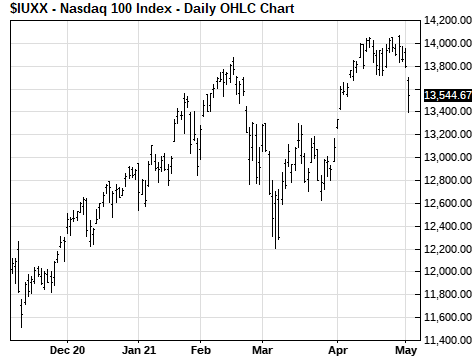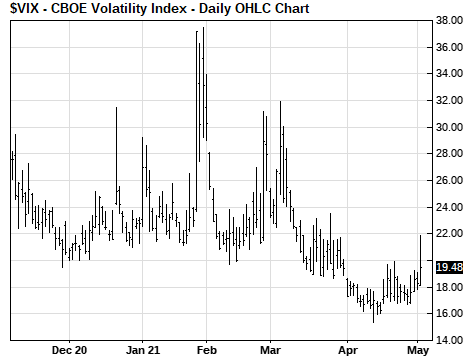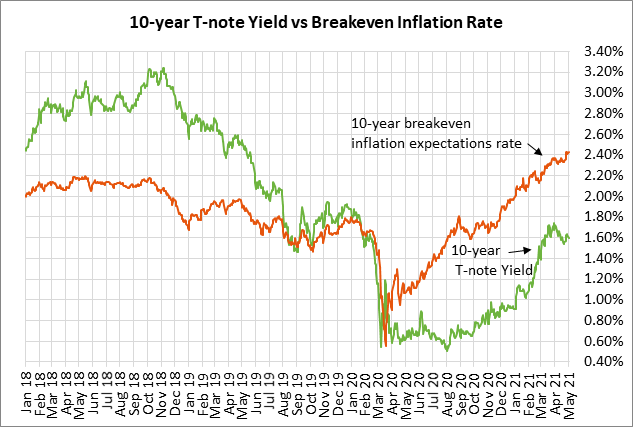 ADP jobs expected to show a sharp rise — The consensus is for today's April ADP report to show a sharp rise of +860,000, which would be the biggest increase in 10 months. ADP jobs rose by only +196,000 in January and +176,000 in February, but then surged by +517,000 in March.

Job growth is picking up quickly now that the pandemic is fading and more businesses are reopening. Restaurants, retail stores, and travel are making a come-back and are hiring.

The markets are looking ahead to Friday's payroll report, which is expected to be stronger than the ADP report. The consensus is for Friday's April payroll report to show a sharp increase of +995,000. Payroll growth was modest at +233,000 in January, but then rose to +468,000 in February and surged by +916,000 in March.

The consensus is for Friday's April unemployment rate to fall by -0.3 points to 5.7%, which would be a 13-month low. Still, the expected unemployment rate of 5.7% would be well above the pre-pandemic record low of 3.5% seen in late 2019 and in February 2020. The unemployment rate is likely to fall more slowly in coming months because more people will be coming back into the labor market as jobs reappear.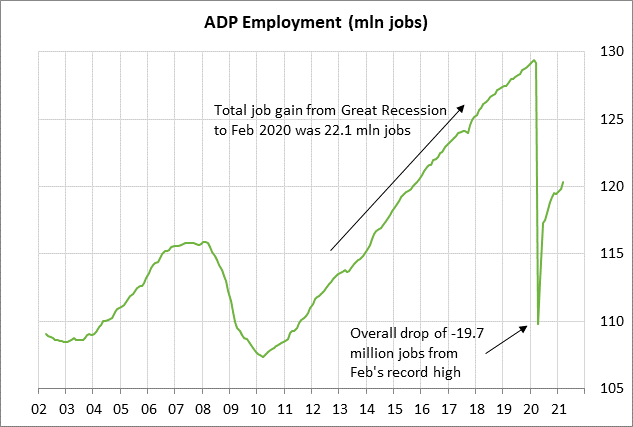 U.S. ISM services index expected to build on March's increase — The consensus is for today's April ISM services index to show an increase of +0.4 to 64.1, adding to March's surge of +8.4 to a record high of 63.7 (data since 1997).

Monday's ISM manufacturing index was much weaker than expected and fell by -4.0 points to 60.7. Manufacturing confidence surge in March but then fizzled in April as some realities hit home about supply chain disruptions, transportation costs and delays, and the chip shortage.

The services sector, however, is less affected by those factors and confidence in the services sector in April should be stronger than in the manufacturing sector. For its part, the Markit U.S. services PMI in early April rose by +2.7 points to 63.1, which was a positive sign for today's ISM services index.