Speaker Pelosi may be ready to accept a smaller stimulus bill, increasing the chances for a deal
Markets fear U.S. labor market is slipping
Nov U.S. ISM services index expected to fade

Speaker Pelosi may be ready to accept a smaller stimulus bill, increasing the chances for a deal — In a positive development for a stimulus bill, House Speaker Pelosi and Senate Democratic leader Schumer on Wednesday called for immediate stimulus talks based on the $908 billion stimulus proposal released on Tuesday by a bipartisan group of Senators, including Senators Romney and Manchin.

The fact that Ms. Pelosi suggested a negotiating base of $908 billion was a possible indication that she is willing to come down substantially from her pre-election demand of $2.2 trillion. With the Biden administration arriving on January 20, Ms. Pelosi may be tempted to get what she can now and push for more after Joe Biden becomes president.

The other piece of good news is that the $908 billion bipartisan plan requires only $348 billion of new spending, according to Senator Romney. The rest of funding would come from unused aid from previous bills. The relatively low amount of new spending might make a lame-duck compromise more palatable to enough Republican Senators to get the bill passed.

Senate Majority Leader McConnell has already said that stimulus measures could be wrapped into the must-pass spending bill that must be approved by next Friday (Dec 11) to avoid a U.S. government shutdown. That would increase the chance of passage of stimulus measures since members of Congress want to get out of town as soon as possible for the holidays and reduce their Covid exposure in Washington.

The bipartisan Senate proposal of $908 billion would include about (1) $300 billion of PPP loans and other aid, (2) $240 billion for state and local governments including money for schools, (3) $180 billion for a 4-month extension of unemployment benefits at $300 per week, (4) $45 billion of transportation aid, (5) $35 billion for health care providers, (6) $16 billion for vaccines, testing and tracing, (7) $25 billion for rental assistance, (8) $26 billion for nutrition and agriculture, (9) $10 billion for the U.S. Post Office, (10) $10 billion for child care, (11) $10 billion for broadband, and (12) $5 billion for opioid treatment, according to reporting on Tuesday by the Washington Post and Bloomberg. There are no provisions in the bill for a second round of stimulus checks for citizens.

An extension of unemployment benefits is a key issue since pandemic-related unemployment benefits expire on December 31 even as there are still some 10 million people without a job due to the pandemic. Meanwhile, PPP money is critical to many businesses that are taking a new hit as states increase their restrictions due to the surge in the pandemic.

President-Elect Biden on Wednesday endorsed the bipartisan $908 billion bill, perhaps giving Speaker Pelosi some cover to accept a smaller bill. Mr. Biden said the bill "wouldn't be the answer" but would at least provide some immediate relief to those suffering from the pandemic.

The markets are nervously watching the pandemic statistics to see if there is a surge following the Thanksgiving holiday. If there is a new surge, more restrictions may be needed to keep U.S. hospitals from becoming overwhelmed. U.S. Covid-related hospitalizations on Wednesday surpassed 100,000 for the first time, according to the Covid Tracking Project. The U.S. recorded 2,509 deaths on Tuesday, the second-highest yet, according to Johns Hopkins.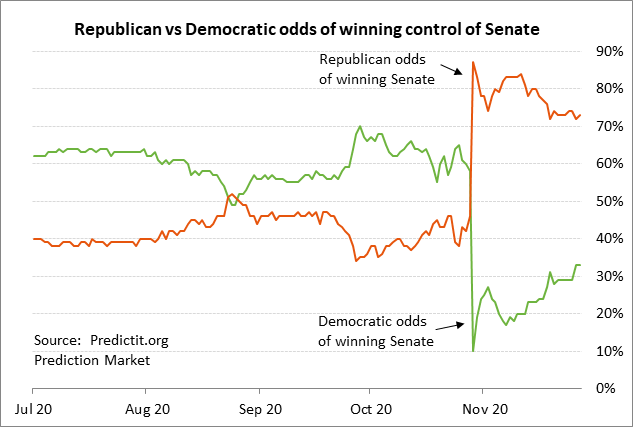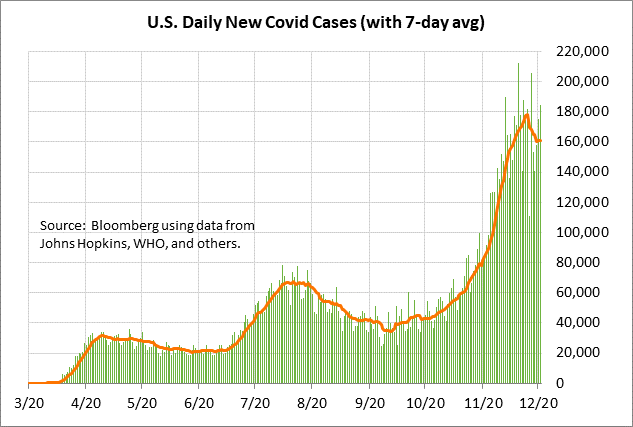 Markets fear U.S. labor market is slipping — The markets are bracing for labor market data today and tomorrow due to concerns that the labor market is weakening due to the pandemic surge and increased restrictions. Initial unemployment claims have risen in the past two weeks and are expected to show only a slight decline in today's report of -3,000 to 775,000 following increases of +30,000 and +37,000 in the past two weeks. Initial unemployment claims are still +561,000 higher than February's pre-pandemic level.

Meanwhile, today's continuing claims report is expected to show a decline of -271,000 to 5.800 million, adding to last week's 299,000 decline to 6.071 million. Continuing claims are still up by +4.4 million from February's pre-pandemic level.

There is also concern about Friday's payroll report after yesterday's Nov ADP report of +307,000 was weaker than expectations of +430,000 and was the smallest increase in four months. The consensus is for Friday's payroll report to show an increase of +486,000, fading a bit from October's increase of +638,000. Payroll jobs have so far recovered only 54% of the plunge seen earlier this year in March-April. Payroll jobs have risen by +12.070 million jobs from April's pandemic low, but would have to rise by another +10.090 million to match February's pre-pandemic record high.

The consensus is for Friday's Nov unemployment rate to fall by -0.1 point to 6.8%, adding to October's sharp -1.0 point drop to 6.9% from November's 7.9%. The unemployment rate has fallen by more than half to 6.9% from the record high of 14.7% seen in April, but is still nearly double the post-pandemic record low of 3.5%.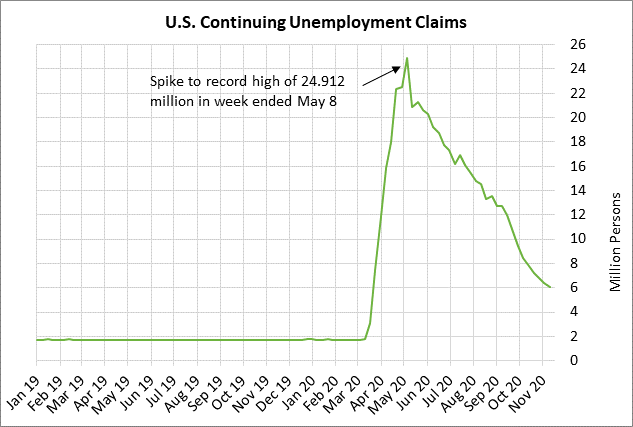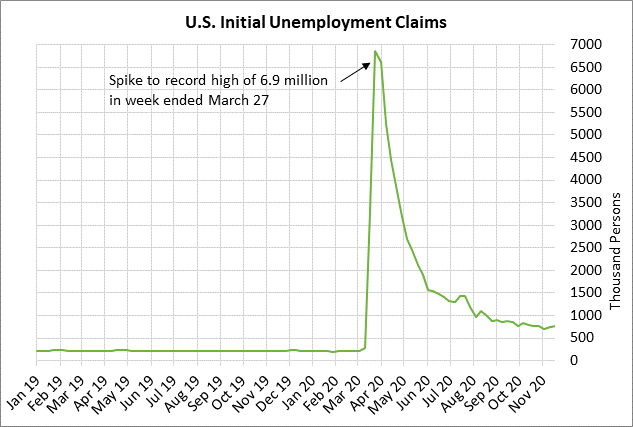 Nov U.S. ISM services index expected to fade — The consensus is for today's Nov ISM services index to show a -0.8 decline to 55.8, adding to Oct's decline of -1.2 to 56.6. Business confidence in the service sector is taking a new hit due to the pandemic surge and increased restrictions in many areas of the country. Earlier this week, the U.S. ISM manufacturing index fell by -1.8 points to 57.5, indicating a drop in manufacturing confidence.