Weekly global market focus
Biden holds talks on infrastructure bill this week
Fed officials this week expected to reiterate recent themes
Q1 earnings season kicks off with earnings reports from big Wall Street banks

Weekly global market focus — The U.S. markets this week will focus on (1) the Biden Administration's plan to meet with members of Congress to discuss the proposed $2.25 trillion infrastructure program, (2) another busy week for Fedspeak with highlights including comments on Wednesday from Fed Chair Powell, (3) the pandemic statistics, (4) the beginning of Q1 earnings season with Wall Street banks reporting this week, (5) the Treasury's sale of 3, 10 and 30-year securities, and (6) a busy U.S. economic calendar.

Key U.S. economic reports this week include Tuesday's March CPI (expected +2.5% y/y from Feb's +1.7%), Thursday's March retail sales (expected +5.4% m/m after Fed's -3.0%) and March industrial production (expected +2.7%), and Friday's March housing starts (expected +13.0% m/m) and preliminary-April U.S. consumer sentiment index (expected +4.1 to 89.0).

In Europe, the focus will remain on the pandemic surge and its negative impact on the economy. Today's Eurozone Feb retail sales report is expected to show an increase of +1.4% m/m, partially recovering from Jan's sharp decline of -5.9%.

This will be a big week for Chinese economic data with Thursday night's Q1 GDP expected to show a solid increase of +1.4% q/q, while the year-on-year figure is expected to soar by +18.3% due to the low year-earlier base. Big increases are also expected on Thursday night for March industrial production (+18.0% y/y) and retail sales (+28.0% y/y). Today's Chinese March exports report is expected to show a large increase of +38.0% y/y after Feb's +18.1% y/y.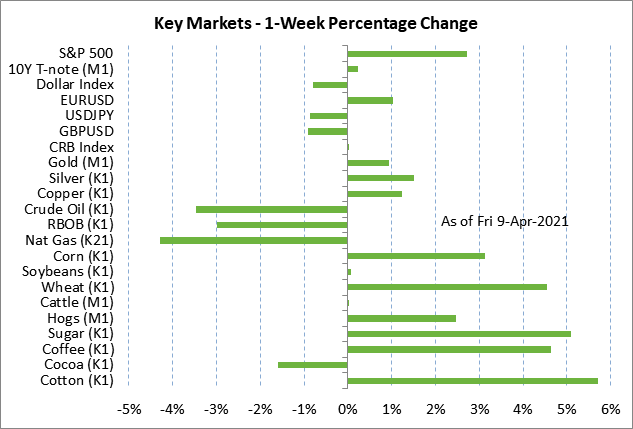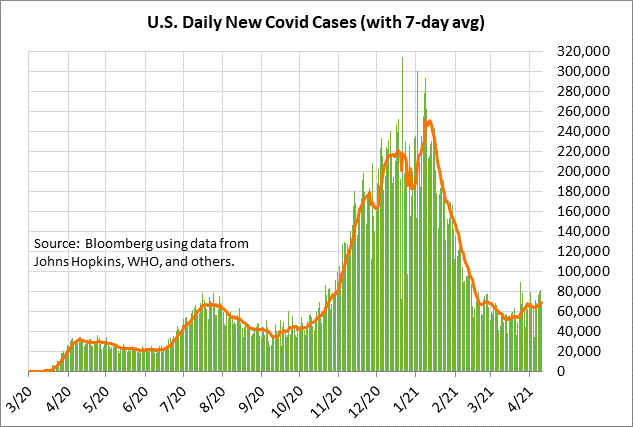 Biden holds talks on infrastructure bill this week — Congress returns to session this week for the first time since President Biden on March 31 announced his $2.25 trillion 8-year infrastructure bill, which he is calling the American Jobs Plan. Mr. Biden this week will be holding talks with a bipartisan group of legislators at the White House.

The Administration continues to say that it would welcome bipartisan cooperation on the infrastructure plan, but that seems unlikely given the Administration's plan for corporate tax hikes to pay for the plan. The markets this week will carefully watch the extent to which corporate taxes will be raised to pay for the program. There has been some pushback from Democratic Senator Manchin and possibly other Democratic Senators to Mr. Biden's plan to raise the corporate tax rate to 28% from 21%.

The markets are also worried about the Biden administration's push for a higher global corporate minimum tax and a tax-sharing deal among nations on high-profit global corporations. G-20 finance ministers last week set a goal of reaching a global tax deal by the middle of this year.

Speaker Pelosi said last Thursday that she expects President Biden's infrastructure and social programs to be passed as separate bills, not as one mammoth bill. She said she is hoping that Congress can pass the $2.25 billion infrastructure bill before the August recess.

The Biden administration is planning to announce the details of its "American Families Plan" later this month. That plan will focus on health, education and other social programs, and will be partially paid for with higher personal taxes on high-income U.S. taxpayers.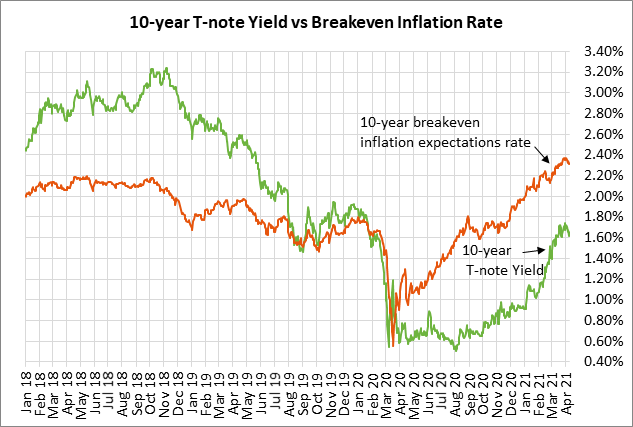 Fed officials this week expected to reiterate recent themes — This will be another busy week for Fedspeak with a variety of appearances by Fed officials, including an appearance by Fed Chair Powell on Wednesday at Q&A hosted by the Economic Club of Washington. The Fed on Wednesday will release its Beige Book report on the regional economy, which may indicate some improvement in the economy due to the reduced Covid infection levels.

Fed Chair Powell in recent appearances has taken pains to appear dovish. In a virtual appearance at an IMF event last Thursday, Mr. Powell reiterated the Fed's theme that U.S. economy is far from a full recovery and that it is too early to be thinking about tapering QE. Mr. Powell said, "the recovery here remains uneven and incomplete," and that disparate efforts to vaccinate people globally are a risk for the economic rebound.

Also, St. Louis Fed President Bullard last Thursday said it is "too soon" for the Fed to discuss tapering asset purchases as long as the pandemic continues. Minneapolis Fed President Kashkari said, "there's still a lot of slack in the economy, and long-run inflation expectations are still solidly anchored around our 2% target."

Q1 earnings season kicks off with earnings reports from big Wall Street banks — Q1 earnings season kicks off this week with 24 of the S&P 500 companies scheduled to report. Notable reports include Goldman Sachs and JPMorgan Chase on Wednesday, Bank of America, Blackrock, and Citigroup on Thursday; and Morgan Stanley, State Street, and Bank of New York Mellon on Friday.

The consensus is for S&P 500 earnings in Q1 to show a strong gain of +24.2% (+25.0% excluding energy), according to Refinitiv. The strong gain is partially because of a recovery in earnings as the global economy recovers from the pandemic, but the main reason is simply because of the low year-earlier base as the pandemic caused a plunge in the economy in early 2020.

Looking ahead, the consensus is for even stronger S&P 500 earnings growth in Q2 of +54.0%, easing to +19.5% in Q3 and +13.4% in Q4. On a calendar year basis, the consensus is for strong +25.9% earnings growth in 2021, overcoming the -12.2% decline seen in 2020.