US/China deputy-level trade talks have gone poorly so far this week according to a Chinese report
FOMC remains widely split on its near-term plans
Will today's U.S CPI report give the Fed some room for another rate cut?
30-year T-note auction to yield near 2.08%

US/China deputy-level trade talks have gone poorly so far this week according to a Chinese report — The markets have been hoping that China at the high-level talks that begin today will offer enough concessions to convince President Trump to back off on any further tariffs and perhaps even roll back the Sep 1 tariff.

However, the South China Morning Post on Wednesday night reported that there was no progress earlier this week at deputy-level US/Chinese trade meetings and that high-level officials will leave Washington on Thursday night, cutting short the visit that had been expected to last into Friday. Bloomberg later reported that at least Vice Premier Liu will remain in Washington for continued talks on Friday.

SCMP reported that Chinese deputy-level officials this week have been willing to discuss ag purchases and IP protection, but not forced technology transfers or structural issues such as Chinese state subsidies. The SCMP report also said that the Chinese delegation made no progress in trying to convince the Trump administration to hold off on planned tariff hikes.

There have recently been widespread reports that China's Vice Premier Liu has come to Washington with a proposal for an "interim" or "mini" trade deal that involves President Trump backing off on new tariffs in return for Chinese ag purchases and possibly commitments on intellectual property. China proposes to defer the discussions on the big structural issues such as industrial policy and state subsidies until next year.

The point of a partial US/Chinese trade deal this week would be to stop the bleeding on both sides. President Trump needs a strong U.S. economy going into next year's campaign season and he needs to shore up his political support in rural areas. Meanwhile, China needs to at least stabilize its economy while it deals with the Hong Kong protests, alarming corporate debt levels, banking system stress, and needed structural shifts in its economy.

If last night's SCMP report is accurate, then the odds may be low for success at today's trade talks. Indeed, if President Trump is angered by a meager Chinese offer today, then he may lash out with a new round of tariffs and possibly an expansion of the economic war with more blacklisting of Chinese companies and the beginning of restrictions on U.S. capital flowing into Chinese securities.

If today's trade talks go badly, Mr. Trump will undoubtedly go ahead with his already-planned Oct 15 tariff hike to 30% from 25% on $250 bln of Chinese goods, and with the new 15% tariff on Dec 15 on the last $160 billion of Chinese goods. If Mr. Trump launches a new round of tariffs, then he will likely raise the tariffs from 15% to 25% or 30% on the $110 billion of goods that received tariffs on Sep 1 and the $160 billion of goods that will receive a 15% tariff on Dec 15. That new step would produce 25-30% tariffs on virtually all U.S. imports from China.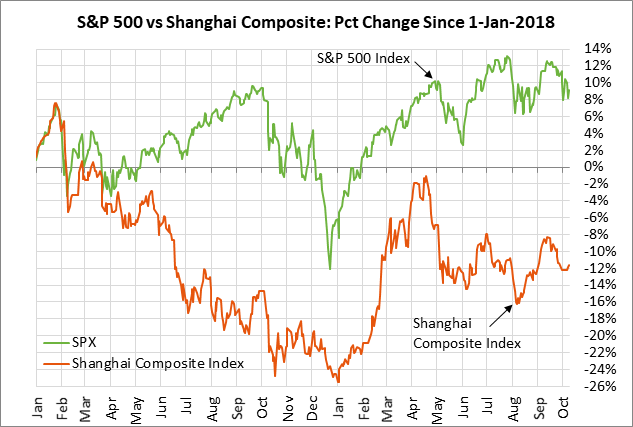 FOMC remains widely split on its near-term plans — There is currently little consensus on the FOMC about its near-term policy direction as seen by yesterday's Sep 17-18 FOMC minutes and recent comments by Fed officials.

The Fed is clearly worried about downside risks but there isn't any big momentum at this point for more rate cuts. In fact, the FOMC is currently in a "wait and see" mode as it waits for further developments on the trade front and on U.S. and global economic data. The median Fed-dot forecast released on Sep 18 showed that FOMC members are forecasting no more rate cuts through 2020 and then one rate hike in 2021 and a second rate hike in 2022.

Yet the markets are still expecting more easing. The market is discounting a 95% chance of a rate cut at the next FOMC meeting in three weeks on Oct 29-30. The market is discounting a total of 79 bp of rate cuts (i.e., 3.2 rate cuts) through the end of 2020.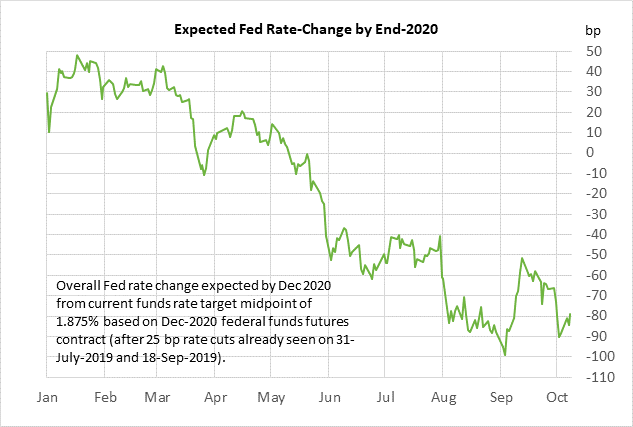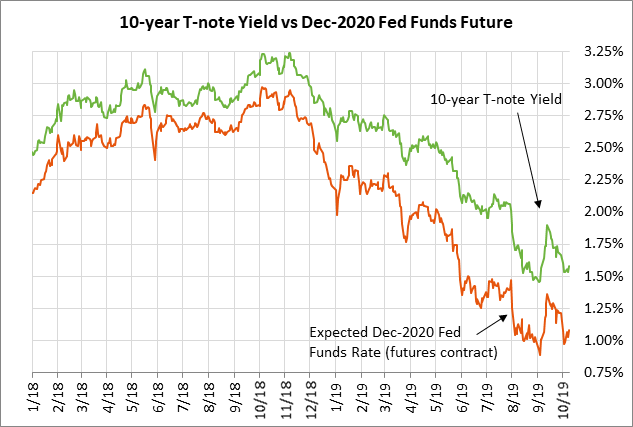 Will today's U.S CPI report give the Fed some room for another rate cut? — The market consensus is for today's Sep headline CPI to rise slightly to +1.8% y/y from Aug's +1.7% y/y and for the core CPI to be unchanged from Aug's +2.4% y/y. The core CPI in August rose to an 11-year high of +2.4% y/y and was up by a hefty +3.4% on a 3-month annualized basis. The PCE deflator was in better shape in Aug at +1.4% y/y headline and +1.8% y/y core.

If the CPI doesn't ease in today's report for September, then the Fed later this month will have a more difficult time justifying another rate cut. Yesterday's Sep 17-18 FOMC minutes showed that the Fed predicated its rate cut at that meeting partially on weak inflation. The Fed would therefore welcome some easing of the inflation statistics if it wants to cut rates another notch at its upcoming meeting.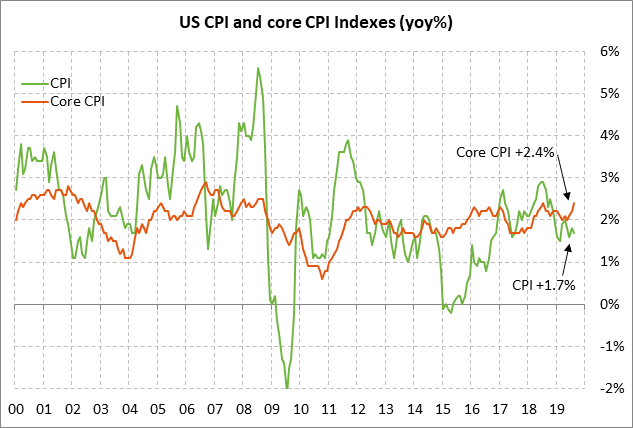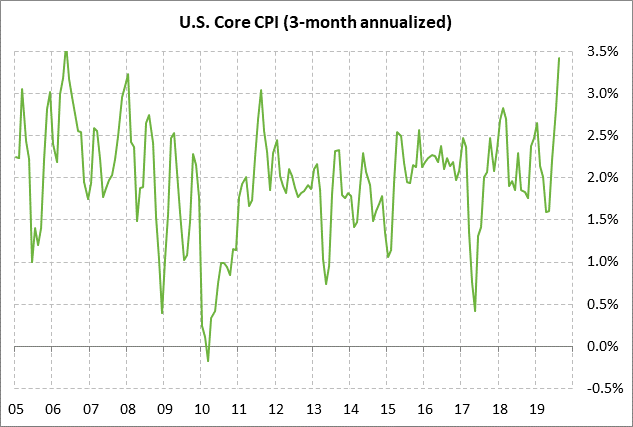 30-year T-note auction to yield near 2.08% — The Treasury today will conclude this week's $78 billion coupon package by selling $16 billion of 30-year T-bonds in the second and final reopening of the 2-1/4% bond of August 2049. The 30-year T-bond yield on Wednesday closed at 2.08%, which is only 18 bp above the late-Aug record low of 1.90%.

The 12-auction averages for the 30-year are as follows: 2.24 bid cover ratio, $7 million in non-competitive bids, 5.7 bp tail to the median yield, 38.5 bp tail to the low yield, and 43% taken at the high yield. The 30-year is of average popularity among foreign investors and central banks. Indirect bidders, a proxy for foreign buyers, have taken an average of 59.6% of the last twelve 30-year auctions, which exactly matches the median of 59.6% for all recent Treasury coupon auctions.