Weekly global market focus
Trump administration may announcement on Monday or Tuesday the implementation of Chinese tariffs
Weekly global market focus — The U.S. markets this week will focus on (1) trade tensions with reports that the Trump administration on Monday or Tuesday will announce the implementations of tariffs on another $200 billion of Chinese goods even though US/Chinese trade talks are scheduled for the next two weeks, (2) Washington politics as Congress races to pass spending bills to avert a government shutdown on Oct 1 and with the Kavanaugh nomination to the Supreme Court dominating Senate attention, (3) anticipation of next week's FOMC meeting, which is unanimously expected to produce a +25 bp rate hike to 2.00%/2.25%, (4) the Treasury's sale of 10-year TIPS on Thursday, (5) a light earning week with only 10 of the S&P 500 companies schedule to report including notable reports such as FedEx and Oracle on Monday and Lennar on Tuesday, (6) quadruple witching day for the U.S. stock market on Friday, and (7) oil prices ahead of the OPEC and the Joint Technical Committee meeting on Saturday in Algiers.
This week's U.S. economic calendar is relatively light and is dominated by housing reports and Wednesday's Q2 current account deficit (expected narrower at -$103.3 billion vs Q1's $124.1 billion).
In Washington, the Senate this week will work on approving spending bills while the House is on recess. The chances are low for a U.S. government shutdown in two weeks on Oct 1 when the new fiscal year begins because of the bipartisan plan to approve regular spending bills for 90% of the government and roll over spending for the other 10% of the government (i.e., the departments of Homeland Security, State, Commerce, and Justice, and the science agencies) in a continuing resolution that expires Dec 7. President Trump after Dec 7 would then get his chance to threaten a shutdown of 10% of the government if he doesn't get his border wall funding.
In Europe, the focus is on the informal EU summit on Wed/Thu in Salzburg where leaders will discuss Brexit and also the migration issues that are critical for Italy's cooperation in the EU. Friday's Eurozone flash Sep Markit manufacturing PMI is expected to show a -0.1 point decline to 54.5, adding to Aug's -0.5 point drop.
Italy will continue the budget process that has the markets nervous about whether Italy will meet EU deficit and debt requirements. The current Italy-German 10-year bond yield spread of 253 bp is near a 5-week low since Italian government officials have indicated that they intend to respect EU deficit requirements.
In Asia, attention will mainly focus on US/China trade tensions and whether the U.S. goes ahead with tariffs on another $200 billion of Chinese goods. The Bank of Japan at its Tue/Wed policy meeting is expected to leave its policy on hold following its late-July decision to raise the upper limit of its 10-year JGB yield target range to 0.20% from 0.10%. The 10-year JGB yield since then has been averaging near 0.11%, which is about +6 bp higher than its previous average.
The Japanese markets will also focus on Thursday's LDP party election. Prime Minister Abe is expected to easily win a new 3-year term as the LDP leader, thus maintaining his position as Prime Minister and preserving his Abenomics economic initiatives.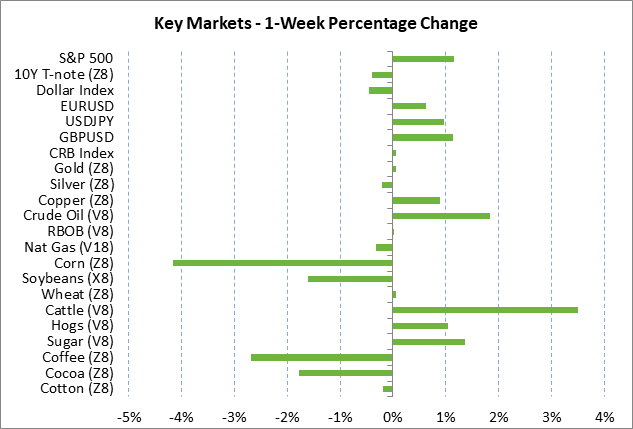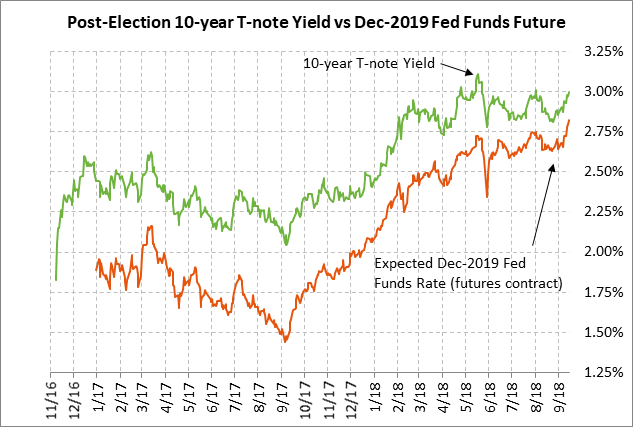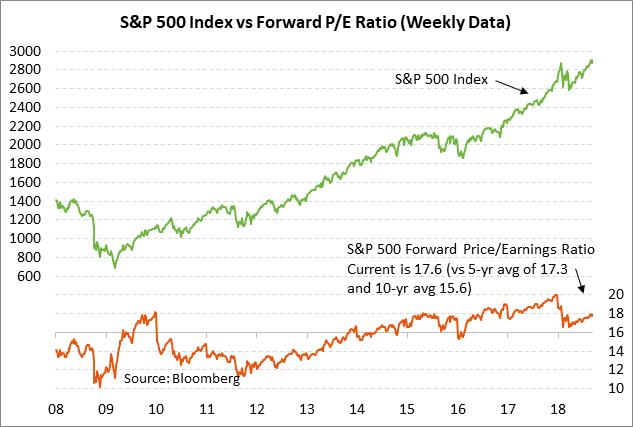 Trump administration may announcement on Monday or Tuesday the implementation of Chinese tariffs — The Wall Street Journal on Saturday reported that President Trump intends to announce on Monday or Tuesday the implementation of a 10% tariff on $200 billion of Chinese goods despite the fact that US/Chinese trade meetings have reportedly already been set. The tariff implementation date may be delayed for several weeks to allow time to see if US/Chinese talks bear any fruit. However, the WSJ on Sunday reported that Chinese officials are now considering whether to cancel the talks if President Trump officially announces the implementation of the tariffs.
The US/Chinese talks tentatively involve mid-level officials this week followed by high-level talks next Thu/Fri (Sep 27-28) between Treasury Secretary Mnuchin and Chinese Vice Premier Liu He. The WSJ reports that Mr. Trump plans to initially set the tariff at 10% for the $200 billion of Chinese goods in order to reduce the impact on U.S. consumers and businesses. However, the WSJ said that the administration could decide at any time to raise the tariff back to the original amount of 25%.
Meanwhile, trade talks continue on other key fronts. On NAFTA, the U.S. and Mexico are ironing out the text of their bilateral trade agreement, which must be presented to Congress by Oct 1. Trade talks are continuing between the U.S. and Canada on a revised NAFTA agreement with reports emerging that protections for the Canadian dairy industry remain a key sticking point. The deadline for US/Canadian talks is only two weeks away on Oct 1.
Regarding Japan, Economic Revitalization Minister Motegi and U.S. Trade Representative Lighthizer will meet this Friday (Sep 21) for a second round of trade talks. The Trump administration continues to demand bilateral negotiations and is threatening 25% tariffs on imported Japanese vehicles. Japan refuses to engage in bilateral negotiations and is trying to persuade the Trump administration to reengage on a multilateral basis with the TransPacific Partnership.
Regarding Europe, lower level negotiators are working on a new US/EU trade agreement, while USTR Lighthizer and European Trade Commissioner Cecilia Malmstrom are due to meet again in late September. The Trump administration has agreed to hold off on any new tariff threats while US/EU negotiations continue.