Europe takes center stage on trade tensions after US/China deal
Today's U.S. economic data expected to be mixed 

Europe takes center stage on trade tensions after US/China deal — US/Chinese trade tensions will likely fall to secondary status for the markets in the coming weeks after the phase-one trade deal was signed on Wednesday. US/Chinese trade tensions should ease as long as China steps up its purchases of U.S. products in line with its promises in the phase-one trade agreement.

There are also hopes that the phase-two trade talks, which may not begin in earnest for a number of weeks, will be a more laid-back affair than the phase-one talks since President Trump doesn't seem to be in a hurry and is not expecting a deal until after November's election. In addition, the issue of industrial subsidies, which is the main topic of discussion for the US/Chinese phase-two talks, is in the process of being dealt with on a multilateral WTO level, which should drain some of the intensity from the US/China bilateral talks.

The U.S., Europe, and Japan earlier this week reached an agreement on expanding the definition of industrial subsidies that should be prohibited by WTO rules. If they can now persuade the WTO as an organization to adopt the rules and persuade China to abide by the new rules, then the issue of industrial subsidies may be successfully addressed at the multilateral level rather than with heavy U.S. pressure on China at the bilateral level.

Global trade tensions have fallen substantially this week with Wednesday's signing of the US/China trade deal and Thursday's passage by the Senate of the USMCA deal. Those two deals added to the list of deals that have been finalized by the Trump administration, which include the revised free-trade agreement with South Korea and a first-stage trade agreement with Japan. In the US/Japan deal, Japan reduced its agricultural tariffs to levels in the Trans-Pacific Partnership Agreement, although Japan was unable to get an iron-clad promise from President Trump not to impose tariffs on Japanese autos.

Having cleared those trade deals off this plate, President Trump can now fully train his sights on Europe and other countries of interest such as India, Vietnam, Brazil, and others. US/EU trade tensions will have the most impact for the markets.

Mr. Trump has already learned that the Europeans, mainly Germans, are deathly afraid of his threat to slap a 25% tariff on European autos imported into the United States. Reports emerged on Wednesday that Mr. Trump threatened to slap a 25% tariff on European autos if Europe did not trigger the process in the Iran nuclear agreement to claim that Iran is breaching the deal.

In an attempt to make some progress on US/EU trade relations, new EU Trade Commissioner Phil Hogan was in Washington for the last three days (Tue-Thu). Mr. Hogan took over as the new EU Trade Commissioner on December 1 and is looking for ways to dampen US/EU trade tensions.

The U.S. and EU already have a substantial number of trade issues on the table and the situation is getting worse. There has been no resolution of the steel/aluminum situation after the U.S. in 2017 slapped tariffs on EU steel and aluminum and the EU responded with retaliatory tariffs.

President Trump then threatened a 25% tariff on European autos unless the EU gave concessions on a number of trade issues. President Trump and then-EU Commission President Junker in July 2018 reached a cease-fire agreement that staved off a U.S. tariff on European autos. However, the subsequent US/EU talks on reducing industrial tariffs have gone nowhere because the EU is refusing the U.S. demand to include agriculture in the talks. President Trump in late 2019 let his threat expire to slap tariffs on European autos, but he could renew that threat at any time.

In the meantime, other US/EU trade issues have arisen. The U.S. is planning to slap WTO-approved tariffs on the EU for the WTO's ruling that the EU is providing illegal subsidies to Airbus, while the EU is planning to slap retaliatory tariffs on the US for what it claims are illegal U.S. subsidies to Boeing. Also, the U.S. has announced plans to slap tariffs on $2.4 billion of French products as retaliation for France's 3% sales tax on digital products that the U.S. says discriminates against U.S. tech companies.

The markets will start paying closer attention to these simmering US/EU trade tensions now that the phase-one China deal has been signed. The markets will become much more concerned about the EU/EU trade problems if President Trump revives his threat to slap a 25% tariff on European autos, which would represent a big hit to the important global auto industry.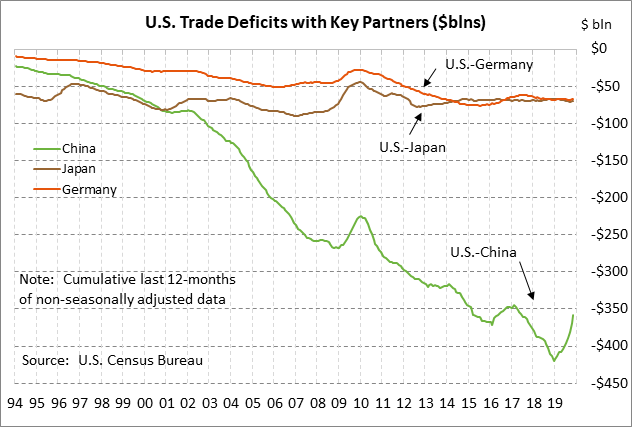 Today's U.S. economic data expected to be mixed — Today's slew of U.S. economic data is expected to be mixed. On the neutral-to-positive side, today's Dec housing starts report is expected to show a +1.1% increase of 1.380 million, adding to Nov's +3.2% to 1.365. Also, today's preliminary-Jan University of Michigan U.S. consumer sentiment index is expected to be unchanged at 99.3 following Dec's +2.5 point increase to 99.3.

On the negative side, today's Dec U.S. manufacturing production report to expected to show a -0.1% point decline, falling back a bit after Nov's surge of +1.1%. The overall Dec industrial production report is expected to show a decline of -0.2% after Nov's +1.1% surge.

Also on the negative side, today's Nov JOLTS job openings report is expected to show a mild decline of -17,000 to 7.250 million after Oct's surge of +235,000 to 7.267 million.