Preliminary-Sep Markit U.S. business confidence expected to remain strong
Congress will be busy next week as fiscal year ends
Markets will easily get past Sunday's German election but then face an Italian election by May 2018
Preliminary-Sep Markit U.S. business confidence expected to remain strong -- The market is expecting small changes in today's Markit U.S. business confidence indexes.  Specifically, the consensus is for a +0.2 point increase to 53.0 in the preliminary-Sep Markit U.S. manufacturing PMI (after Aug's -0.5 point decline to 52.8) and a -0.2 point decline to 55.8 in the U.S. services PMI (after Aug's +1.3 to 56.0).  Today's PMI indexes are likely to be undercut by a temporary hit to business confidence from Hurricanes Harvey and Irma.  However, business confidence should recover fairly quickly as businesses reopen and as the rebuilding effort gets into full swing.
U.S. business confidence in general remains strong due to (1) solid U.S. economic growth along with record highs in the U.S. stock market, (2) improved U.S. export prospects due to stronger overseas growth and this year's sharp decline in the dollar, and (3) expectations for continued low interest rates as the Fed raises rates slowly.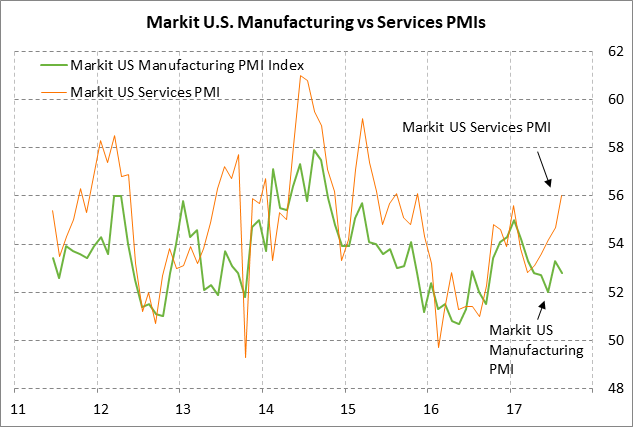 Congress will be busy next week as fiscal year ends -- Senate Majority Leader McConnell's office said that he plans to hold an Obamacare repeal vote next week.  Senate Republicans have until only next Saturday (Sep 30) to approve an Obamacare repeal bill or their 2017 reconciliation process will expire, forcing them to either drop an Obamacare repeal altogether to somehow weave Obamacare repeal into the 2018 reconciliation bill that is currently targeted for tax reform.
Regarding tax reform, Congressional Republican leaders have said that they will release their tax reform plan next week.  Republicans are also focused on passing a nonbinding 2018 budget resolution that will provide the legislative vehicle for approving tax reform through the reconciliation process (which eliminates the threat of a Senate Democratic filibuster).  There was progress this week on a 2018 budget resolution after two key Republican Senators on the Senate Budget Committee, Senators Corker and Toomey, agreed on a budget that would make room for a reported $1.5 trillion tax cut.  House Republicans next Wednesday plan to hold a half-day retreat on tax reform.
The betting odds for a corporate tax rate cut by the end of 2017 remain low at 31%, according to PredictIt.org.  The markets were moderately optimistic about a tax cut this past spring with odds near 60%, but the odds sank as the markets witnessed the Obamacare repeal debacle, which exposed serious internal Republican divisions.  Similar divisions will make tax reform difficult for Republicans as well, although we expect Republicans to at least pass a moderate-sized tax cut as the least common denominator for the caucus.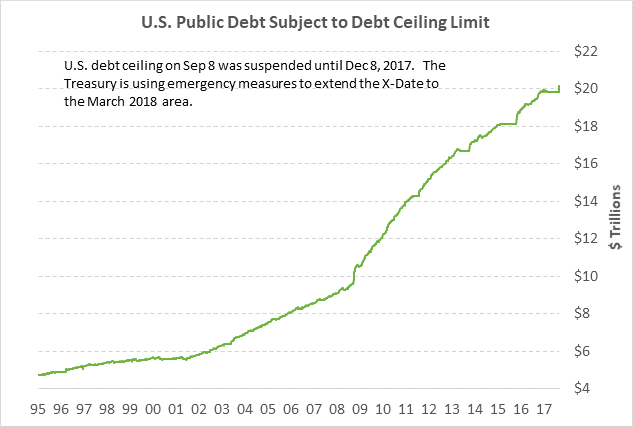 Markets will easily get past Sunday's German election but then face an Italian election by May 2018 -- This Sunday's German election has received little market attention since the odds are overwhelmingly in favor of Ms. Merkel keeping her job as the German Chancellor.  The markets are comfortable with Ms. Merkel due to her reputation for being the Eurozone's lead troubleshooter and stability-enforcer.
Ms. Merkel's Christian Democratic Union party has wide 14-point poll margin over the Social Democrat at 36%-22%, according to the FT's poll-of-polls tracker.  The betting odds are heavily in Ms. Merkel's favor of becoming the next German Chancellor at 96%, according to PredictIt.org.  The betting odds that Martin Schultz, leader of the Social Democrats, will become the next Chancellor are only 3%.
A key story line in the election will be the vote count for the populist far-right Alternative for Germany (AfD) party.  The party is current polling with 10-12% support, which means it should easily exceed the 5% threshold needed to gain seats in the German parliament for the first time.  Becoming an official party in parliament will give the party a platform for disrupting the ruling government and trying to expand its popularity.
While the German election is not causing any significant market angst, the upcoming Italian election will be a different story.  In Italy, the anti-establishment 5-Star Movement is polling at about 27%, neck-and-neck with the ruling Democratic Party.  The next Italian general election must be held by May 2018.  The 5-Star Movement in the past has called for a public referendum on whether Italy should remain in the Eurozone.  Any such referendum would obviously be highly disruptive for the Eurozone markets.
Luigi Di Maio, a lower house deputy in parliament, is expected to easily win the position as the new leader of the 5-Star Movement in an online election among party members that was held this week.  The results of the election are expected to be announced this Saturday.  Mr. Maio is a more buttoned-down politician who is expected to present a more polished image of the party and perhaps be successful in expanding its base.
The European markets this year have been on a roll after populists failed to gain government control in either of the French or Dutch elections.  However, Italy will present another serious test of whether populist parties will disrupt the Eurozone.