China's foot-dragging on confirmation of Trump-Xi meeting draws new Trump threat
Yuan's fall to 6-month low likely irks Trump administration
U.S. PPI expected to ease a bit
3-year T-note auction to yield near 1.85%
China's foot-dragging on confirmation of Trump-Xi meeting draws new Trump threat -- President Trump on Monday continued to defend his Mexican deal but pivoted to China with only 2-1/2 weeks left until the G-20 meeting.  President Trump was asked in a CNBC interview what would happen if President Xi does not attend the G-20 meeting.  Mr. Trump replied that he would immediately apply the 25% tariff he has been threatening on another $300 billion of Chinese goods.
Mr. Trump's comment highlighted the fact that China has not yet confirmed that a Trump-Xi meeting will take place on the sidelines of the G-20 meeting in Japan on June 28-29.  China seems to be dragging its feet on that meeting as a way to indicate its anger with President Trump's quick action in May to raise tariffs to 25% from 10% on $200 billion of Chinese goods due to his claim that China was backsliding on the draft agreement.
The markets continue to hope that Presidents Trump and Xi will in fact meet in late June and get the trade talks restarted.  The markets are also hoping that Mr. Trump will defer his tariff threat during resumed talks.  Yet the markets also have to be ready in the event that Mr. Trump is dissatisfied with a late-June Xi meeting and immediately implements the 25% tariff on another $300 billion of Chinese goods.  If that happens, then the markets may be facing a full-blown US/Chinese trade war for at least the remainder of President Trump's first term that ends in January 2021.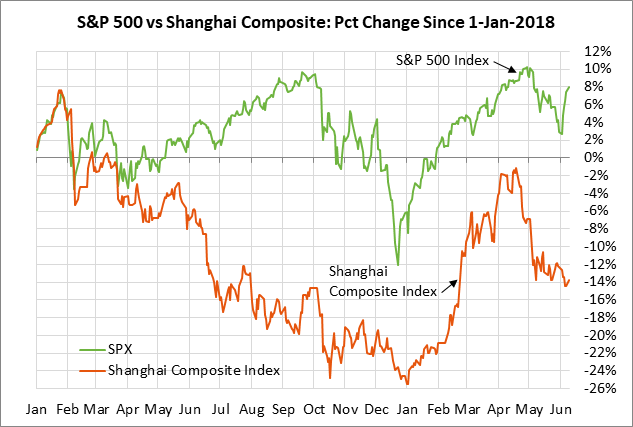 Yuan's fall to 6-month low likely irks Trump administration -- The Chinese yuan on Monday broke down to a new 6-month low and closed the day down -0.31% at 6.9311 yuan/USD.  The yuan is now only 0.7% above last November's 11-year low of 6.9799 and is only 1.0% above the psychological level of 7 yuan/USD.
Monday's new 6-month low in the Chinese yuan will undoubtedly irk President Trump and perhaps spark new accusations that China is devaluing its currency to offset the negative effects of tariffs.  Treasury Secretary Mnuchin over the weekend said that he thought the yuan was depreciating for fundamental reasons but also suggested that he believes that China could be doing more to prevent the depreciation.
The yuan has slid in the past few days due in part to Chinese PBOC Governor Yi Gang's comment last week in a Bloomberg interview that there is "tremendous" room for easing monetary policy if the trade war worsens and that the Chinese government doesn't have any particular levels that it views as important to defend.  That led to talk that China may not defend the 7 yuan/USD level.  The market fears that a decisive breach of the 7 yuan/USD level could spark a mini-run on the currency, which would in turn lead to fears of capital flight and fresh weakness in the Chinese stock market.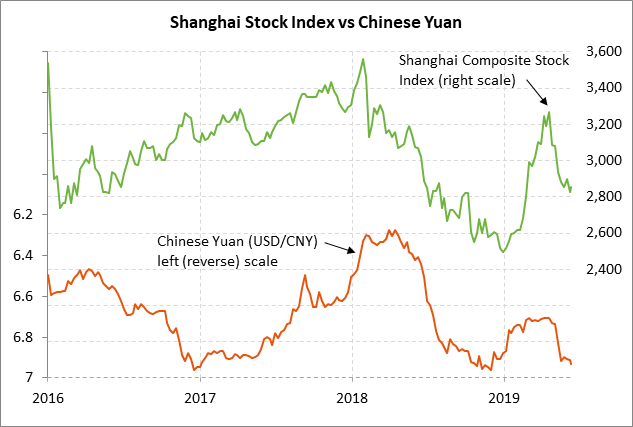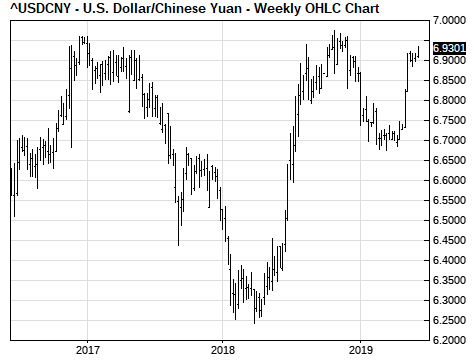 U.S. PPI expected to ease a bit -- The market consensus is for today's May final-demand PPI to ease to +2.0% y/y from April's +2.2% y/y and for the core PPI to ease to +2.3% y/y from +2.4%.  The headline U.S. indexes over the next few months will see some downward pressure from the sharp drop in oil and gasoline prices seen in the past five weeks.
July WTI crude oil prices in the past five weeks have plunged by -20% to the current level of $53.42 from the late-April 7-month high of $66.44.  That plunge has been caused by (1) concern about weaker global economic growth due to trade tensions, (2) Russia's foot-dragging on extending OPEC+ production cuts into 2H2019, (3) the 6-week  surge in U.S. crude oil inventories, which are now +7.3% above the 5-year seasonal average, and (4) last week's news of a record high in U.S. crude oil production of 12.4 million bpd.
The markets are watching to see whether core inflation trends lower over the near-term, which would give the Fed a stronger pretext to ease in coming months.  The Fed's preferred inflation measure, the PCE deflator, was at only +1.5% y/y in April and the core deflator was at +1.6% y/y, both comfortably below the Fed's +2.0% inflation target.
The markets on Monday scaled back Fed-easing expectations by about 5 bp.  Still, the market is discounting a hefty 59.5 bp worth of rate cuts in 2019 and a further 25 bp rate cut in 2020.  The market is discounting a 16% chance of a rate cut at next week's FOMC meeting and a 78% chance of a rate cut at the July 30-31 FOMC meeting.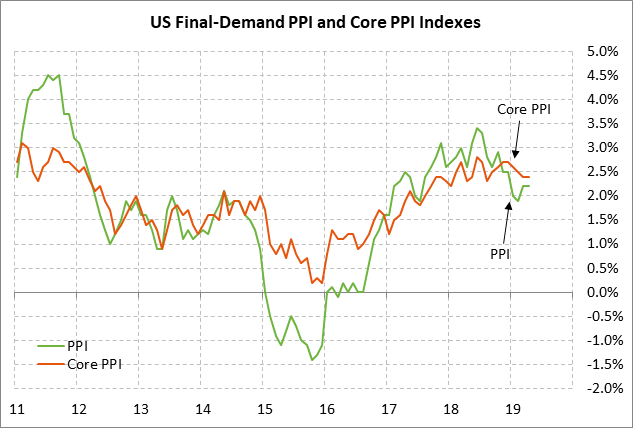 3-year T-note auction to yield near 1.85% -- The Treasury today will sell $38 billion of 3-year T-notes.  The Treasury will then continue this week's $78 billion coupon package by selling $24 billion of reopened 10-year T-notes on Wednesday and $16 billion of reopened 30-year bonds on Thursday.
The benchmark 3-year T-note on Monday rose by +6 bp to 1.87%, where it is up by +13 bp from last week's 1-1/2 year low of 1.74%.  Today's new 3-year T-note issue was trading at 1.85% in when-issued trading late yesterday.
The 12-auction averages for the 3-year are as follows:  2.57 bid cover ratio, $88 million in non-competitive bids, 3.1 bp tail to the median yield, 17.6 bp tail to the low yield, and 54% taken at the high yield.  The 3-year is the second least popular security behind the 2-year among foreign investors and central banks.  Indirect bidders, a proxy for foreign buyers, have taken an average of only 45.4% of the last twelve 3-year T-note auctions, which is far below the median of 61.0% for all recent Treasury coupons.