ECB ends QE on a dovish note
U.S. shutdown watch is on hold while House is on recess
Markets wait to see if FOMC next week softens its tone
U.S. retail sales expected to cool in November
U.S. industrial production expected steady
ECB ends QE on a dovish note -- The ECB at its meeting Thursday confirmed the end of its QE program in about two weeks on Dec 31, which was in line with unanimous market expectations.  However, the tone of Thursday's meeting was mildly dovish since ECB President Draghi said that while the risks are "broadly balanced," they are now "moving to the downside" due to factors such as geopolitics, trade protectionism, and market volatility.  In addition, the ECB cut its GDP forecasts by -0.1 point to +1.9% from +2.0% for 2018 and to +1.7% from +1.8% for 2019.
The ECB on Thursday left intact its promise for rates to remain unchanged "at least through summer of 2019."  The ECB also said that it will reinvest principal payments from maturing securities "for an extended period of time past the date when we start raising" interest rates, which likely means 2-3 years.  The ECB also announced that it would smooth its reinvestment purchases over a year, rather than over a quarter, which should provide steadier support for Eurozone bond prices.
The outcome of the ECB meeting did not have a big effect on the market's rate-hike expectations.  The market is still not expecting the ECB's first rate hike until early 2020.  The market earlier this year was expecting the ECB's first rate hike by September 2019, but the recent bout of Eurozone economic weakness and the stock market volatility caused the markets to delay expectations for the ECB's first rate hike until early 2020.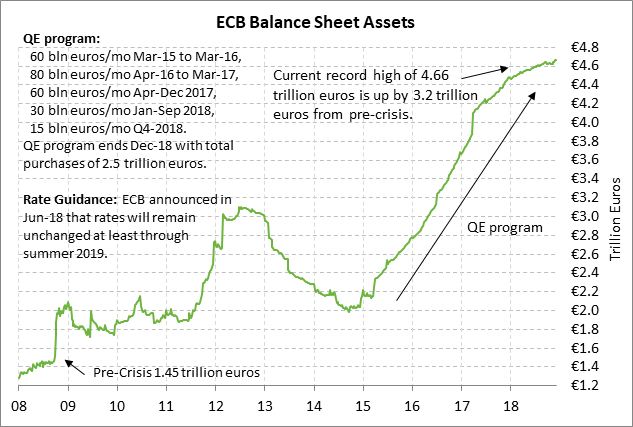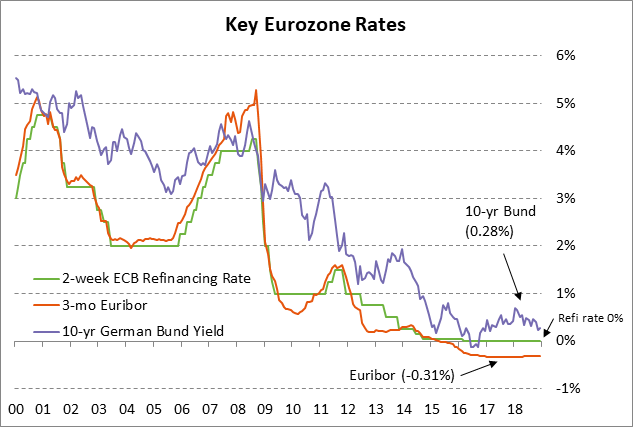 U.S. shutdown watch is on hold while House is on recess -- The House on Thursday went into recess until early next week, meaning that there will only be a few days late next week for Congress to pass a funding bill or there will be a partial government shutdown next Friday night (Dec 21) at midnight when the continuing resolution expires.  The House this week was unable to pass a funding bill before leaving on recess that contained President Trump's demand for $5 billion in border wall funding, leaving an even bigger legislative hole for next week.
Senate Democrats are refusing to spend any more than about $1.5 billion on border security, daring President Trump to make good on his statement on Tuesday that he would proud to shut down the government over border security.  The markets are not particularly worried about a government shutdown since it would affect only a few agencies of the government.  Moreover, the parties will be under pressure to come up with at least a temporary fix next week to avoid a government shutdown over the Christmas holiday, which would obviously look bad to the public.
Markets wait to see if FOMC next week softens its tone -- The markets are discounting a near-100% chance that the FOMC at its meeting next Tue-Wed will raise its funds rate target by +25 bp to 2.25%/2.50% and raise its IOER rate (interest on excess reserves) by +20 bp to 2.40%.  The January federal funds futures contract is trading at 2.385%, illustrating how the market expects the funds rate to trade near a new IEOR rate of 2.40% during the full month of January.
The main issue for next week's FOMC meeting is not the expected rate hike but whether the FOMC significantly softens up its interest rate guidance to make clear that it is willing to pause its rate-hike regime in early 2019.  The market in the past month has softened up its rate-hike outlook for 2019 by a full rate hike.  The market is now expecting only one rate hike in late 2019 versus the previous expectation for two rate hikes during 2019.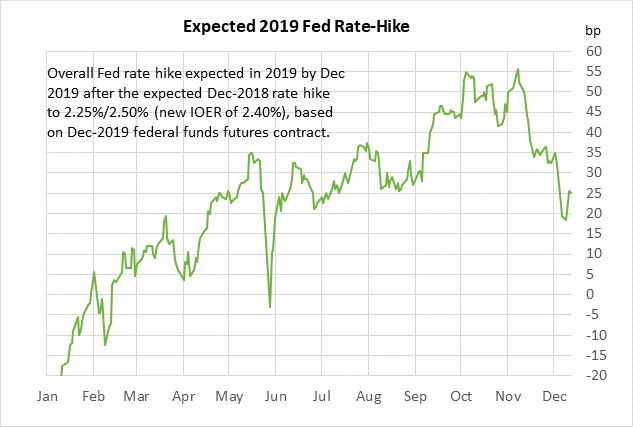 U.S. retail sales expected to cool in November -- The market consensus is for today's Nov retail sales report to show small increases of +0.1% and +0.2% ex autos, down from October's strong report of +0.8% and +0.7% ex-autos.  The markets will carefully watch today's report for indications on the strength of the all-important holiday shopping season.
The U.S. economy is relying mainly on consumer spending for support since business investment has tailed off.  Personal spending contributed 2.45 points to the Q3 GDP report of +3.5% and 2.57 points to Q2's GDP report of +4.2%.  Fixed investment contributed 1.34 points to GDP in Q1, but then tailed off to 1.10 points in Q2 and only 0.25 points in Q3.
U.S. consumers remain in generally good mood due to (1) the strong economy and labor market, (2) increased wages and income, and (3) the sharp drop in gasoline prices.  However, there are some clouds on the horizon that may hamstring consumer spending including the shaky stock market, tariff concerns, and Washington political uncertainty.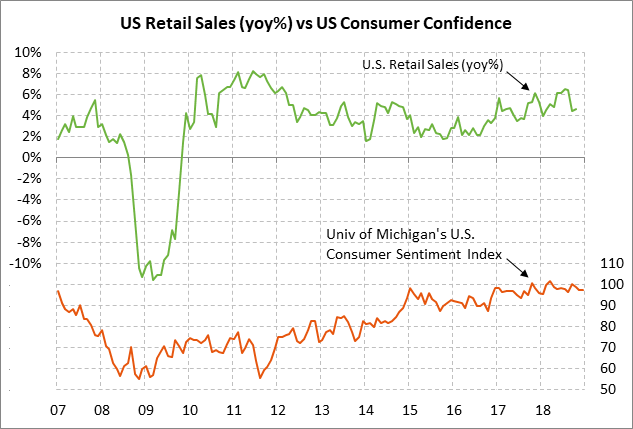 U.S. industrial production expected steady -- The market is expecting a steady +0.3% m/m increase today for both the U.S. industrial production and manufacturing production reports, which would follow Oct's report of +0.1% and +0.3%, respectively.  On a year-on-year basis, manufacturing production was still in solid shape in October at +2.7% y/y, although that was down from Sep's 6-year high of +3.8% y/y.  
U.S. manufacturing has cooled a bit due to slower overseas growth and weaker U.S. business investment.  Still, there was some good news in November with the unexpected +1.6 point increase in the ISM manufacturing index to 59.3 and the +4.7 point increase in the manufacturing new orders sub-index to 62.1.  The ISM data suggests that manufacturing executives saw some good order flow in November that rekindled some optimism.