Dovish FOMC meeting expected
No early progress on pandemic rescue bill negotiations

Dovish FOMC meeting expected — The markets are expecting a dovish outcome from the 2-day FOMC meeting that concludes today with the usual post-meeting statement and a press conference from Fed Chair Powell. The FOMC today will not release an updated Summary of Economic Projections or a new Fed-dot forecast for the funds rate. FOMC members in their last Fed-dot forecast said that the funds rate will remain unchanged near zero at least through the end of the forecast period in 2022.

The markets are expecting the post-meeting statement to be dovish and for Fed Chair Powell to adopt a dovish tone as he seeks to reassure nervous consumers, investors, and business people that the Fed will continue to do whatever it can to battle the pandemic's fall-out. The pandemic situation has worsened substantially since the last FOMC meeting on June 9-10, which was before the second Covid wave began in mid-June.

The FOMC today is expected to actively discuss providing more specific interest rate guidance, although the Fed may not release that new guidance until its September meeting when it has more economic data and is due to release its updated economic projections. The markets are expecting the FOMC to provide new guidance to the effect that it will not raise interest rates until the unemployment rate falls below a certain level and until the Fed is confident that inflation is on its way back to the Fed's 2% inflation target.

There is still talk that the FOMC might adopt a yield-curve control policy later this year with interest rate caps. However, Fed officials have already indicated they have reservations about an interest rate cap policy, particularly on how to gracefully exit the policy.

Moreover, yields are currently very low, and there is no need for the Fed at this point to go out on a limb to try to guarantee low yields. The Fed would have to be ready to defend a T-note yield cap with the promise of unlimited securities purchases. Also, the Fed could be caught flat-footed if an effective vaccine becomes available sooner than expected and the economy starts to return to normal.

The markets are unanimously expecting the FOMC today to leave its funds rate target range unchanged at 0.00%/0.25%. Federal funds futures contracts show that the market is not expecting a rate hike at least through June 2023, which is as far out as the futures contracts are trading right now. Indeed, the market is discounting a funds rate cut to -0.03% by spring 2022 from the current effective federal funds rate of 0.10%.

Fed officials in recent months have insisted that they have no intention of cutting rates into negative territory. The Fed doesn't believe negative rates have been effective in Europe or Japan and they recognize the harmful effects of negative rates on individual savers, bank margins, and money market funds. Nevertheless, the Fed could be forced into cutting rates into negative territory if the U.S. economy should relapse into a recession.

The markets are expecting the Fed today to leave the size of its QE program unchanged at $120 billion per month, with $80 billion of Treasury purchases and $40 billion of mortgage-backed security purchases. The Fed's balance sheet has fallen a bit over the past month because some of the Fed's rescue lending has been tailing off. However, the balance sheet in the coming weeks will start rising again in line with the QE buying of $120 billion per month.

The Fed's balance sheet is currently at $6.96 trillion, which is mildly below the record high of $7.17 trillion seen in early June. The Fed's balance sheet is up by a net $2.8 trillion (+68%) from the pre-pandemic level in February. The Fed's balance sheet has ballooned to 32% of U.S. GDP from 19% before the pandemic in February.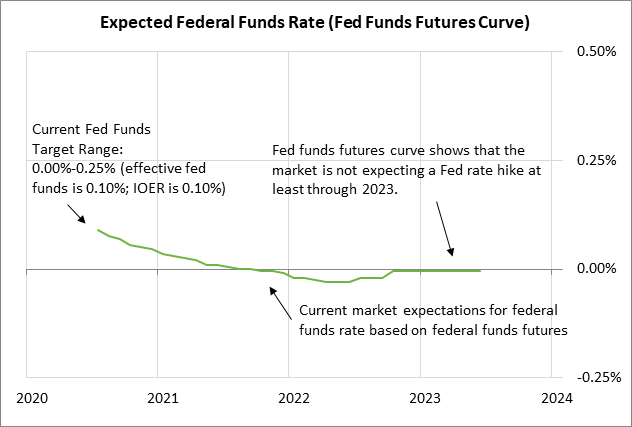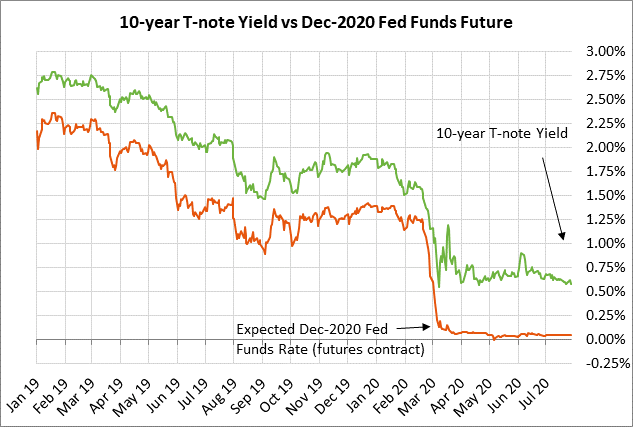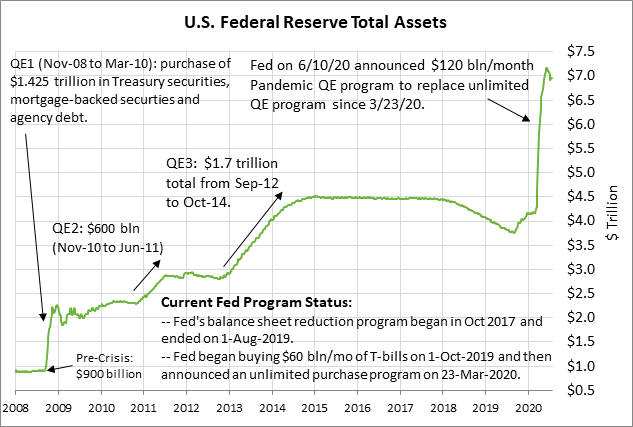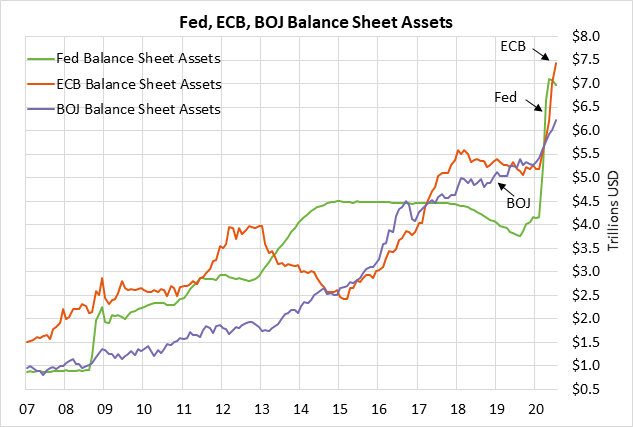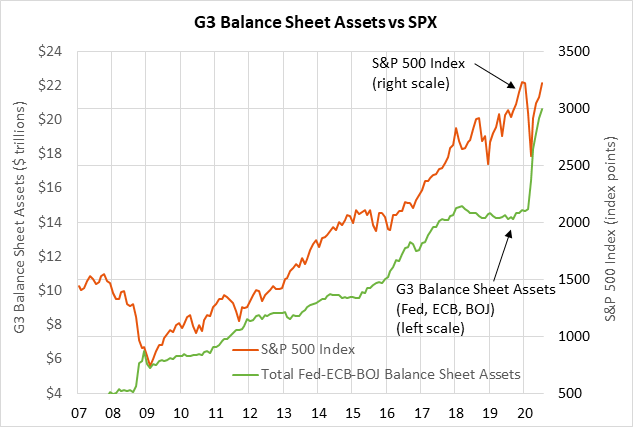 No early progress on pandemic rescue bill negotiations — Stocks sank on Tuesday as Republicans and Democrats showed that they are very far apart on a pandemic rescue bill. There was an hour-long meeting Tuesday afternoon among House Speaker Pelosi, Senate Minority Leader Schumer, Treasury Secretary Mnuchin, and White House chief of staff Meadows.

After the meeting, Mr. Meadows said the negotiations are in the "second inning." Mr. Mnuchin said both parties are still "in the beginning of talks." Speaker Pelosi said, "What we're doing now is really airing our differences — this discovery and understanding where there might be opportunity or not."

Mr. Meadows said that Democrats are sticking to their demand for an extension of the $600 per week unemployment bonus and $915 million of state and local aid. However, Democratic House Majority Leader Steny Hoyer said earlier Tuesday that Democrats are flexible on the $600 per week unemployment bonus and, "It's not $600 or bust." Senate Republicans are offering a $200 per week unemployment bonus extension.

Talks are also stuck on Mr. McConnell's demand for a Covid liability shield for businesses, schools, and other organizations, which is a non-starter for Democrats. Democrats in May passed a $3.5 trillion bill, while the Senate Republicans have offered about $1 trillion.

Despite the rough start to the negotiations, the odds still favor a deal before Congress is due to go on their August recess next Friday (Aug 7). By that time, however, the unemployment bonus will have lapsed for at least one week, which will put a dent in consumer spending.