FOMC minutes expected to confirm Fed's generally pessimistic economic outlook
U.S. ISM manufacturing index expected to rebound higher but needs to be taken with a grain of salt
U.S. ADP employment expected to reverse May's decline

FOMC minutes expected to confirm Fed's generally pessimistic economic outlook — The FOMC today will release the minutes from its June 9-10 meeting. The markets greeted the outcome of that meeting dovishly because of the Fed-dot median forecast for an unchanged federal funds rate target of 0.00%/0.25% through the end of 2022 (i.e., the end of the forecast period). That was the first Fed-dot forecast since the pandemic began because the Fed suspended its forecasts early in the pandemic.

Meanwhile, the markets are currently discounting nearly a 50% chance of a Fed rate cut by late next year. The federal funds futures contracts from late-2021 through early-2022 have turned slightly negative by up to -3 bp. That indicates expectations for a 11 bp rate cut from the current effective federal funds rate of 8 bp, which translates to a 44% chance of a -25 bp rate hike (i.e., 11/25 = 44% odds).

The federal funds futures contracts from late-2021 through early-2022 are trading in slightly negative territory despite the insistence by Fed Chair Powell and his fellow Fed officials that the Fed will not adopt negative interest rates. Despite their protestations, the Fed could conceivably be forced to cut rates into negative territory (as have the ECB and BOJ) if the U.S. economy should suddenly take a sharp turn for the worse.

The markets were also encouraged that the FOMC at its June 9-10 meeting stopped the weekly tapering of its daily Treasury purchases and announced that it will buy $80 billion per month of Treasury securities going forward, with no ending date set as yet. The Fed also announced that it would buy $40 billion per month of mortgage-backed securities, producing an overall QE program of $120 billion per month.

The Fed's balance sheet has now soared by a total of $2.92 trillion (+70%) from its pre-pandemic level in late February. The balance sheet hit a record high of $7.17 trillion in the second week of June and but then backed off slightly in the following two weeks for technical reasons. However, the balance sheet will resume its rise at the rate of $120 billion per month due to the Fed's QE program, reaching about $7.8 trillion by the end of this year. That is more than 8 times the balance sheet level of $900 billion that was seen in mid-2008 before the Great Recession in 2007-09 and the pandemic in 2020.

Fed Chair Powell testified yesterday before the House Financial Services Committee. His key comments were that (1) the outlook remains "extraordinarily uncertain," (2) the pandemic needs to be kept in check, (3) more needs to be done by Congress to foster a recovery, and (4) a full recovery is unlikely until people are confident that it is "safe to reengage in a broad range of activities."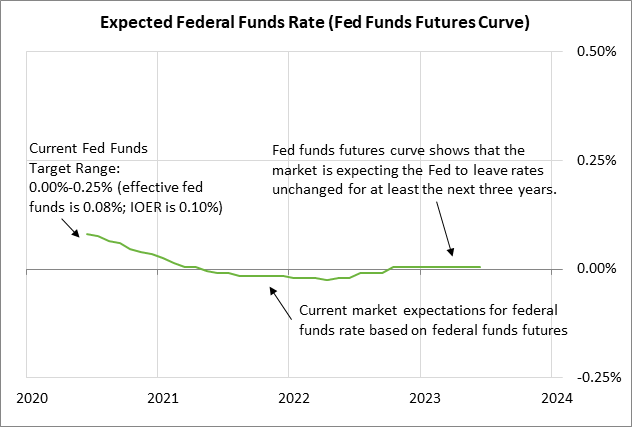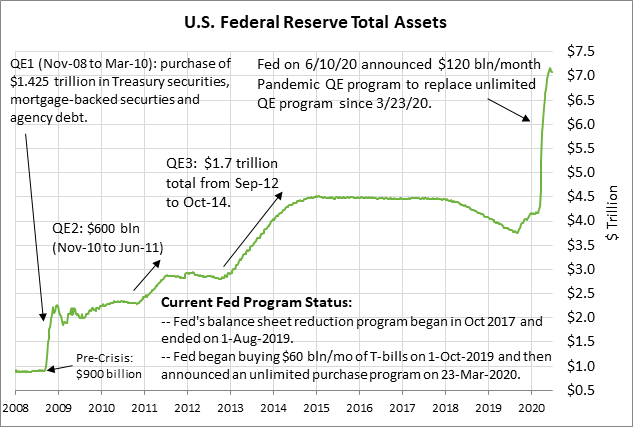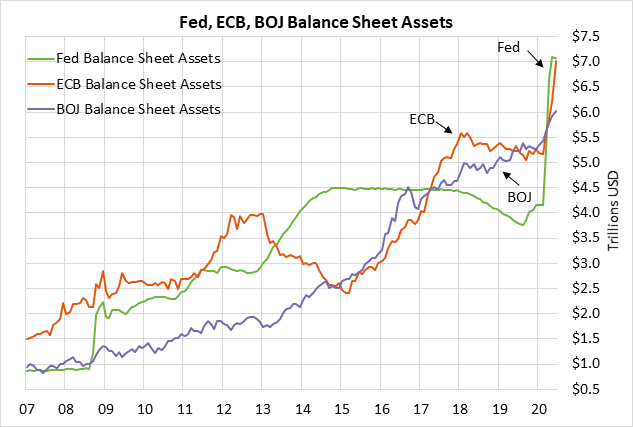 U.S. ISM manufacturing index expected to rebound higher but needs to be taken with a grain of salt — The market consensus is for today's June ISM manufacturing index to show a +6.7 point increase to 49.8, adding to May's +1.6 point increase to 43.1. Today's June ISM new orders sub-index is expected to show a sharp +20.1 point rise to 51.9, adding to May's +4.7 point rise to 31.8.

While today's expected increase in the ISM index to nearly 50.0 would be encouraging, the report must nevertheless be taken with a large grain of salt. The index is rising mainly because confidence is improving such dismal levels, not because the U.S. manufacturing sector has suddenly regained its lost ground. The U.S. manufacturing sector was already in a recession before the pandemic sent it hurtling over the cliff. As of May, the industrial production index had shown only a slight recovery from April's 10-year low and was still down -15.3% y/y.

Expectations for an increase in today's ISM manufacturing index are based in part on the already-released news that Markit's U.S. manufacturing PMI for June rose by +9.8 to 49.6. The market is expecting the final-June Markit index today be left unrevised from the early-June figure of 49.6.

The markets were encouraged that China's national PMI reports early Monday were stronger than expected. China's June manufacturing PMI rose by +0.3 to 50.9, which was better than market expectations for a -0.1 point decline to 50.5. The June non-manufacturing PMI rose by an even larger +0.8 to 54.4, better than expectations of unchanged. Chinese business confidence has shown a solid rise in recent months because the Chinese government has been able to suppress the pandemic and because China's customers in the rest of the world are slowly reopening their economies.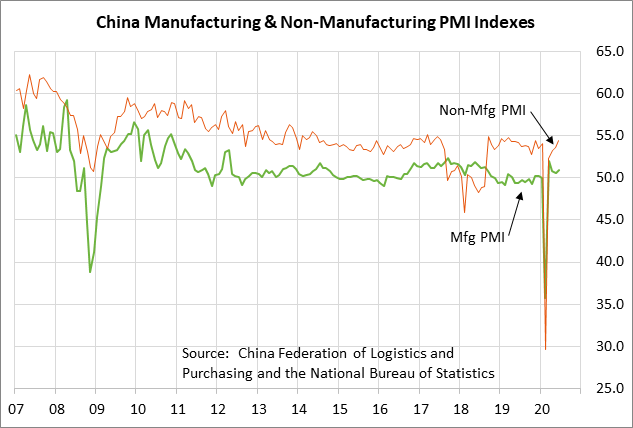 U.S. ADP employment expected to reverse May's decline — The market consensus is for today's June ADP employment report to show an increase of +2.85 million, almost exactly reversing May's decline of -2.76 million. The number of ADP jobs fell by a total of -22.619 million in February-May to 106.818 million jobs, which was below even the worst level seen during the Great Recession.

Today's ADP report could be stronger than expected simply because the ADP report severely unperformed the Labor Department's payroll report in May. The ADP report may therefore need to play some catchup. Unlike the ADP's -2.76 million job decline in May, the May payroll report showed an unexpected +2.51 million rise.

The consensus is for Thursday's June payroll report to show a +3.09 million job rise, adding to May's +2.51 million rise. The consensus is for Thursday's June unemployment rate to fall -0.8 points to 12.5%. That would add to May's -1.4 point decline to 13.3% from April's post-war record high of 14.7%. The unemployment report will be released Thursday due to Friday's 4th of July holiday.