Congress could move quickly to boost critical small-business lending program
Minutes will show FOMC's quick action
EIA prediction of U.S. oil production cut of 1 million bpd may be U.S. contribution to OPEC++ agreement

Congress could move quickly to boost critical small-business lending program — Congress by Friday might approve Treasury Secretary Mnuchin's request for another $250 billion for the Paycheck Protection Program (PPP), which was initially funded with $350 billion in the recent $2.2 trillion rescue bill. The program has been swamped by small and mid-sized businesses that need loans to tide them over on payroll and operating expenses until the economy can restart.

Senate Majority Leader McConnell said yesterday that he wants the Senate to pass the bill by unanimous consent in a pro-forma session on Thursday. Mr. Mnuchin called on the House to then pass the bill by unanimous consent on Friday. If the bill can be passed by unanimous consent, then Congressional members will not have to travel back to Washington from their recess to vote.

House Speaker Pelosi has been working on a fourth rescue bill of more than $1 trillion that would provide increased funding for the PPP small-business loan program. Her bill would also provide another round of direct payments to American citizens, provide help to state and local governments, and extend unemployment benefits, among other items. It is unclear whether Ms. Pelosi will go along with the idea of passing a clean increase in the PPP by $250 billion, or whether she will try to add other items on her priority list. The more items in the bill, the less chance it has to pass both the Senate and House by unanimous consent.

The PPP program has been flooded with applications since it began last Friday. The Fed on Monday said it will start a facility to buy PPP loans from banks, thus eliminating any bank balance-sheet constraints on originating those loans.

One of the main goals of the PPP loan program is to encourage companies not to lay off their employees, or at least only put them on furlough, which would make it easier for employees to be rehired when the economy restarts. Small businesses account for nearly half of the jobs in the U.S. economy, which means that keeping small businesses afloat is critical for preventing an even worse disaster in the U.S. labor market.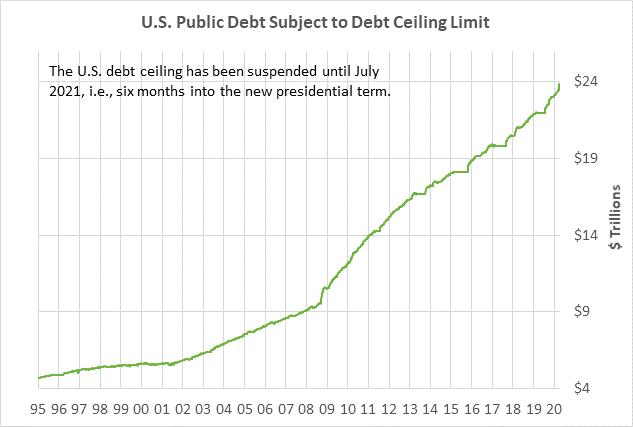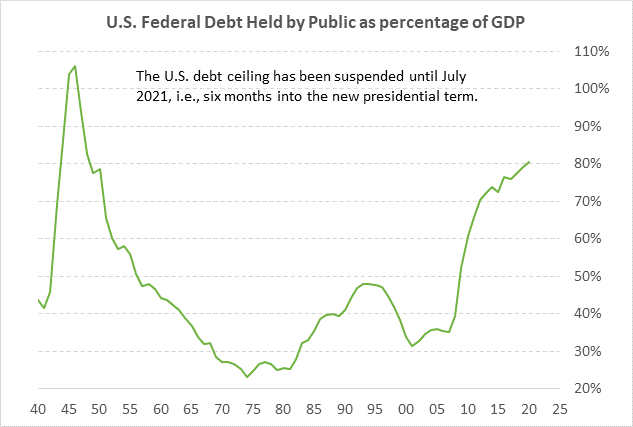 Minutes will show FOMC's quick action — The FOMC today will release the minutes from its March 15 meeting. The FOMC at that unscheduled meeting slashed its funds rate target to 0.00%/0.25%. The FOMC at that meeting also announced securities purchases of $500 billion of Treasury securities and $200 billion of mortgage-backed securities. The Fed subsequently dropped that $700 billion figure and said it would buy as many securities as necessary, essentially announcing an unlimited QE program. The Fed at that meeting also announced a raft of other measures to provide liquidity to the financial system with special financing facilities and expanded dollar swap lines with major foreign central banks.

The Fed has moved remarkably fast to address the pandemic debacle and the partial shutdown of the global economy. The Fed, in a matter of a few weeks, implemented all the tools it used to battle the Great Recession, plus many more measures such as indirect lending to small businesses. The Fed has already conducted nearly its entire 2-year-long QE3 program in just a few weeks.

While the Fed has softened the economic blow from the pandemic, U.S. GDP is still likely to see a peak-to-trough plunge on the order of 7-12%. That would be much worse than the Great Recession's peak-to-trough drop of -4.3%, but with luck, the drop will be much shorter in duration.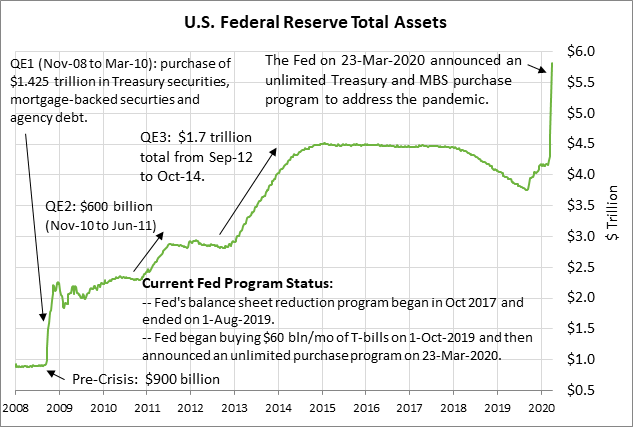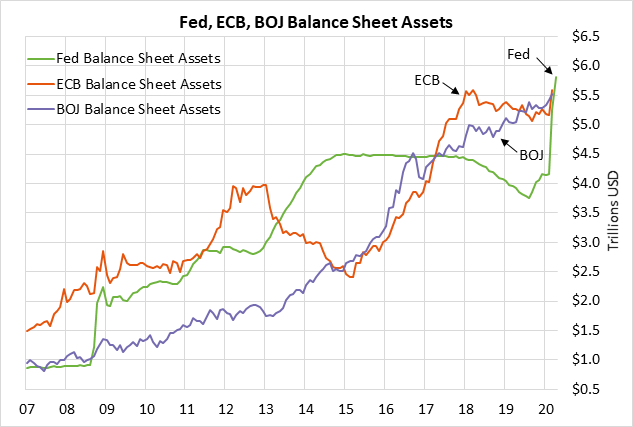 EIA prediction of U.S. oil production cut of 1 million bpd may be U.S. contribution to OPEC++ agreement — May WTI crude oil prices on Tuesday fell sharply by -$2.45 (-9.39%) to $23.63 per barrel, thus bringing the 2-session loss to a total of -16.6%. Oil prices this week are falling back after last week's short-covering surge on President Trump's claim of an impending agreement for cutting oil production by 10 million bpd or more.

The markets are well aware that even a 10 million bpd cut will not be nearly enough to offset the massive 25-30 million bpd plunge in demand caused by the pandemic. A production cut will at most buy the markets some time before global oil storage facilities are completely full, at which point oil prices could easily drop into the teens or lower.

The U.S. Energy Information Administration (EIA) on Tuesday released a forecast that U.S. oil production will fall by 1 million bpd to 12.0 million bpd this year, and will then drop by another 1 million bpd next year to 11 million bpd. President Trump is already calling that forced reduction in U.S. oil output "automatic cuts," with the possible intention of telling Russia and Saudi Arabia that those "automatic cuts" are the U.S. contribution to the OPEC++ production cut agreement. In that way, Mr. Trump can avoid being accused of forcing U.S. oil companies to reduce production and become an explicit cartel-cooperator with OPEC and Russia.

U.S. shale oil producers are being forced to slash production because many are losing money on every barrel of oil they pump and because some have nowhere to transfer or store their oil. Oil prices are currently in the low-$20's, which is far below the Dallas Fed's estimate of an average breakeven price for U.S. shale producers of $50 per barrel. A survey by the Kansas City Fed released yesterday found that 40% of U.S. oil and natural gas producers will face insolvency within the year if oil prices remain near $30 per barrel. The U.S. oil production shutdown is already in progress. The number of active U.S. oil rigs has plunged in the last three weeks by a total of -121 rigs (-18%) to a 3-year low of 562 rigs.