U.S. national debt set to skyrocket on virus rescue plans
U.S. unemployment claims set to surge
U.S. politely asks MBS to forgo his oil production increase 

U.S. national debt set to skyrocket on virus rescue plans — The long-term financial health of the United States is set to deteriorate sharply in the coming months as the U.S. government is forced to throw trillions of dollars at coronavirus relief efforts. The immediate concern is just to get through the next year without a Depression and with a minimized number of deaths from the pandemic. However, at some point down the road, the U.S. government will have to confront its debt problems, which were already massive even before the pandemic arrived.

The only good news is that Treasury yields are currently so low that the U.S. will be able to finance its debt at rock-bottom interest rates. Also, Treasury securities are currently in high demand by investors as a safe-haven investment, and also from the Federal Reserve, which just embarked on an unlimited QE program. The problem will come down the road when interest rates start rising again to more normal levels, and the cost of refinancing maturing debt will rise substantially. If inflation ever breaks out, then the U.S. will face a truly scary situation where interest rates and interest costs will skyrocket.

The Senate on Tuesday night agreed on a bipartisan $2 trillion rescue plan. However, questions arose Wednesday afternoon about how quickly the Senate will be able to pass the bill since several Senators engaged in some grandstanding. The timing of House passage of the bill is also uncertain because Speaker Pelosi will have to call all the House members back to Washington from their current recess if she can't get a unanimous voice consent. That would slow down a House vote by a day or more depending on whether floor speeches are allowed.

The current $2 trillion rescue plan will not be the last virus-relief bill. House Majority Leader Steny Hoyer told Democrats earlier this week to expect two more virus-relief bills. Congress will likely take a page from the Depression's history books and launch an infrastructure rebuilding program to get people back to work. President Trump wanted an infrastructure bill early in his term, but was turned down by Republicans who didn't want to pay for it with deficit spending. That opposition is likely to quickly melt away now that Congress needs to rev the economy back up ahead of November's elections.

After the Senate approves the $2 trillion rescue bill, Senate Majority Leader McConnell is expected to announce a recess for the Senate, possibly lasting a number of weeks. Senators have already had one of their own (Rand Paul) go down with the coronavirus, and about six members have been forced to self-quarantine due to exposure to persons with the virus. The advanced age of some of the Senators means that they should be self-quarantining in any case and should not be running around the Senate buildings. While the House and Senate are out on recess over the next few weeks, Congressional leaders are expected to work on the next relief package.

The U.S. national debt is currently at $23.5 trillion and is rising by about $1 trillion per year. The national debt will now accelerate higher due to the virus-relief spending. Analysts at Barclays are forecasting that the Treasury will now need to finance $2.6 trillion in 2020. The U.S. government's budget deficit is set to surge over at least the next two years, rising from the current level of about 4% of GDP to likely challenge the peak of 10.2% of GDP seen after the Great Recession.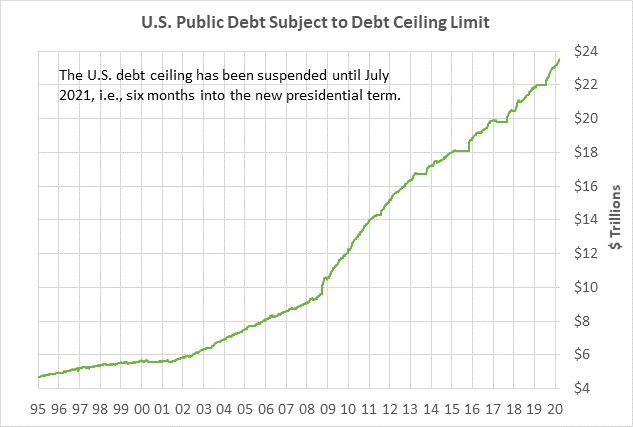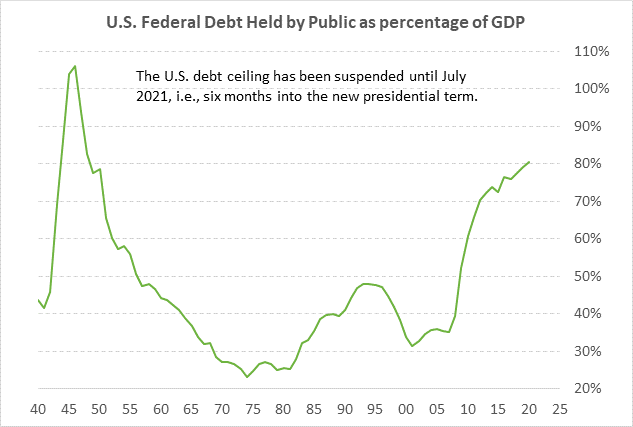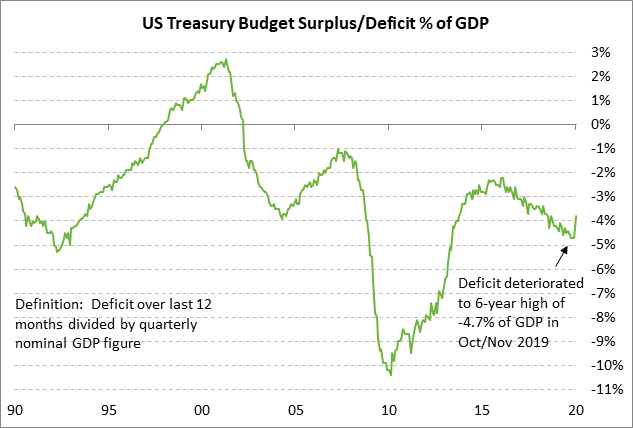 U.S. unemployment claims set to surge — The markets will be carefully watching today's weekly unemployment claims report to see the extent to which the initial claims surge. Estimates are all over the map. The consensus in a Bloomberg survey is for a massive jump in initial claims from the current level of 281,000 to 1.5 million, which would be a rise of about 1.2 million. However, individual estimates in that survey ranged as high as 4 million.

This will only be the second report in which initial unemployment claims surge. The massive layoffs will continue as more states slowly join the parade of states that have announced full or partial shutdowns of non-essential businesses and stay-at-home orders. There will be massive layoffs in the transportation, hotel, entertainment, and retail store sectors. Moreover, there are many stories in the media from laid-off employees who have been unable to file for unemployment as yet because unemployment websites crashed. There is also the possibility that some states or even the federal government may hold back some or all of their data, making today's report even less reliable.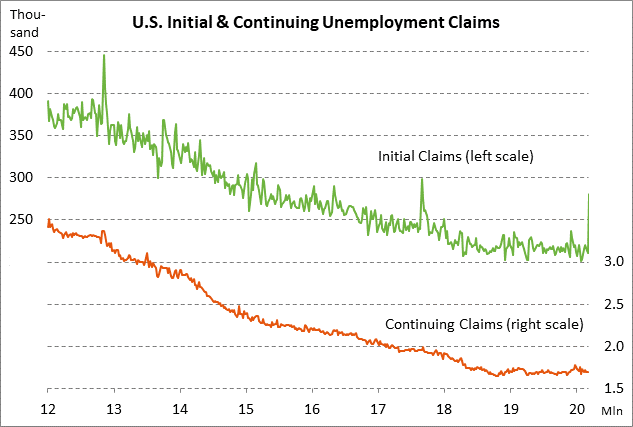 U.S. politely asks MBS to forgo his oil production increase — Secretary of State Pompeo on Wednesday called on Saudi Prince MBS to "rise to the occasion and reassure global energy and financial markets when the world faces serious economic uncertainty." The Trump administration is calling on MBS to roll back his plan to ramp up Saudi oil output by 27% to 12.3 million bpd from February's level of 9.7 million bpd as part of his price and market-share war.

The plunge in oil prices is causing widespread shutdowns and layoffs in the U.S. oil industry, which is having the secondary effect of hurting industry suppliers and eliminating the industry's capital spending. The plunge in oil prices has also caused the corporate bonds of shale-oil producers to plunge, compounding the massive problems that are already being seen in the corporate bond market from the pandemic.

Even though Saudi Arabia is effectively a U.S. military protectorate, MBS seems unlikely to listen to the Trump administration's pleas. MBS seems intent on teaching Vladimir Putin a lesson once and for all, and on eliminating the competition from high-cost U.S. shale producers, regardless of the pandemic.