-Soybean sales strong again on Chinese purchases – at top of expectations
-Corn sales remain dismal – lower than expected
-Wheat sales maintain status quo – as expected
-SBM/SBO sales at bottom of expectations
U.S. soybean sales, for the week ended 10/10/19, were strong again at 1.601 MMT (58.8 million bushels), at the very top of market expectations of 900k-1.6 MMT and followed the previous two week's sales of 77.0 and 76.3 million bushels. On the return of China to the U.S. market, total soybean sales over the last 6 weeks of 357 million bushels have dwarfed last year's same-period sales of 165 million bushels. This week's activity reflected new sales to China of 791k tonnes and puts their official total purchases at 5.64 MMT vs 1.09 MMT at this time last year. This week's data essentially reflects/confirms the expected total amount of tariff-free sales the Chinese government granted a few weeks ago, so additional sales likely will be limited without a new allowance. Market talk yesterday indicated ideas another 5 MMT in tariff-free purchase allocations may be forthcoming. 2019/20 total commitments of 661 million bushels are now down just 13% from last year after being down 44% in early September, while soybean sales will need to average an estimated 24.5 million bushels/week over the remainder of the marketing year in order to reach the USDA's 1.775 billion bushel export projection vs last year's 22.4 million/week average from this point forward.
U.S. corn export sales remain simply dismal with just 369k tonnes (14.5 million bushels) sold last week, below market expectations of 400-800k tonnes, but at least rising slightly from the previous week's 11.2 million bushels. Over the first six weeks of the 2019/20 marketing year, total net corn sales of 145 million bushels compare to 263 million bushels sold during the same period last year. The largest sales this week went to Colombia with 106k tonnes. Total commitments of 408 million bushels remain down 51% from last year's 830 million at this time, leaving sales needing to average roughly 31.3 million bushels/week over the remainder of the marketing year to reach the USDA's 1.900 billion bushel export projection, in what would be a 27% increase from last year's 24.7 million bushel/week average from this point forward.
U.S. wheat sales continue at a very steady, consistent pace with 395k tonnes (14.5 million bushels) sold last week, in line with market expectations of 250-550k tonnes and right in line with average sales of 14.4 million bushels over the last seven weeks. This week's sales were down from last week's 19.3 million bushels and last year's 17.0 million bushels, though. Total commitments of 508 million bushels are up 15% from last year's 443 million, but continue to see the year-over-year sales gain slip gradually. We were a bit surprised by the USDA's wheat export projection reduction in the October 10 WASDE report as sales only need to average roughly 12.5 million bushels/week vs last year's 15.3 million from this point forward, feeling eventually their estimate will need to see a modest bump higher.
U.S. soybean meal sales last week of 153k tonnes were at the very bottom of market expectations of 150-400k tonnes, as were soybean oil sales of 3.9k tonnes vs expectations of 0-25k. Just 10 days into the 2019/20 marketing years, SBM total commitments are down 11% from last year, while soybean oil commitments are up 13% in the very early going. USDA is currently projecting SBM exports to be up a marginal 1% from last year, while SBO exports are estimated to decline nearly 15% year-over-year.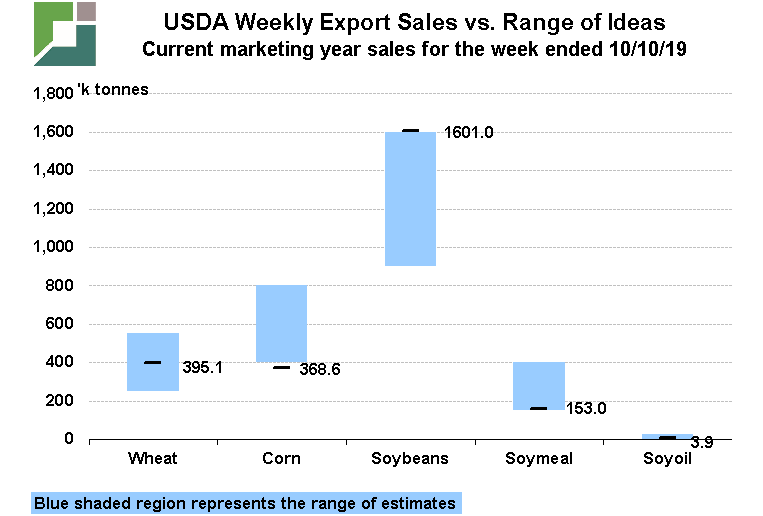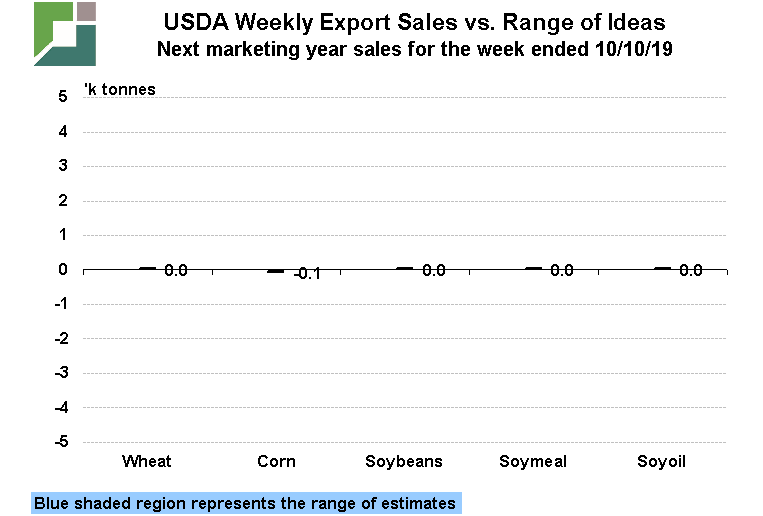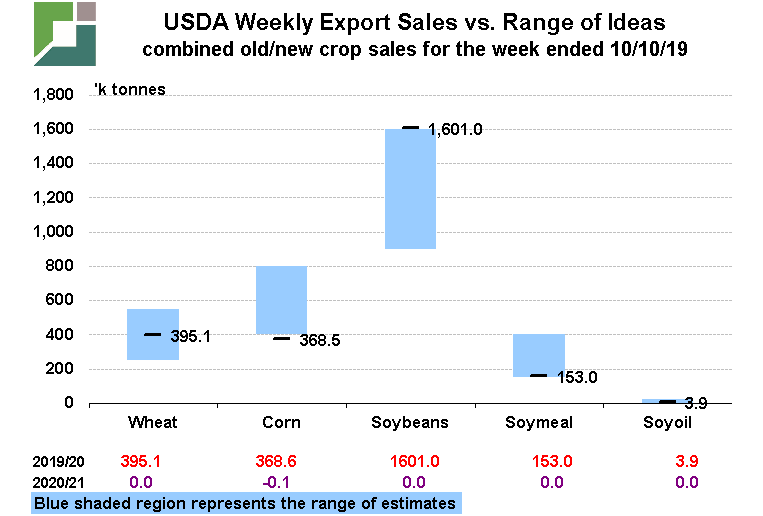 PRIVACY POLICYDISCLAIMERCOPYRIGHTABOUTRJO NEWSCONTACT US(800) 621-0757