Trade tensions continue on multiple fronts
Conservative Party today will start weeding out leadership contestants
30-year T-note yield is near 2-1/2 year low ahead of today's auction
Trade tensions continue on multiple fronts — Trade tensions on Wednesday remained front and center and helped the S&P 500 index close -0.20% lower on the day. China continues to be the market's main concern ahead of a hoped-for Trump-Xi meeting in 2-1/2 weeks at the June 28-29 G-20 summit in Japan. China continues to drag its feet on confirming whether that meeting will even take place.
President Trump on Wednesday created some new uncertainty for the markets by saying that "I have no deadline" for the China talks, and "My deadline is what's up here," pointing to his head. Mr. Trump has previously stated that he would wait until after his meeting with President Xi at the G-20 meeting to decide whether to execute his threat of a 25% tariff on another $300 billion of Chinese goods.
Meanwhile, the threat of Mexican tariffs is not necessarily over since Mexico has a high bar to clear in order to satisfy Mr. Trump on migration and stave off the possibility of renewed tariff threats. It has slowly emerged in the news over the past several days that Mexico has only 45 days to reduce immigration to the U.S. or else Mexico's legislature must pass a law agreeing to accept asylum requests from transiting refugees from Honduras and Guatemala, which would substantially reduce the number of requests for U.S. asylum. Mr. Trump on Wednesday said, "We have a lot of strength in 45 days if we decide to use it."
President Trump has already reserved the right to reinstate the threat of tariffs if he is not satisfied with Mexico's refugee action. In his announcement last Friday, Mr. Trump said that tariffs had been indefinitely suspended due to the migration agreement, not canceled.
Mr. Trump on Wednesday also revived his threat to German Chancellor Merkel to sanction the construction of the Nord Stream 2 pipeline from Russia to Germany. President Trump is concerned that Russia will get a stranglehold over Europe's energy and he also wants to sell more U.S. LNG to Europe.
On the Japanese trade front, Japan's economy minister Motegi meets today with USTR Lighthizer in Washington for another round of trade negotiations. Japan is reportedly offering to reduce tariffs on U.S. farm products to TPP levels if the U.S. removes its threat to impose tariffs on Japanese autos. President Trump has already agreed that a final US/Japan trade agreement will have to wait until after Japanese elections in July, thus giving negotiators some time.
President Trump in mid-May agreed to give Japan and the EU a 6-month window to finalize trade agreements with the U.S. before slapping tariffs on imported autos. That means that the slow-moving US/Japan and US/EU talks have only until about November to produce agreements. The stock market would react very bearishly to a 25% tariff on imported U.S. autos since those tariffs would seriously disrupt the weighty global auto industry.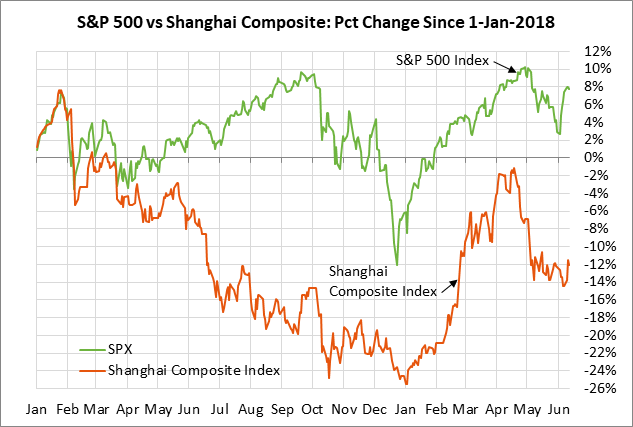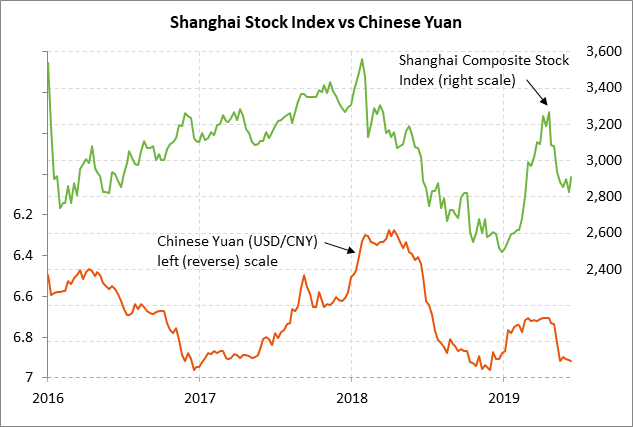 Conservative Party today will start weeding out leadership contestants — The Conservative Party today will hold its first vote to start whittling down the list of ten MPs who are running to become next Conservative Party leader and Prime Minister. In today's vote, only candidates with at least 17 votes will proceed to the next round of voting. If all the candidates receive 17 votes, then the candidate with the fewest votes will be eliminated, according to Party rules.
Conservative MPs next week will then hold a series of votes to continue eliminating the least popular candidates until the top two candidates have been chosen. Then the full membership of the Conservative Party across the country will vote to choose the winner. The new Prime Minister is expected to take power in the week of July 22, just before Parliament recesses for their summer break in August.
Boris Johnson is almost certain to become the new Prime Minister, unless he makes some enormous gaffe in the meantime. The betting probabilities at PredictIt.org are as follows: Boris Johnson 73%, Jeremy Hunt 15%, Michael Gove 7%, Andrea Leadsom 6%, Sajid Javid 4%, Dominic Raab 3%, and 1% each for Jacob Rees-Mogg, Matt Hancock, Graham Brady, and Penny Mordaunt.
Boris Johnson yesterday eased his no-deal Brexit threats somewhat and said that he would like to reach a renegotiated deal with the EU and that a no-deal Brexit would only be used as a last resort. Mr. Johnson nevertheless continues to insist that the UK will leave the EU one way or another by the October 31 Brexit deadline. EU officials this week have reiterated for the umpteenth time that they will not reopen the UK withdrawal agreement for further negotiation. The EU yesterday also said that no further plans are needed on their end for a no-deal Brexit. The markets fear that Mr. Johnson will run into the same brick wall that Prime Minister May ran into, thus leading to a no-deal Brexit even though Parliament is currently opposed.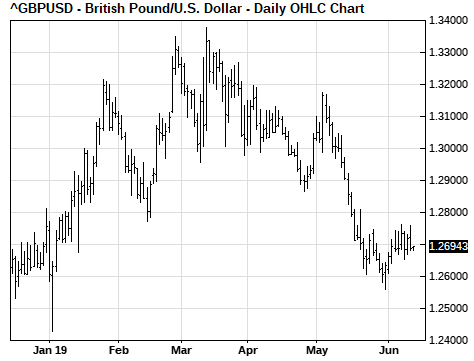 30-year T-note yield is near 2-1/2 year low ahead of today's auction — The Treasury today will conclude this week's $78 billion coupon package by selling $16 billion of 30-year T-bonds in the first reopening of May's 2-5/8% 30-year T-bond of May 2049. The benchmark 30-year T-bond yield of 2.62% late Wednesday was just 10 bp above last Monday's 2-1/2 year low of 2.52%.
The 12-auction averages for the 30-year are as follows: 2.27 bid cover ratio, $5 million in non-competitive bids, 4.8 bp tail to the median yield, 34.3 bp tail to the low yield, and 52% taken at the high yield. The 30-year is slightly below average in popularity among foreign investors and central banks. Indirect bidders, a proxy for foreign buyers, have taken an average of 60.9% of the last twelve 30-year T-bond auctions, which is slightly below the median of 61.0% for all recent Treasury coupons.