Weekly global market focus
Markets wait for details on Chinese retaliation and the next round of U.S. tariffs on China
Weekly global market focus — The U.S. markets this week will focus on (1) trade tensions with the details due as soon as today on Chinese retaliation and on the U.S. plan for the next round of 25% tariffs on about $300 billion Chinese goods in 30 days, (2) fine-tuning of market expectations for Fed policy in light of the new trade tensions and this week's active U.S. economic calendar, (3) a fairly busy week for Fedspeak with seven appearances by various Fed officials, (4) June WTI oil prices, which fell by a net -0.45% last week on US/Chinese trade tensions, and (5) the tail end of Q1 earnings season with reports this week from nine of the S&P 500 companies.
This week's most important U.S. economic report will be Wednesday's April retail sales report (expected +0.2% and +0.7% ex-autos), which will show whether consumer spending has really recovered after the weakness seen during the winter. Wednesday's April manufacturing report is expected to show continued weakness with the second straight report of unchanged m/m. Thursday's April housing starts report is expected to show strength with a +6.2% increase after March's report of -0.3%. Friday's preliminary-May U.S. consumer sentiment report is expected to show a small +0.3 point increase after April's -1.2 point decline.
In Europe the focus will be on US/EU trade tensions ahead of President Trump's scheduled decision by May 18 regarding tariffs on imported autos. Brexit will remain in the news as Prime Minister May continues to negotiate with the Labour Party for a Brexit compromise that could pass Parliament. The markets are watching politics ahead of elections for the European Parliament to be held May 23-26. There could be Italian political uncertainty this week on talk that League leader Salvini may want new elections. Key EU data this week includes (1) Wednesday's German Q1 GDP (expected stronger at +0.4% q/q after Q4's weak report of unchanged), and (2) Tuesday's Eurozone March industrial production report (expected weak at -0.3% m/m and -0.8% y/y).
In Asia the focus will mainly be on US/Chinese trade tensions and whether Chinese state-linked funds can continue to support Chinese stocks after last Friday's +3.10% recovery in the Shanghai Composite Index. Tuesday night's Chinese economic reports are expected to weaken a bit with China's April industrial production expected to ease to +6.5% y/y from March's +8.5% and with April retail sales expected to weaken slightly to +8.6% y/y from March's +8.7%.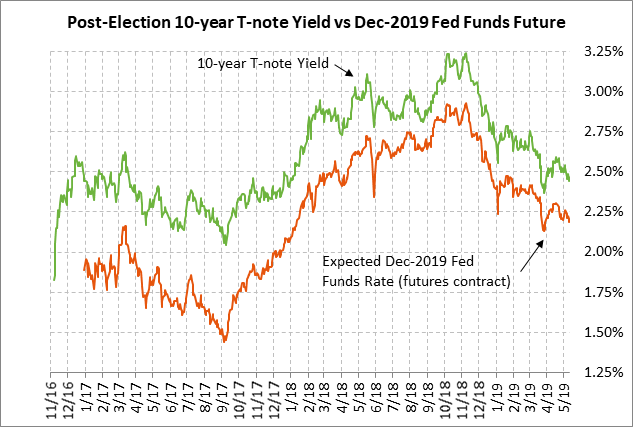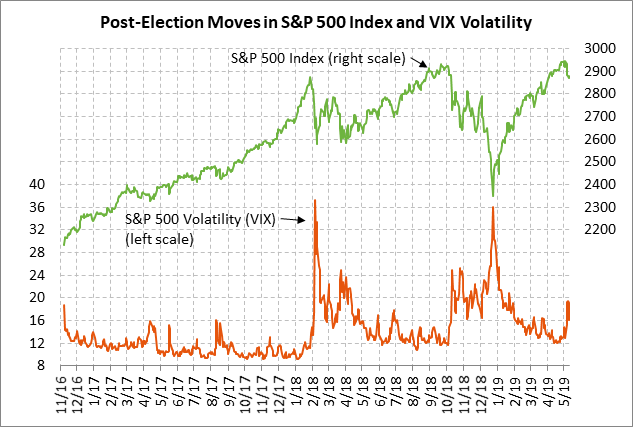 Markets wait for details on Chinese retaliation and the next round of U.S. tariffs on China — The markets are waiting for two imminent developments on US/Chinese trade relations. First, the markets are waiting for the details on how China will retaliate for the Trump administration's action last Friday to raise the tariff to 25% from 10% on $200 billion of Chinese goods. Second, the U.S. Trade Representative today is scheduled to release the details of the Trump administration's plan to slap a 25% tariff on the remaining $300 billion of Chinese goods not already hit with penalty tariffs. The Trump administration said last Friday that the new tariffs on $300 billion of Chinese goods will go into effect in 30 days, which would be around June 10.
China's retaliation for last Friday's round of U.S. tariffs presumably won't draw new U.S. tariff threats since the Trump administration has already put into effect the next round of tariffs that will take effect in 30 days. However, President Trump this week could nevertheless announce new penalties of some sort or a speedup of the tariffs on $300 billion of Chinese goods if China retaliates on a large scale.
Chinese Vice Premier Liu over the weekend laid out China's red lines, which are not likely to be negotiable now that they have been made public. China said that (1) the U.S. must remove all penalty tariffs after a trade agreement is reached, (2) China's commitments for the purchase of U.S. goods such as U.S. ag products and LNG must be in line with real demand, and (3) the language of the agreement must be "balanced" to ensure the "dignity" of both nations, which presumably means China will not agree to change its legislation to implement the trade deal and will only take administrative actions.
The fact that China laid out its bottom line publicly for the first time suggests that China is not willing to compromise beyond those red lines and would be willing to absorb the next round of U.S. tariffs threats in 30 days if that becomes necessary. If the U.S. goes ahead with the next tariff round in 30 days, then President Trump will have shot off virtually all his ammunition since there would be 25% tariffs on virtually all imports from China. China at that point might stop negotiating and might simply wait to see whether President Trump wins reelection in November 2020. President Trump acknowledged that possibility with a weekend tweet in which he said, "I think that China felt that they were being beaten so badly in the recent negotiation that they may as well wait for the next election, 2020, to see if they could get lucky and have a Democrat win."
The only good trade news for the markets at this point is that the US/Chinese trade talks will apparently continue. White House economic advisor Kudlow over the weekend said that Lighthizer-Mnuchin have been invited to China for further talks but that a date has not yet been set. Mr. Kudlow also said that he views a Trump-Xi meeting as likely at the G-20 Summit in Japan in late-June, although that would be after the 30-day deadline for the next round of U.S. tariffs, after which the U.S. could have a 25% tariff on virtually all Chinese imports.
Adding to the trade gloom, President Trump by the end of next week (i.e., by May 18) is scheduled to announce a decision on whether to slap tariffs on U.S. auto imports, although he could delay that decision.