US/Chinese "first phase" trade agreement needs a lot more work
Brexit deal in time for EU Summit is highly unlikely
Fedspeak this week may fill in the details of Fed's plan to boost reserves

US/Chinese "first phase" trade agreement needs a lot more work — Last Friday's US/China deal turned out to be more "an agreement to agree" than a specific agreement in itself. The only thing that definitely came out of last week's trade talks was that President Trump deferred the tariff hike to 30% from 25% that would have otherwise taken effect today.

Bloomberg early Monday reported that China wants more talks by the end of October to resolve some sticking points before Chinese President Xi will sign last Friday's trade agreement. Bloomberg reported that one of its sources also said that China wants President Trump to agree to scrap the December 15 tariff of 15% on $160 billion of Chinese goods as a precondition for a deal, which the U.S. has not yet agreed to do. President Trump has so far scrapped only the hike in the tariff to 30% from 25% on the original $250 billion of Chinese goods that would have otherwise taken effect today.

After the Bloomberg report called into question whether there was an agreement at all last Friday, Treasury Secretary Mnuchin on Monday appeared on CNBC and essentially admitted that a final deal has yet to be reached. Mr. Mnuchin said, "We have a fundamental agreement. It is subject to documentation, and there's a lot of work to be done on that front."

Mr. Mnuchin said he expects another round of talks involving the usual top-level officials including himself, USTR Lighthizer, and Chinese Vice Premier Liu. He said the goal is to have a deal for Presidents Trump and Xi to sign at the APEC Summit on Nov 16-17 in Santiago, Chile.

The markets are now in a new waiting game to see if there will be a new round of talks and a final agreement in time for signatures at the APEC summit in November. The fact that President Trump canceled today's tariff hike to 30% from 25% was a step in the right direction. However, it remains to be seen whether there will be a phase-one trade agreement and a deferral of the Dec 15 tariff. In the meantime, US/Chinese trade relations will continue to hang over the markets like a wet blanket.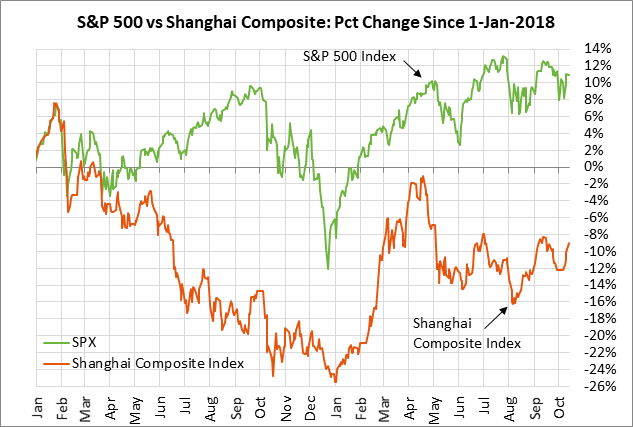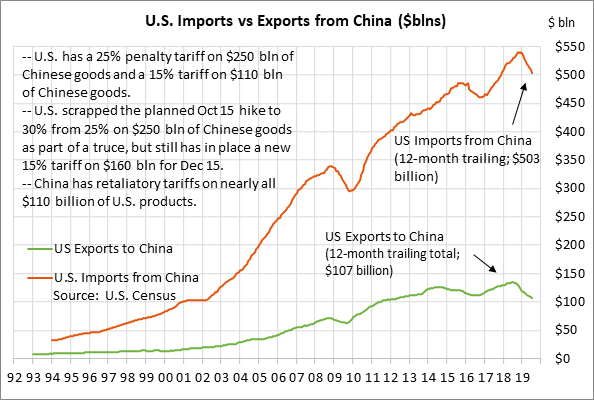 Brexit deal in time for EU Summit is highly unlikely — UK and EU negotiators are engaged in intensive negotiations as they try to produce an agreement by Wednesday that can be presented to EU leaders at their Summit on Thursday and Friday. If the two sides could miraculously reach such an agreement by tomorrow, then the program would be for EU leaders to approve the deal at their Thursday/Friday summit and for the UK Parliament to approve the deal on Saturday. That would usher in a quiet transition period whereby the UK would leave the EU on October 31 but would have a grace period during which the UK would continue to operate under EU single-market rules and tariffs until the two sides can negotiate a new trade agreement.

However, the chances for an agreement in time for this week's EU Summit are slim to none. Finnish Prime Minister Rinne, who holds the rotating EU presidency, said on Monday, "I think there is no time in a practical or legal way for an agreement before the EU Council meeting." We need more time."

If there is no Brexit agreement by Saturday, then the UK Parliament's Benn Act requires Prime Minister Johnson to request an extension of the October 31 Brexit deadline. The markets are discounting a very low chance of a no-deal Brexit on October 31 and are generally expecting Mr. Johnson to request that Brexit extension even though he has threatened to find a loop-hole and said he would rather be "dead in a ditch" than request an extension. The betting odds are only 15% that there will be a no-deal Brexit by the end of 2019, according to oddschecker.com.

If there is no Brexit agreement this week, then the UK and EU are expected to continue to engage in intensive negotiations right up to the last minute on October 31 to see if there is a deal that could get the UK out of the EU by October 31. The markets generally believe the most likely outcome will be another Brexit extension followed by a UK general election late this year.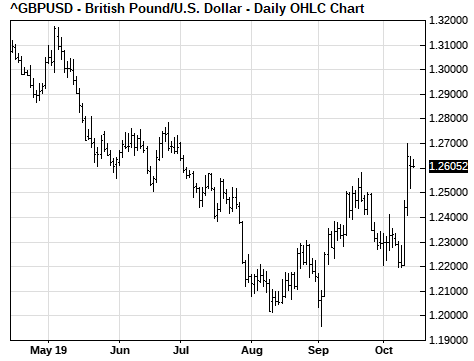 Fedspeak this week may fill in the details of Fed's plan to boost reserves — Fed officials beginning today will begin a busy schedule of speaking engagements in which they can fill in more details about the Fed's announcement last Friday that it will start buying T-bills to boost its balance sheet. The Fed said it will start the program with T-bill purchases of $60 billion per month and that the program will last at least into Q2-2020.

The Fed said that the move is designed solely to boost reserves and alleviate the recent tightness in the short-term funding markets. The Fed said the program does not represent a shift in monetary policy. The Fed also said that the program does not constitute a new QE program since the Fed is only trying to meet demand for reserves and will only be buying T-bills that roll off quickly.

The Fed's new program is not directly bullish for the T-note market since the Fed does not plan to buy T-notes. Nevertheless, the plan is indirectly bullish for the T-note market since the new liquidity will grease the plumbing in the Treasury repo market and make Treasury securities potentially cheaper and less risky to hold.

Still, the Fed's plan could turn out to be directly bullish for the T-note market if the Treasury decides to boost the amount of T-bills it sells to accommodate the Fed's large purchases. If that happens, and the Treasury reduces its T-note issuance, then there would be a direct bullish effect for the T-note market and the Fed would be engaged in a type of QE program.