U.S. and China have agreed to proportionally roll back tariffs
EU hopes that U.S. tariff threat on EU autos will be lifted next week ahead of Nov 17 deadline
Treasury concludes this week's refunding operation by selling 30-year T-bonds

Positive trade news after China's Ministry of Commerce said the U.S. and China have agreed to proportionally roll back tariffs on each other's goods in phases "as progress is made on the agreement."  The two sides continue to negotiate over where and when a "phase one" trade deal would be signed.  Another positive was the report from Xinhua that said China's General Administration of Customs and Ministry of Agriculture is studying the removal of curbs on U.S. poultry imports. 
However, the markets were a bit nervous after reports emerged yesterday, first from Reuters, that the signing of a US/Chinese trade deal could be delayed until December.  The original signing date was the Nov 16-17 APEC Summit in Chile but that Summit had to be canceled due to protests that rocked the country.

Reuters reported on Wednesday that the signing ceremony could now be delayed until December since the U.S. and China are having a hard time settling on a date and location.  Reuters cited an unnamed senior Trump administration official for its story.  The official also said that it is possible a phase one trade deal will not be reached but that a deal was more likely than not.

Reuters said that one possible location being considered is London on Dec 3-4 when President Trump will be there for a NATO meeting.  The source said that other sites are possible in Europe or Asia, but that London was more likely.

The markets will be much more confident that a phase one trade deal will be completed if the U.S. and China schedule a definitive date and location for the signing ceremony.  Until then, the two sides could keep going around in circles with last-minute demands for concessions.

China is reportedly pressuring President Trump to scrap the upcoming Dec 15 tariff as well as to roll back the Sep 1 tariff of 15% on $110 billion of Chinese goods and even reduce the 25% tariff on the original $250 billion of Chinese goods.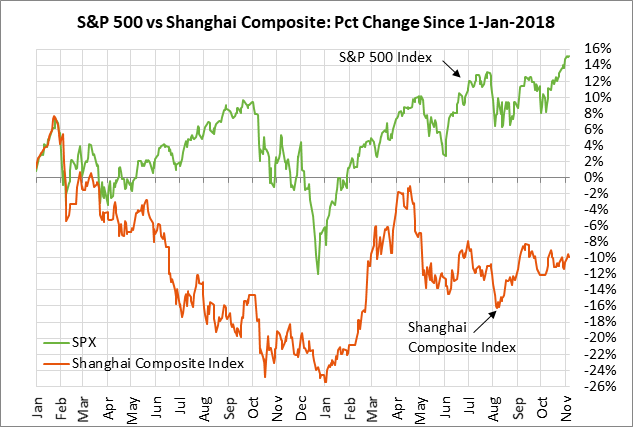 EU hopes that U.S. tariff threat on EU autos will be lifted next week ahead of Nov 17 deadline — EU Trade Commissioner Malmstrom on Wednesday said that she hopes the Trump administration next week will drop its threat to slap tariffs on autos imported from Europe. The Trump administration has a self-imposed deadline of Nov 17 to make a decision, although President Trump could decide to again delay a decision to allow for continued negotiations.

Ms. Malmstrom on Wednesday said that the EU has been in "intensive discussions" with the U.S. about dropping the threat, but that no settlement has been reached.

The Trump administration in May agreed to a 6-month delay in the tariff decision. The EU is the main target for the imported auto tariff since Japan and South have been exempted from the auto-tariff threat by larger trade deals. The EU has pledged to retaliate with tariffs on $39 billion of U.S. exports to Europe if the U.S. slaps tariffs on EU autos.

A U.S. tariff on European autos would cause a heavy hit to the German manufacturing sector, which is already in a recession. The Markit manufacturing PMI indexes for both Germany and the Eurozone have been in contractionary territory below 50.0 since the beginning this year. The Markit German manufacturing PMI in September fell to 41.7, which was the lowest level since the global financial crisis, although the index rebounded slightly higher in October by +0.4 points to 42.1.

In a positive statement, Commerce Secretary Wilbur Ross this past Sunday said that the Trump administration may not need to slap tariffs on European autos because the administration has held "good conversations" with automakers in the EU, Japan and elsewhere about making more autos in the U.S. Mr. Ross said, "Our hope is that the negotiations we've been having with individual companies about their capital investment plans will bear enough fruit that it may not be necessary to put the 232 fully into effect, may not even be necessary to put it partly into effect."

However, it seems unlikely that President Trump will back off his demand for reduced European auto imports based on a vague promise from automakers to someday build more autos in the United States. A deal seems more likely to turn on negotiations between US/EU trade officials, and not on U.S. talks with private European automakers, possibly making Commerce Secretary Ross's comments less positive than they appeared on the surface.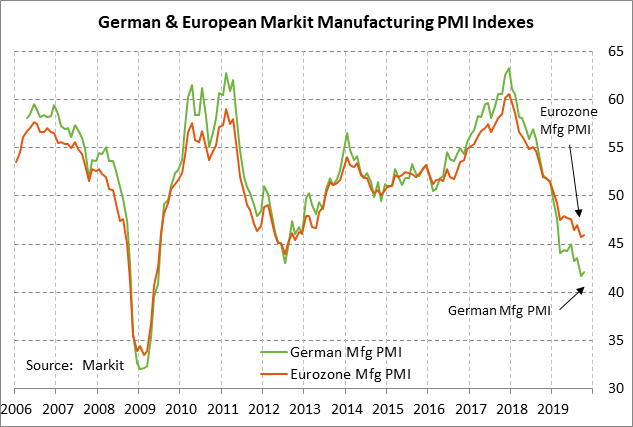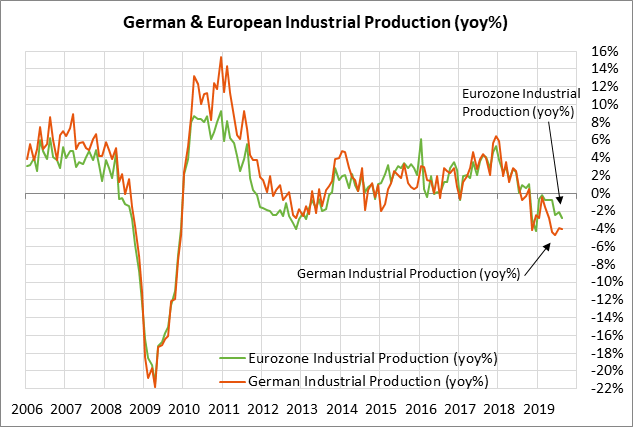 Treasury concludes this week's refunding operation by selling 30-year T-bonds — The Treasury today will sell $19 billion of new 30-year bonds, concluding this week's $84 billion quarterly refunding operation. Today's 30-year bond auction size is unchanged from the Treasury's last refunding operation in August.

The 30-year T-bond yield on Wednesday closed at 2.31%, which is just 7 bp below the mid-Sep 3-month high of 2.38%. The 30-year T-bond yield in late August fell to a record low of 1.90% but has since risen by a net +41 bp due to (1) expectations for a US/Chinese phase one trade deal, which would reduce the downward pressure on the global economy from trade tensions, (2) the Fed's guidance that it is done cutting interest rates after the three rate cuts seen since July, (3) increased inflation expectations with the 30-year breakeven inflation expectations rate on Wed rising to a new 3-month high of 1.76%, and (4) the rise in global bond yields in general due to hopes for reduced trade tensions.

The 12-auction averages for the 30-year T-bond are: 2.22 bid cover ratio, $7 million in non-competitive bids to mostly retail investors, 5.8 bp tail to the median yield, 40.7 bp tail to the low yield, and 49% taken at the high yield. The 30-year T-bond is slightly below average in popularity among foreign investors and central banks. Indirect bidders, a proxy for foreign buyers, have taken an average of 59.1% of the last twelve 30-year T-bond auctions, which is mildly below the median of 59.7% for all recent Treasury coupon auctions.