-Soybean sales above reported expectations, but not surprises on Chinese data
-Corn sales minimal – well below expectations
-Wheat sales routine – as expected
-SBM sales solid/SBO minimal
U.S. soybean sales, for the week ended 10/03/19, were 2.093 MMT (76.9 million bushels), coming in above market expectations of 1.3-1.8 MMT, but reported sales of 1.18 MMT to China didn't reflect anything all that surprising relative to previously daily-reported sales, while there were also new net sales reported to unknown of 451k tonnes – some, but not all, of which likely are Chinese, as well. The strong sales in recent weeks, on the return of China to the market, has allowed the year-over-year reduction in total commitments to decline to 20% from 44% five weeks ago, with total sales on the books now at 602 million bushels vs 755 million in early October last year. Based on this week's data, China now officially has 4.8 MMT of soybeans on the books. Soybean sales will need to average roughly 25.3 million bushels/week through the end of next August for the USDA's 1.775 billion bushel export projection to be reachable vs last year's 22.1 million/week average from this point forward.
Corn sales were absolutely abysmal once again at just 284k tonnes (11.2 million bushels), below already-weak market expectations of 500-800k tonnes, falling from the previous week's 22.1 million and well below last year's same-week sales of 39.6 million. Total commitments of 394 million bushels are now down 52% from last year's 815 million and are the lowest for early October in 32 years. The largest sales this week went to Colombia with a mere 80k tonnes. Corn sales will need to average roughly 34.2 million bushels/week if the USDA's 2.050 billion bushel export projection is to be reached – 40% increase from last year's 24.5 million/week average from this point forward, which would be the 2nd highest Oct-Aug average sales of the last 14 years and 4th highest of the last 30 years.
Wheat sales continue in an unspectacular, but steady, fashion at 522k tonnes (19.2 million bushels), in line with market expectations of 300-600k tonnes, but at least reflected a decent improvement from sales of the previous three weeks, which averaged just 11.0 million bushels. Wheat sales through the first 18 weeks of the 2019/20 marketing year have averaged 15.5 million bushels/week. Total commitments of 493 million bushels are still up 16% from last year's 426 million, so it's hard to argue with the overall sales program so far, but it's just generally uninspiring. Wheat sales will need to average roughly 13.3 million bushels/week in order to reach the USDA's 975 million bushel export projection vs last year's 15.4 million/week average from this point forward.
This week's sales reflected the first week of the 2019/20 marketing years for soybean meal and soybean oil. SBM sales were solid at 365k tonnes, above expectations of 100k-300k tonnes, as Mexico booked 201k tonnes last week. At the official start of the new marketing year, SBM total commitments of 3.463 MMT are down 12% from last year, while USDA is looking for this year's exports to be essentially unchanged from 2018/19. Soybean oil sales were minimal, though, at just 1.2k tonnes vs 5-25k expected, but total commitments to start 2019/20 of 196k tonnes are above last year's 150k at this time. The USDA is currently estimating 2019/20 SBO exports declining 16% from last year.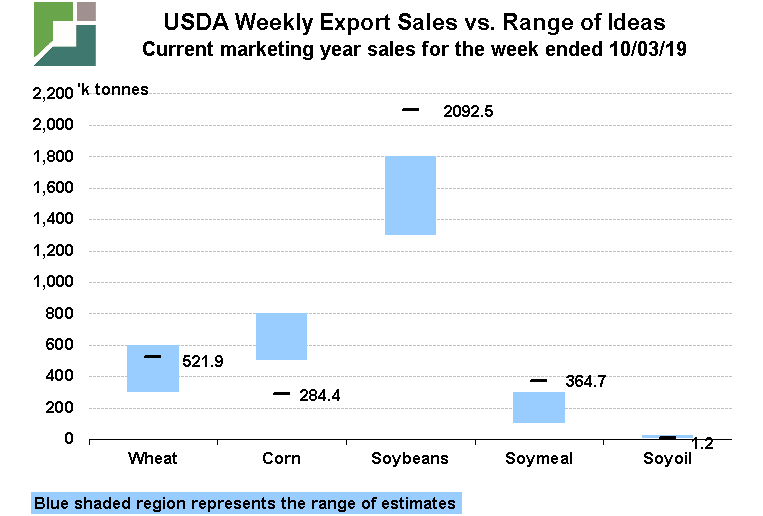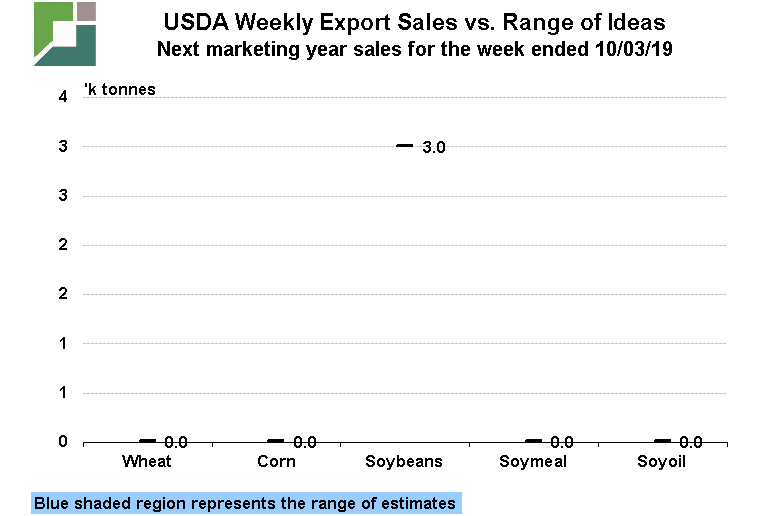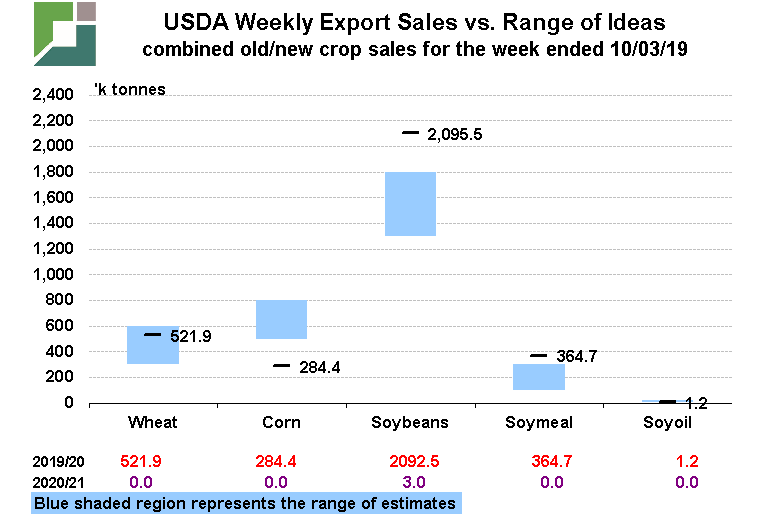 PRIVACY POLICYDISCLAIMERCOPYRIGHTABOUTRJO NEWSCONTACT US(800) 621-0757