Markets are hopeful for a US/China ceasefire today
Some Brexit progress is reported but time is very short
U.S. consumer sentiment expected to remain weak near Aug's 2-1/4 year low

Markets are hopeful for a US/China ceasefire today — The markets are waiting to see if there will be any type of US/Chinese trade deal on the second day of talks today. There was increased optimism after President Trump said late Thursday afternoon that Thursday's talks went "very very well." Mr. Trump said he will meet today with Chinese Vice Premier Liu, who is leading the Chinese trade team.

The markets continue to hope for at least an interim agreement whereby President Trump agrees to hold off on upcoming tariffs. Mr. Trump has already announced that his tariff will rise to 30% from 25% this coming Tuesday (Oct 15) on the original $250 billion of Chinese goods and that there will be a new 15% tariff on $160 billion of Chinese goods effective Dec 15.

The question is whether China is offering enough to get Mr. Trump to back off on the new tariffs. China has reportedly already agreed to large-scale ag purchases, which isn't much of a concession because they need the soybeans and pork anyway. There were reports on Thursday that China may agree to a currency deal where it agrees not to devalue its currency. It remains to be seen whether the Trump administration will also require Chinese concessions on IP protection and technology transfers to qualify today for deferred tariffs.

The markets will be pleased if Mr. Trump agrees to defer the Oct 15 and Dec 15 tariffs, even though he is likely to reserve the right to impose new tariffs any time he wishes. The markets would be very happy if there is no threat of new tariffs at least into next year, when trade talks will presumably tackle the tougher issues such as IP, technology transfer, industrial policy, and state subsidies.

The markets know that new tariffs next year are much less likely because Mr. Trump will not want to wreck the stock market or damage the economy during next year's presidential campaign in the run-up to the November 2020 election.

While the markets are hoping for some kind of trade deal today, there is also the possibility that Mr. Trump will be angered if China doesn't offer enough concessions. In that case, Mr. Trump is likely to go ahead with the planned Oct 15 and Dec 15 tariffs, and could announce a new round of penalty measures.

If Mr. Trump wants to up the ante in his economic war on China, he could raise the tariff from 15% to 30% on the $110 billion of goods tariffed on Sep 1 and on the $160 billion of goods that will be tariffed on Dec 15. That step would then produce a 30% penalty tariff on virtually all U.S. imports from China.

Mr. Trump could also expand the economic war against China by announcing the blacklisting of more companies, imposing more visa bans on Chinese officials, and starting to restrict U.S. capital flows into Chinese securities. The initial capital restrictions could involve restricting U.S. government pension plans from investing in Chinese stocks and possibly the delisting of some Chinese stocks trading in the U.S.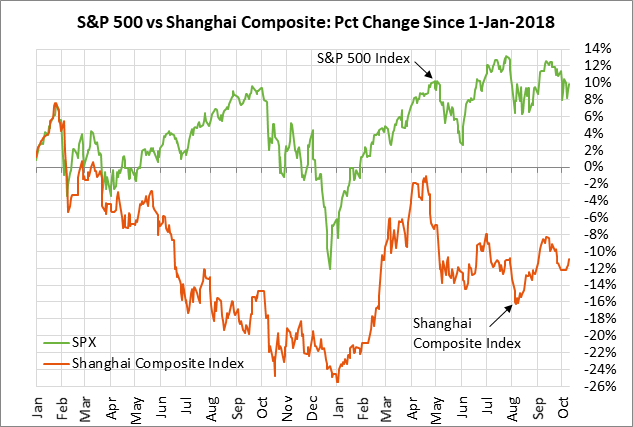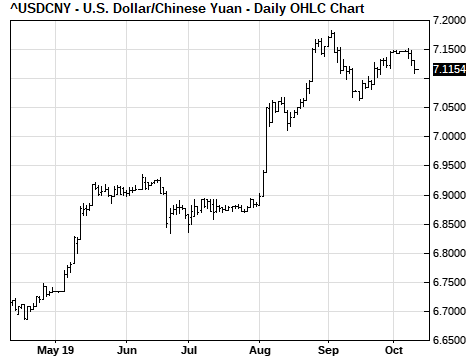 Some Brexit progress is reported but time is very short — The markets were mildly encouraged about Brexit on Thursday after Prime Minister Johnson and Irish premier Varadkar said after a lunch meeting that, "They agreed that they could see a pathway to a possible deal." The Irish Times reported that PM Johnson on Thursday showed some "very significant movement" on the customs issue. GBP/USD on Thursday rallied sharply by+1.94%.

Sky News reported that PM Johnson on Thursday offered to switch away from a fully-formed withdrawal agreement and instead focus on a "pared-down free trade agreement." While that sounded promising, it is unclear how even a pared-down free trade agreement could be agreed upon with so little time left until various deadlines over the next three weeks. Also, there was still no obvious solution about how to avoid a hard Ireland/Northern Ireland customs border.

The EU next Thursday/Friday (Oct 17-18) will hold its last scheduled summit before the Oct 31 Brexit deadline. The EU would like to have a Brexit deal in hand to approve at that summit, although they seem willing to hold an emergency summit at the end of October if that becomes necessary.

Meanwhile in the UK, if there is no Brexit withdrawal agreement by next Saturday (Oct 19), then the UK Parliament's Benn act requires PM Johnson to request an extension of the Oct 31 Brexit deadline. PM Johnson has given mixed messages about whether he would comply with the law requiring an extension or whether he would try to use a loophole that would allow him to force a no-deal Brexit on Oct 31. The betting odds for a no-deal Brexit in 2019 remain very low at 18% (9/2) at oddschecker.com.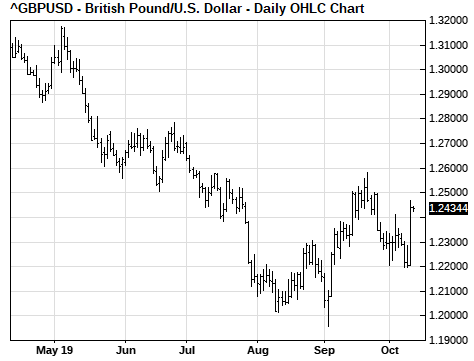 U.S. consumer sentiment expected to remain weak near Aug's 2-1/4 year low — The market consensus is for today's preliminary-Oct University of Michigan U.S. consumer sentiment index to show a -1.2 point decline to 92.0, giving back part of September's +3.4 point increase to 93.2. The index is in generally weak shape at only 3.4 points above August's 2-1/4 year low of 89.8.

U.S. consumer sentiment has recently been undercut by the increased talk in the media about the chances of a recession and also by the weaker labor market data. Consumers may also be worried about the political turmoil in Washington.

The U.S. economy is being held up almost exclusively by consumer spending, which contributed a hefty 3.0 percentage points to the Q2 GDP report of +2.0%. If U.S. consumer spending starts to slide, then the chances of a U.S. recession will quickly rise.