US/Chinese trade deal stumbles ahead despite internal dissent on tariff roll-backs
Juncker says no Trump tariff on EU autos next week
U.S. consumer sentiment expected unchanged

US/Chinese trade deal stumbles ahead despite internal dissent on tariff roll-backs — The markets were encouraged early Thursday when China's Ministry of Commerce spokesman Gao Feng said, "In the past two weeks, top negotiators had serious, constructive discussions and agreed to remove the additional tariffs in phases as progress is made on the agreement."

Mr. Gao added, "If China, U.S. reach a phase-one deal, both sides should roll back existing additional tariffs in the same proportion simultaneously based on the content of the agreement, which is an important condition for reaching the agreement."

However, Reuters then threw some cold water on the market's trade enthusiasm by reporting later in the day that an agreement to roll back tariffs as part of the phase-one trade deal "faces fierce internal opposition at the White House and from outside advisors, multiple sources familiar with the talks said."

The White House is apparently seeing a new internal battle between trade doves and hawks. In past battles, the doves were led by Treasury Secretary Mnuchin and the hawks were led by White House trade advisor Navarro. The most important question is where USTR Lighthizer stands and whether President Trump fully backs his position.

If Mr. Gao's statement is correct that "top negotiators" agreed "to remove the additional tariffs in phases," then USTR Lighthizer, as the lead negotiator, has possibly already agreed with the idea of rolling back tariffs. If that is the case, then the carping expressed to Reuters may have been from Mr. Navarro, who may feel that he is losing the battle to keep the tariffs fully in place. Yet, if the trade hawks led by Mr. Navarro can pull President Trump over to their side, then they may still win their battle, perhaps leading to no phase-one trade deal at all if China sticks to its guns on its demand for tariff roll-backs.

In any case, the freight train appears to be heading towards a phase-one trade deal despite some carping to Reuters by lower-level trade officials and outside advisors. White House economic advisor Kudlow yesterday afternoon made an apparent attempt to stamp out the dissent when he told Bloomberg, "If there's a phase one trade deal, there are going to be tariff agreements and concessions."

There was additional positive trade news Thursday afternoon when Fox Business News reported that the U.S. and China want to have a phase-one deal down on paper by the end of next week. The reporter said, "Trade sources from both sides say the U.S. and China [are] still negotiating using the APEC timeframe," i.e., a deal by the Nov 16-17 date of the now-canceled APEC Summit in Chile.

There is concern that the timing of a deal could slip into late November or even December since the U.S. and China are having a difficult time settling on a date and location for a signing ceremony. Reuters on Wednesday reported that Dec 3-4 in London is considered a possible date for a Trump-Xi meeting to sign the trade deal since Mr. Trump will be in London for a NATO meeting. Reuters said many other locations in Europe and Asia are also under consideration.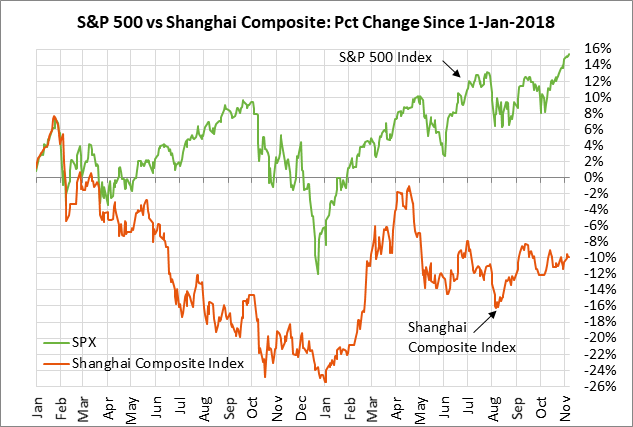 Juncker says no Trump tariff on EU autos next week — EU Commission President Jean-Claude Juncker yesterday said in a German newspaper interview that President Trump will not impose tariffs next week on EU autos. Mr. Juncker said, "Trump will ruffle a bit, but there will not be any automobile tariffs." He added, "He won't do it. You're talking to a full informed man."

Mr. Juncker was the EU official who was able to talk Mr. Trump into a truce in July 2018 that has so far prevented a U.S. tariff on EU autos. Mr. Juncker is clearly in a position to be fully informed on the status of the US/EU trade talks.

The global stock markets are likely to drop sharply if Mr. Trump goes ahead with a U.S. tariff on European autos since that would cause a heavy hit to the German and European manufacturing sectors, which are already in recessions.

The Trump administration has a self-imposed deadline of Nov 17 to make a decision on auto tariffs, although President Trump could decide to again delay a decision to allow for continued negotiations. EU Trade Commissioner Malmstrom on Wednesday said that the EU has been in "intensive discussions" with the U.S. about dropping the auto-tariff threat and that she did not know whether or not Mr. Trump would impose tariffs next week.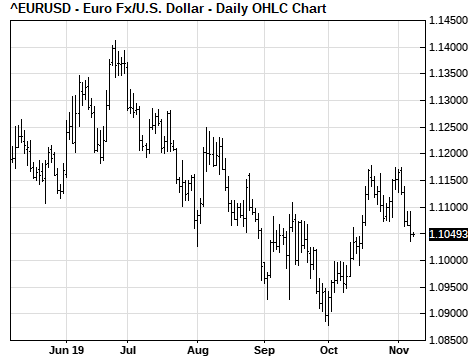 U.S. consumer sentiment expected unchanged — The consensus is for today's preliminary-Nov University of Michigan U.S. consumer sentiment index to be unchanged at 95.5 following October's +2.3 point increase to 95.5. The index fell sharply in August by -8.6 points to a 3-year low of 89.8 but then partially recovered with an overall rise of +5.7 points in September and October.

The market continues to watch U.S. consumer confidence and spending very carefully because consumers are the only major sector holding up the U.S. economy. Personal consumption contributed 1.93 percentage points to the Q3 GDP report of +1.9% and 3.03 points to the Q2 GDP report of +2.0%. U.S. consumer confidence is seeing support from (1) the strong labor market, (2) the record highs in the stock market that boost consumer 401k accounts and foster optimism about the economy, and (3) the continued rise in home prices that bolsters household wealth. However, confidence is being undercut by trade tariffs, political uncertainty in Washington, and the slowdown in U.S. GDP growth to +1.9% in Q3.