Soaring Chinese stocks give global stocks a sentiment boost
PPI expected to recover a bit
U.S. may announce French tariffs today for digital tax

Soaring Chinese stocks give global stocks a sentiment boost — The Shanghai Composite index on Thursday extended the parabolic rise seen in the past 1-1/2 weeks, posting a new 2-1/2 year high and closing the day up +1.39%. The Shanghai index has soared by +16.5% just in the past eight sessions.

The sharp rally in Chinese stocks has given a sentiment boost to stocks across the world, particularly high tech stocks that are less affected by the pandemic. The Nasdaq 100 index, for example, has rallied sharply by +8.0% over the same 8-session time frame that the Shanghai index has rallied by +16.5%.

The rally in Chinese stocks has been driven by (1) large-scale buying by retail investors as speculative fever has broken out, (2) heavy short-covering as the index broke out of its relatively narrow pandemic range, (3) optimism about the Chinese government's success in dampening the Covid pandemic and hopes for a solid Chinese economic recovery, and (4) the Hong Kong security law that is expected to dampen protests in Hong Kong and reduce disruptions to Hong Kong businesses.

Stock investors are particularly bullish on Chinese stocks that will see support from the Chinese government's $1.4 trillion infrastructure buildout plan. That plan focuses on 5G telecom, artificial intelligence, industrial internet, smart cities, education, and health care.

The extent of the rally seen in the last 1-1/2 weeks, however, has invited comparisons to whether Chinese stocks are in bubble territory as they were in 2015, which ended in tears with a 49% plunge. However, the 12-month trailing P/E ratio for the Shanghai index has risen to only 17.6, well below levels near 20 seen during the 2015 bubble.

Moreover, the Shanghai's trailing P/E of 17.6 is still well below the S&P 500's trailing P/E of 22.2 and the Nasdaq 100's trailing P/E of 33.7, suggesting that Chinese stocks are merely playing some catchup as opposed to pulling global stocks into nose-bleed territory.

Chinese investors are also bullish as the government seems to be encouraging strength in stocks. China's state-run Securities Times ran a front-page editorial on Monday, saying that fostering a "healthy" bull market after the pandemic is now more important to the economy than ever. Chinese investors took that to mean that the Chinese government is fully behind the stock market rally.

However, the continued rally in Chinese stocks this week is giving some Chinese regulators cold feet about speculative retail buying and the heavy use of margin credit. For example, there were 85,000 new margin accounts opened in June. Chinese regulators on Thursday responded by announcing the blacklist of 258 brokerage houses that were accused of offering illegal margin accounts with leverage of up to 10 times. The Chinese state-run media followed that up with warnings about the role of speculation and margin-buying in the 2015 Chinese stock market debacle.

The rally in Chinese stocks has occurred even though the Chinese central bank has provided little additional stimulus in response to the pandemic. The Peoples' Bank of China (PBOC) has only cut the reserve requirement ratio by 50 bp to 12.50% and allowed the 1-year prime loan rate to fall by -20 bp to 3.85% in April. The PBOC has not engaged in any QE security purchase programs, such as the massive QE programs being run by the Fed, ECB, and BOJ.

Chinese officials have provided only the minimum amount of extra monetary stimulus to counteract the pandemic because they don't want to cause even bigger problems by pushing China's debt levels any higher. Prior to the pandemic, Chinese officials were still trying to reduce leverage and debt in the Chinese economy. Chinese officials are well aware of the major debt problems that resulted from their aggressive monetary stimulus program in response to the 2007/09 global financial crisis and Great Recession.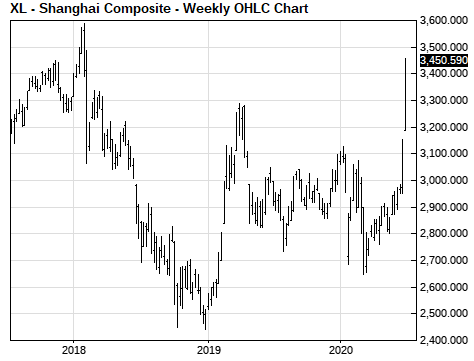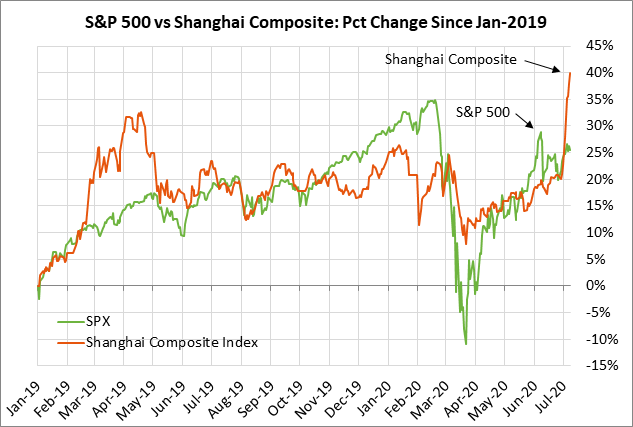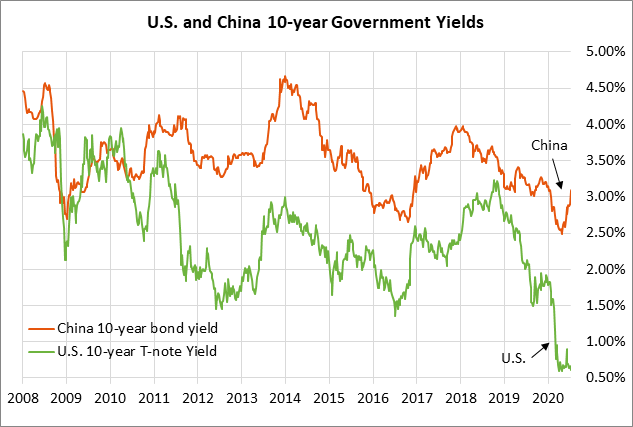 PPI expected to recover a bit — The consensus is for today's June final-demand PPI to strengthen to -0.2% y/y from May's -0.8% y/y, in part because of the surge in oil prices in May-June. Meanwhile, the June core PPI is expected to edge higher to +0.4% y/y from May's +0.3%. A slight increase in the core PPI will be taken as a sign of an improvement in business conditions at the wholesale level of the economy as businesses regain some pricing power due to an improvement in demand.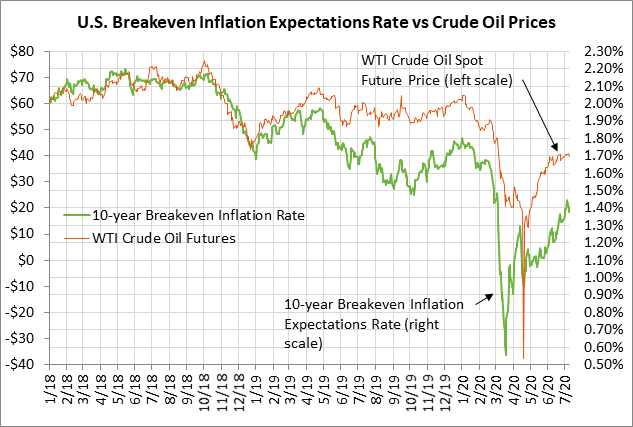 U.S. may announce French tariffs today for digital tax — The Trump administration today may announce specific tariffs on about $500-700 million of French goods as retaliation for its digital tax, according to Bloomberg. However, Bloomberg reported that the U.S. will defer the implementation of the tariffs as long as France continues to defer its collection of the digital tax. France has deferred the collection of the tax until year-end as it tries to fend off U.S. tariffs, although talks appear to be going nowhere.

The U.S. appears headed towards slapping tariffs on a range of countries that plan to impose taxes on large tech companies that mostly include U.S. companies such as Amazon, Google, and others. The U.S. last month withdrew from talks under the auspices of OECD seeking a global agreement for a tax structure on international companies, including tech companies. The Trump administration apparently saw no hope for reaching an agreement on a global digital tax structure and instead appears to be headed for tariff retaliation.