USDA made an unprecedented revision to a previously-reported quarterly corn stocks estimate, setting up the notably bullish surprise in today's September 1 Grain Stocks figure. Make no mistake…today's report was a game-changer for corn, especially if the 2020/21 crop proves lower than the USDA's current estimate. U.S. soybean and wheat stocks as of September 1 also came in sharply below expectations, hitting the trifecta for a report which historically has not held the largest surprises of the Grain Stocks reports for corn and soybeans in particular. The U.S. winter wheat crop was lowered more than expected, while the spring wheat crop was raised more than expected, providing an offsetting impact on the all wheat crop estimate, which still was at the lower end of overall ideas. Today's numbers clearly set the longer-term tone for the markets as U.S. new crop ending stocks ideas move potentially considerably lower and even further elevate the focus on demand moving forward.

A summary of key report numbers relative to market expectations is attached to this post as a PDF file.

Corn

USDA reported September 1 U.S. corn stocks (2019/20 ending stocks) at 1.995 billion bushels, a considerable 255 million bushels below the average trade estimate and 258 million bushels less than the USDA's previous old crop ending stocks estimate of 2.253 billion bushels. The interesting thing about today's bullish Grain Stocks report for corn is that it had very little, if anything, to do with 4th quarter demand implications. Typically, a major Grain Stocks report surprise is due to that quarter's demand implication being different than expected. Not this time.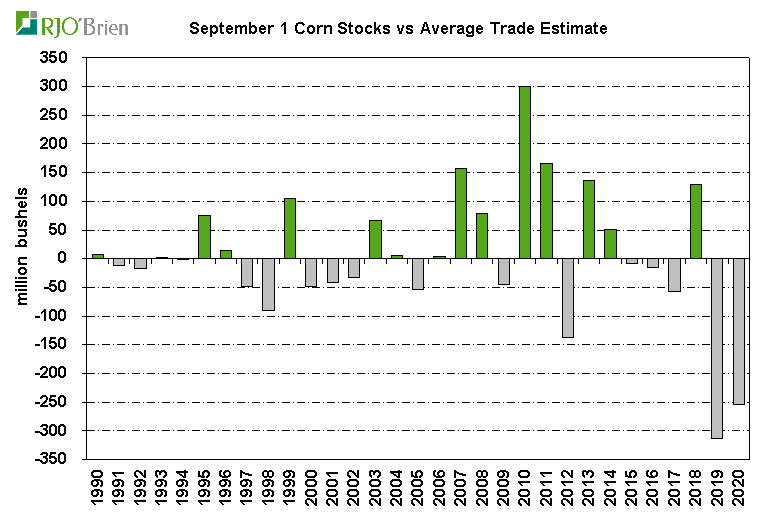 The culprit/surprise/shock (call it what you will) of today's report for corn was that USDA lowered the previous quarter's stocks, those as of June 1, by 205 million bushels from what was originally reported at the time of the report's release on June 30. Today's report reflected June 1 U.S. corn stocks at 5.019 billion bushels vs the 5.224 billion reported on June 30. This pushed 3rd quarter (March-May) implied feed/residual usage up to 1.001 billion bushels from 796 million originally, adding more than 200 million bushels in old crop demand to the previous quarter, which was essentially closed and "in the books" already. While we don't have the specific data at our fingertips comparing initial quarterly Grain Stocks report estimates to later revisions, we are confident in saying today's revision to previous quarter's stocks estimate was unprecedented. Minor revisions typically are seen to previous quarterly stocks numbers, but on the order of 10-20 million bushels, not hundreds of millions of bushels. Of the 205 million bushel decline in June 1 stocks, 158 million was attributed to on-farm stocks being lower than originally reported, with 47 million bushels attributed to off-farm stocks.

We posed the question to NASS officials of the extremely unusual change to June 1 stocks, and the response came back as it was simply an "administrative review" based on September 1 stocks and the implication it had for implied 4th quarter feed/residual usage vs what was already being reflected for 3rd quarter feed/residual usage. Simply plugging in today's Sept 1 stocks figure of 1.995 billion bushels to the balance sheet without adjusting 3rd quarter stocks, 4th quarter feed/residual usage would have been implied at an absurd 1.125 billion bushels, up from 913 million last year and the 2007/08-2017/18 range of 247-687 million bushels. Looked at a different way, if the June 1 stocks report was accurate at the time and was the premise heading into today's report, working through the numbers implies Sept 1 stocks could/would have only been around 50 million bushels below expectations – largely a non-event. How the initial reflection of June 1 stocks was so far off will likely never be answered, but today's revision clearly puts the U.S. corn balance sheet in a much different position than previously expected as we move fully into 2020/21.

Taking all of this into account, today's September 1 stocks number implied 4th quarter feed/residual usage at around 921 million bushels, which was up marginally from the previous year's 913 million, which we still contend is unlikely in comparison to the previous three years' 582-687 million bushels, but at this point now essentially has to be accepted. With the sharp upward adjustment to 3rd quarter feed/residual usage to 1.001 billion bushels, 2019/20 annual feed/residual usage came in at roughly 5.852 billion bushels, 252 million above the USDA's last official estimate of 5.600 billion and up 423 million bushels from 2018/19's 5.429 billion. Clearly old crop feed/residual usage proving notably above previous USDA ideas has in impact on expectations for 2020/21 demand, as well.

Implications for the 2020/21 U.S. corn balance sheet are two-fold following today's report. Not only are beginning stocks 258 million bushels less than previously expected, but the "starting point" for new crop feed/residual usage ideas are also 250 million bushels higher than previously expected, as well. Without a notable contraction in animal numbers this year, which is not currently expected, ideas have been for a 150-250 million bushel increase in feed/residual usage in 2020/21 from old crop levels. That calculation has now obviously changed, pushing new crop feed/residual ideas to a minimum 6.000 billion bushels, accordingly, vs USDA last at 5.825 billion.

We continue to see 2020/21 U.S. corn exports modestly above USDA ideas as we're at 2.400 billion vs their 2.325 billion bushel estimate, but we have pared back our new crop corn for ethanol usage estimate to 5.050 billion vs USDA's 5.100 billion given the continued slow, if not stagnated, recovery experienced over the last six weeks or so. We're currently estimating 2020/21 U.S. corn total demand at 14.875 billion bushels vs USDA's September WASDE reflection of 14.675 billion and last year's 13.888 billion.

Early yield ideas of this year's crop continue to be a bit of a mixed bag but we continue to anticipate the 2020/21 average yield falling below the USDA's current 178.5 bushel/acre estimate. We're still looking for a crop of around 14.682 billion bushels with an average yield of 175.4 bushels/acre vs USDA last at 14.900 billion. The combination of our lower crop ideas and the notable revisions to old crop ending stocks ideas and new crop demand ideas prompted a considerable drop in our 2020/21 U.S. corn ending stocks ideas to 1.832 billion bushels vs USDA last at 2.503 billion and would be the lowest since 2015/16. Moreover, our 2020/21 stocks/usage ratio estimate of 12.3% compares to USDA last at 17.1%, last year's 14.4% and puts it back towards 2014/15 and 2015/16 levels of 12.6%-12.7%. While still above the psychological 10% threshold indicating a "tight" balance sheet, today's revelations shift the value perception of the corn market into the upper portion of the current 6-year range of mostly $3.25-$4.25 from mid-range ideas previously. Until/unless a crop at or above the USDA's 14.900 billion bushel estimate is more assured, the risk bias in the corn market is to the upside in our opinion. If a 14.9+ billion bushel crop is achieved, ending stocks north of 2.0 billion bushels may still be possible, but the extremely impressive demand base in place, combined with questionable yield prospects as harvest moves into full swing, leaves additional upside price potential for corn. USDA will next make their revisions to the U.S. corn balance sheet, taking into account implications of today's numbers, in the next WASDE report, which is right around the corner on October 9.

On a final note about today's report, after all the ballyhoo of the USDA shifting the annual review of the previous year's corn crop to the September Grain Stocks report from the usual January Annual Crop Production report, nothing material came of it as USDA pushed the 2019/20 crop minimally higher to 13.620 billion bushels, a mere 3 million bushel increase from the previous estimate, with planted acreage ticked 45k acres higher and harvested area 15k acres higher. No major-producing states saw any revision.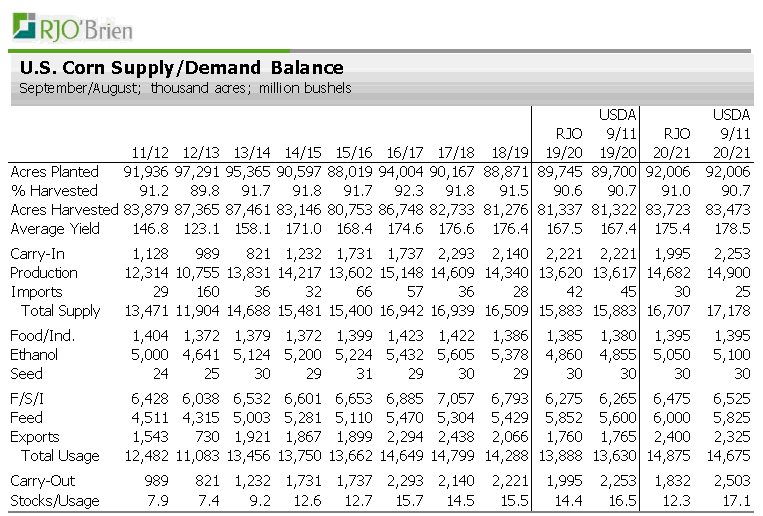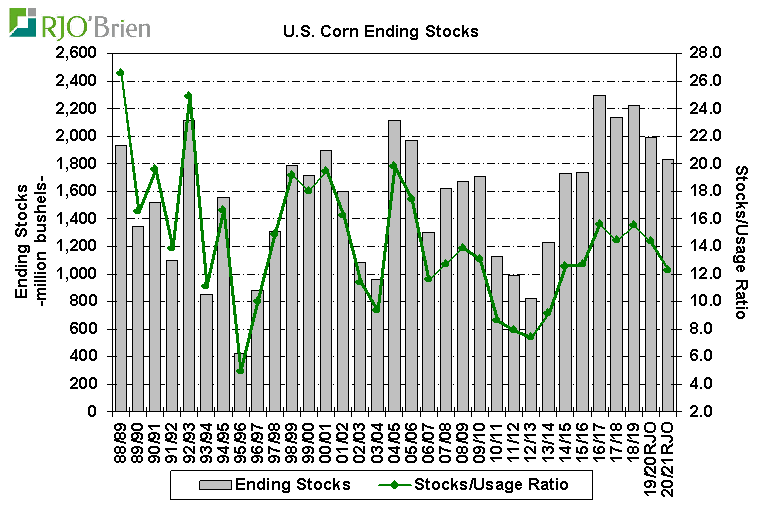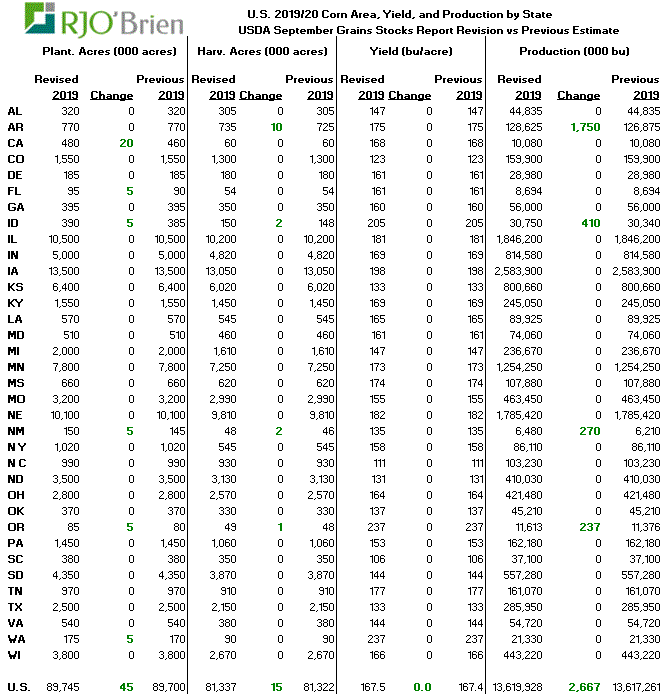 Soybeans

Heading into today's Grain Stocks report, the USDA's reflection of a negative residual in the 2019/20 balance sheet could have been "fixed" in one of two ways; last year's 2019/20 U.S. soybean crop being revised higher or September 1 stocks coming in considerably less than previous expectations. Based on the strong history of USDA raising old crop production in years when a negative residual was used as a "placeholder" until the September Grain Stocks report, we expected the former. That was not the case today.

USDA estimated September 1 U.S. soybean stocks at 523 million bushels, 53 million bushels below the average trade estimate and 52 million bushels below their latest 2019/20 ending stocks estimate of 575 million. For bookkeeping purposes, unlike in corn, June 1 stocks saw a very typical 5 million bushel revision to 1.381 billion bushels from 1.386 billion previously estimated. With 2019/20 ending stocks at 524 million bushels, the annual residual flips to a very typical +8 million bushels from the USDA's current balance sheet reflection of -45 million bushels. Problem solved mathematically at least.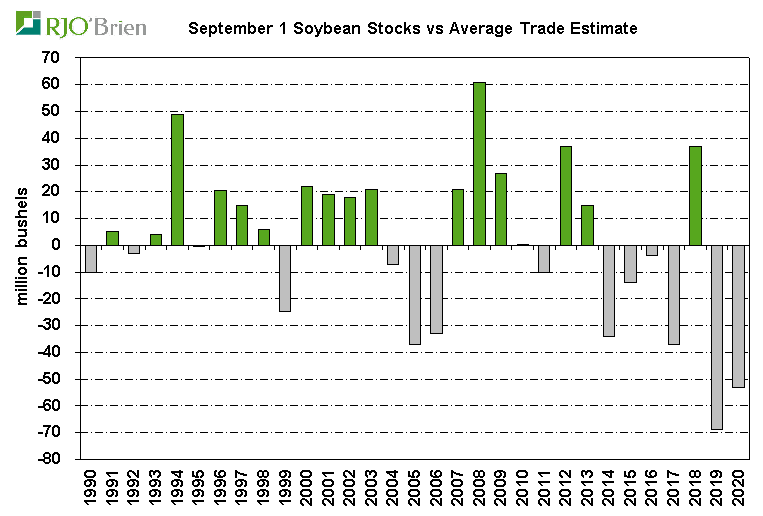 Fundamentally, though, the loss of 51 million bushels in beginning stocks for the 2020/21 balance sheet in context of possible/likely record U.S. soybean exports to China and La Nina-related concerns for South American new crop production shifts an expected comfortable balance sheet to one that is now on initial alert status. While early yield reports have been decent in some locations, the widespread comments of smaller than usual beans is of concern. The USDA's current crop estimate of 4.313 billion bushels with an average yield of 51.9 bushels/acre still reflects expectations for a record-tying yield, matching that of the 2016/17 crop despite the fact the current 64% good/excellent crop rating is substantially below 2016's final rating of 74% g/e. In a typical year, the strong demand window for U.S. soybeans remains open through January when the focus then turns quickly/strongly to South America. IF, and that is a big if at this time, South America experiences a crop problem, particularly considering the current expectations for a notable increase in area and further push higher to record production, demand for U.S. soybeans would very likely remain stronger than usual further into the marketing year.

We're holding steady on our U.S. crop estimate of 4.250 billion bushels with an average yield of 51.2 bushels/acre for the time being, which is 63 million bushels below USDA's latest estimate and puts our 2020/21 total supplies at 4.794 billion bushels vs USDA last at 4.903 billion. Yes, new crop soybean supplies are still expected to be 300+ million bushels from last year, but demand is expected/likely to be up 500+ million from last year.

We're estimating 2020/21 U.S. soybean exports at 2.175 billion bushels, 50 million above the USDA's 2.125 billion and up 490 million bushels (13.4 MMT) from last year. Record U.S. soybean exports were 2.166 billion bushels in 2016/17. Based on these ideas, we're currently estimating 2020/21 U.S. soybean ending stocks at 324 million bushels vs USDA last at 460 million and last year's 524 million. In almost any other context, U.S. soybean stocks in excess of 300 million bushels would be considered burdensome/bearish/unhealthy, but in context of the significant unknown of just how much China intends to buy, combined with the massive reduction in stocks of 900+ million bushels just two years ago and potentially moving the lowest level in five years, the upward value adjustment underway appears fully justified.

Our current 7.2% stocks/usage ratio estimate matches that of 2016/17's, which saw July 2017 soybeans trade mostly in a 9.75-10.75 range during October-February. However, during the Oct-Feb period in 16/17, USDA was reflecting a U.S. stocks/usage ratio between 9.6-11.7%, eventually falling to 7.2% in the end. Maintaining prices above $10.00 clearly appears justified amid the risks of the yet unknown U.S. crop size and ultimate level of Chinese demand.

Similar to corn, USDA essentially left last year's U.S. soybean crop unchanged in today's report, with planted acreage completely unchanged, harvested area down a minimal 12k acres and the crop untouched at 3.552 billion bushels. It was only the 2nd time in the last 8 years for USDA to revise the previous year's soybean crop by less than 10 million bushels in the September Grain Stocks report.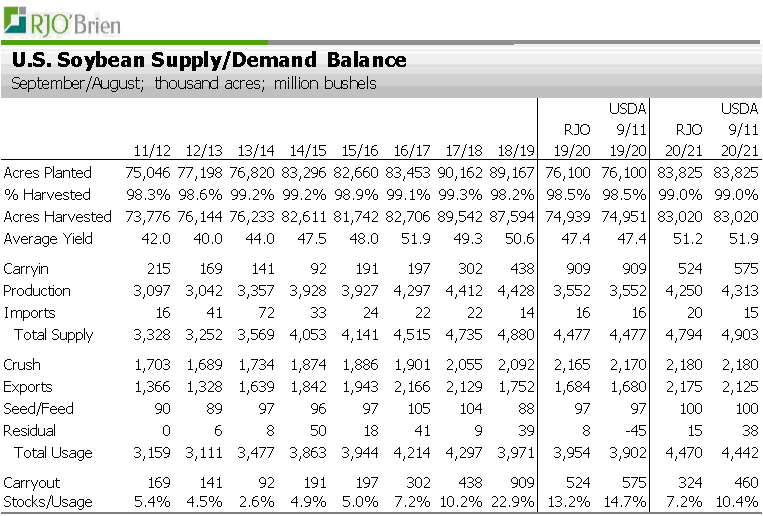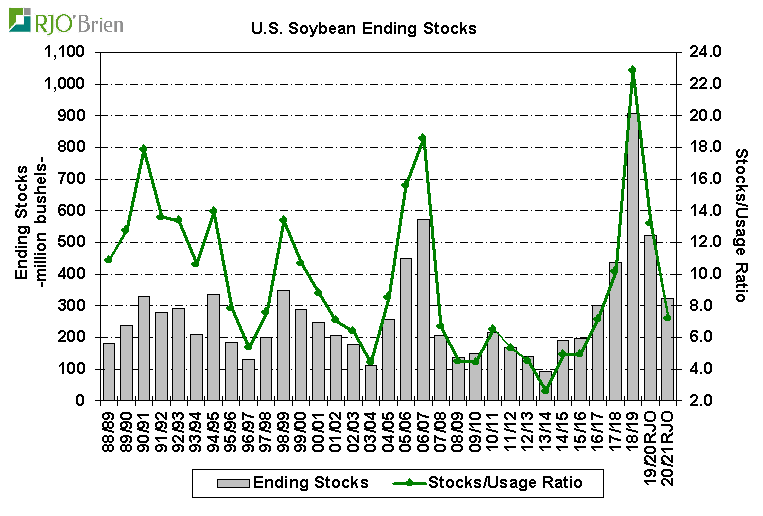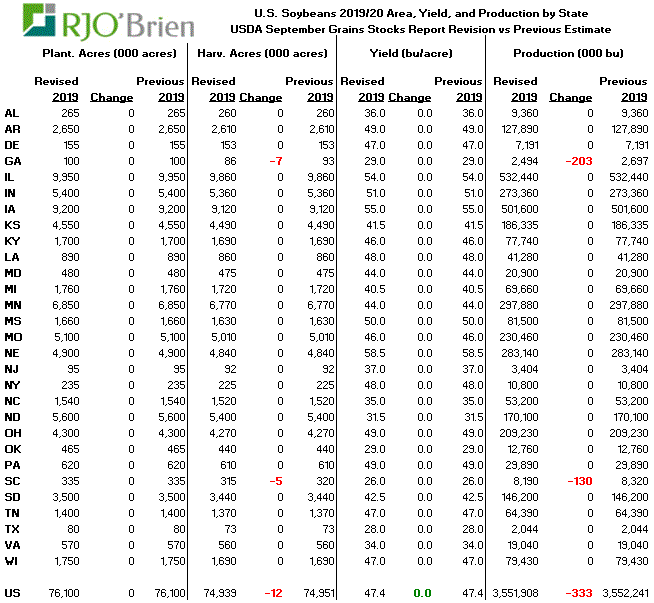 Wheat

With September 1 U.S. wheat stocks being a function of this year's "final" crop sizes, we'll start there. The pattern of the U.S. winter wheat crop seeing another downward revision in the September estimate following declines in July and August held true again as USDA put the all winter wheat crop at 1.171 billion bushels, down 27 million from the August estimate. This was the case in 9 of the last 10 years when the winter wheat crop was lowered in July and August, as well. The production cut was due to the combination of lower acreage, with planted area lowered 135k acres and harvested area by 415k acres, along with the average yield declining 0.3 bushels/acre from the August estimate to 50.9. A table summarizing the state-level revisions is at the end of this post. The hard red winter wheat crop saw the majority of the reduction, being lowered 36 million bushels to 659 million from 695 million previously, while the soft red winter wheat crop was lowered 11 million bushels to 266 million from 277 million previously. A 20 million bushel increase in the white winter wheat crop from to 246 million bushels provided at least a partial offset. With the average trade estimate reflecting unchanged all winter wheat production, today's report came in 27 million bushels below "expectations."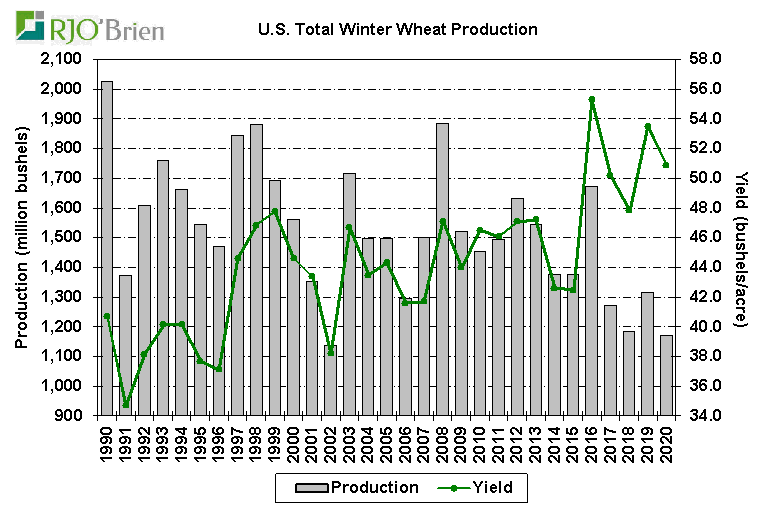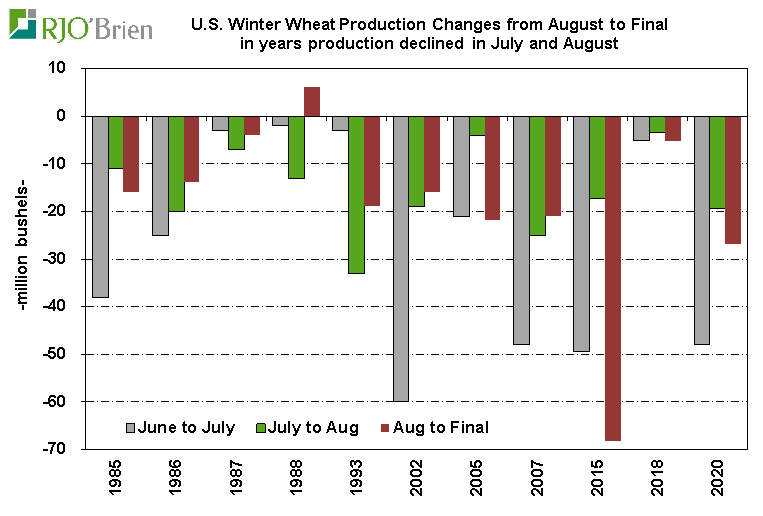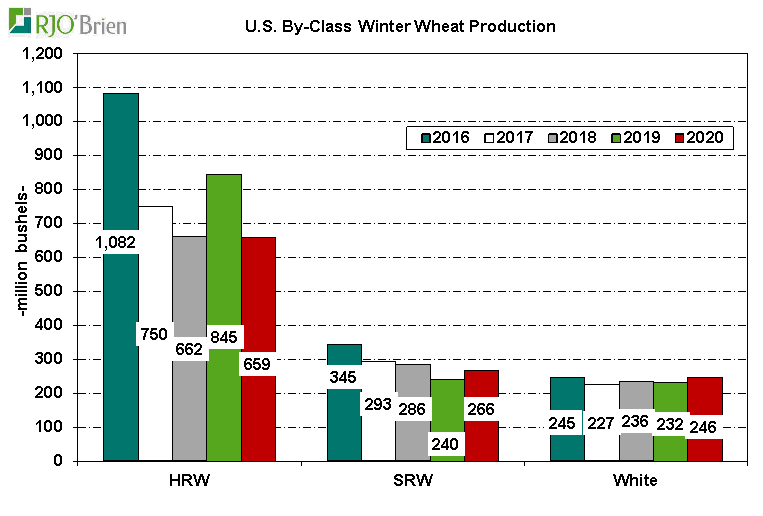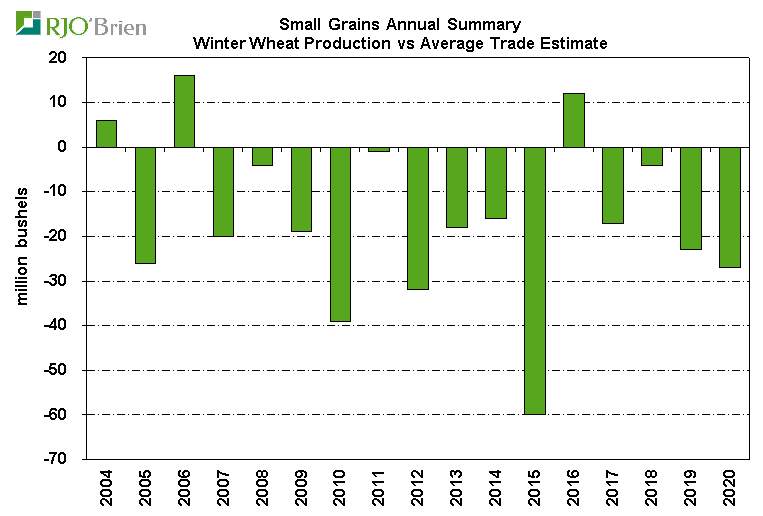 The USDA raised the "other spring" wheat crop to 586 million bushels from 577 million previously and was 12 million bushels above the average trade estimate, also reflecting unchanged expectations from August. USDA raised planted acreage by 50k acres and harvested area by 265k acres, while the average yield ticked down by 0.4 bushels/acre from August to 48.6, which was up marginally from the previous two years' 48.3 bushels/acre and represented a new record. The durum crop was raised to 69 million bushels from 62 million previously, putting the 2020/21 all wheat crop at 1.826 billion bushels vs USDA previously at 1.838 billion and the average trade estimate of 1.841 billion. A summary of the USDA's state-level spring wheat and durum revisions is at the bottom of this post.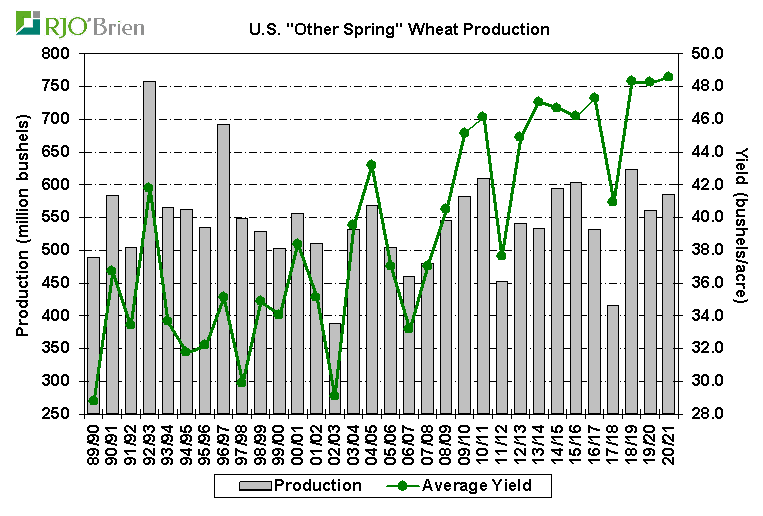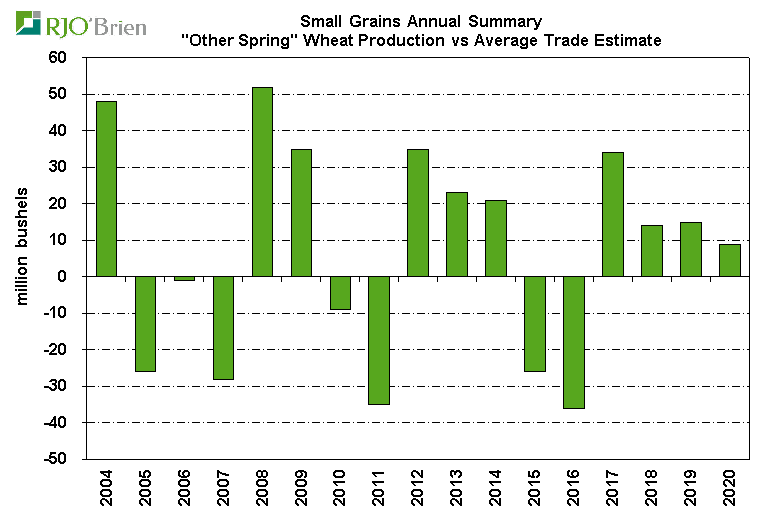 USDA estimated September 1 U.S. wheat stocks at 2.159 billion bushels, completing the trifecta of bullish Grain Stocks report surprises today, coming in 83 million bushels below the average trade estimate for the largest downside surprise in this report in seven years. Based on the USDA's revised all wheat crop and our other 1st quarter demand estimates, June-August U.S. wheat feed/residual usage was implied at 215 million bushels, modestly above last year's 196 million and the highest since 2016/17. Once again, we're left trying to understand/interpret the prospects of 1st quarter feed/residual usage being the highest in five years when the wheat-corn spread during the quarter was also easily the highest it's been in five years, as well. How, pray tell, are we to explain 1st quarter feed/residual usage of 215 million bushels vs 196 million last year and 165 million in 2016/17 when the wheat-corn spread averaged $1.83 during June-August this year vs 89 cents and 93 cents/bushel, respectively, in those years? Be what it is, but today's September 1 stocks numbers gives better credence to the USDA's 2020/21 annual feed/residual usage estimate of 90 million bushels. Accordingly, we're now assuming 95 million in our balance sheet.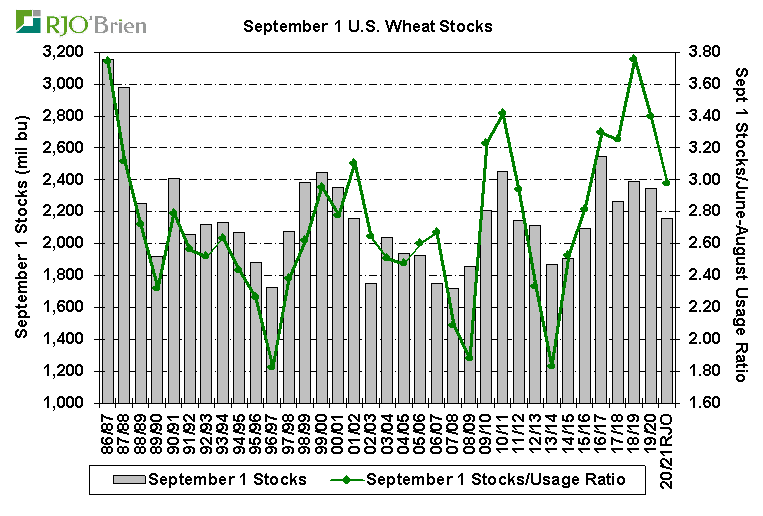 In other revisions impacting the 2020/21 balance sheet, USDA revised June 1 wheat stocks down to 1.028 billion bushels from 1.044 billion previously, despite last year's all wheat crop being revised up to 1.932 billion bushels from 1.920 billion. These changes ended up pushing 2019/20 feed/residual usage up to 100 million bushels from the USDA's current old crop balance sheet reflection of 73 million. When combined with our slightly higher new crop export ideas at 995 million bushels vs USDA's 975 million, we're now estimating 2020/21 U.S. wheat ending stocks at 874 million bushels vs USDA last at 925 million and would be the lowest in six years since 2014/15's 752 million bushels. In the big picture, 874 million bushels is still more than ample/comfortable and far from anything considered concerning and/or a tight balance sheet, but the direction of U.S. ending stocks in recent years is clear and, if nothing else, psychologically supportive, especially in context of the newly-invigorated corn and soybean markets.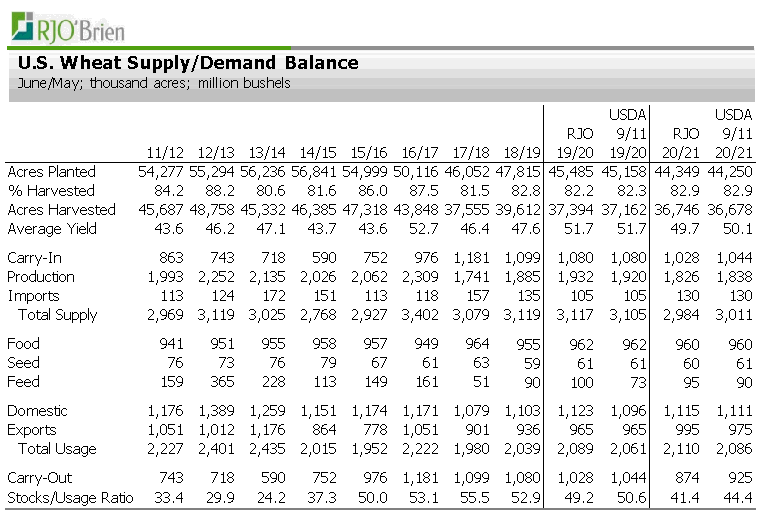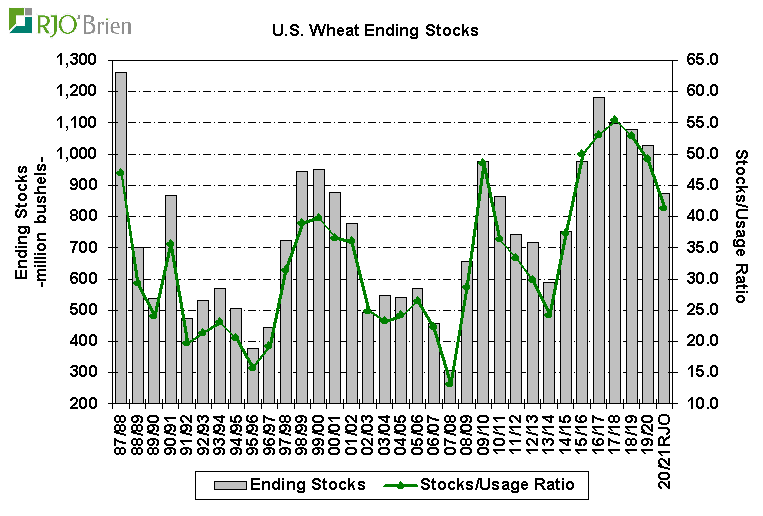 USDA State-Level U.S. Wheat Crop Estimates