The USDA's end of June reports have history in providing notable surprises for the grain markets and today's certainly did not disappoint. The shocking "loss" of acres from the USDA March estimates caught the markets off-guard, prompting initial short-covering activity in corn with funds heading into today's numbers holding a historically large short. Overall, today's reports removed the excessive bearishness of previous new crop corn balance sheet ideas, while at least providing fundamentally-supportive developments for soybeans and wheat, as well.

A summary of key report numbers relative to market expectations is attached to this post as a PDF file.

Corn

It was a tale of two numbers for corn today, with the Acreage report being the clear winner in terms of market response with funds heading into today's report heavily short corn. There is no doubt today's sharply lower-than-expected corn acreage estimate puts the 2020/21 U.S. corn balance sheet in a less bearish position than it was. A considerable downward adjustment in the USDA's new crop ending stocks estimate should be forthcoming in the July 10 WASDE report. In the context of the current warm/hot and drier forecast for the corn belt through mid-July, short-covering is fully understandable/expected. The other side of the equation, though, is the rather disappointing feed usage implications of June 1 corn stocks coming in sharply above expectations and the questionable nearly 7 million acre decline in total crop acreage from the March to June estimates, 5.0 million in corn alone. Losing 5 million acres of corn outright during very favorable planting conditions and not being switched to other crops? Hmmm…

Starting with the Grain Stocks report, USDA reported June 1 U.S. corn stocks at 5.224 billion bushels, a massive 273 million bushels above the average trade estimate, making it the 2nd largest "bearish surprise" for this report on record. June 1 stocks at that level implied 3rd quarter (March-May) feed/residual usage at roughly 791 million bushels, down 29% from last year's 1.116 billion bushel statistical anomaly, but still solidly below 2017/18's 951 million and 2016/17's 982 million bushels. In fact, 3rd quarter feed/residual usage was implied to be the lowest since 2010/11 and put 1st-3rd quarter total usage at 4.723 billion bushels, up 4.6% from last year's 4.516 billion and in line with 4.704 billion in 2017/18 and 4.784 billion.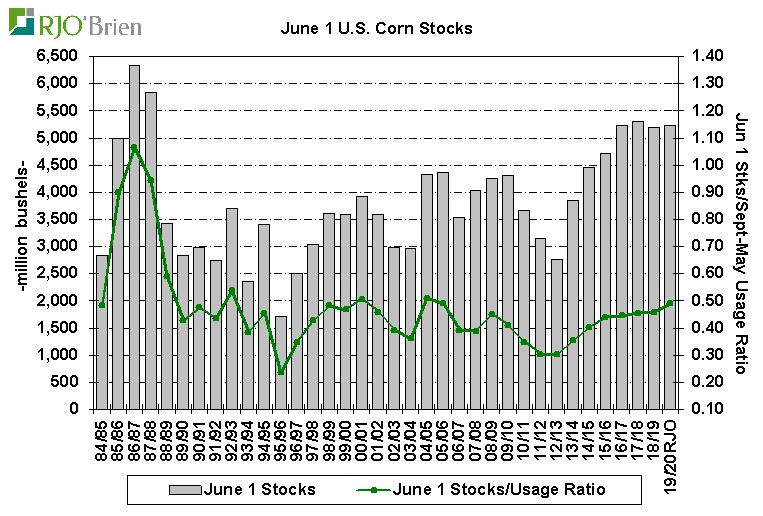 However, here's where the implications of today's June 1 stocks number come into play. In order for the USDA's current 5.700 billion bushel annual feed/residual usage estimate to prove true, 4th quarter feed usage would need to be 977 million bushels, considerably surpassing last year's statistically improbable (impossible?) 914 million bushels and comparing to 2014/15-2017/18's 517-687 million bushels. With 2nd and 3rd quarter feed/residual usage consistently tracking 12-19% declines from 2017/18 and 2016/17, to expect a 40-60%+ increase from those years in the 4th quarter is unfounded, indicating the USDA's annual feed/residual usage estimate is too high. If we plug in 4th quarter feed usage at the average of 2016/17 and 2017/18, not even assuming a decline as has been the case the last two quarters, 2019/20 annual feed/residual usage would be implied at 5.365 billion bushels, 335 million bushels below the USDA's current estimate. While the June 1 hogs and pigs report showed very strong numbers and easily another new record, cattle on feed and broiler numbers have been pulled back. For now, we feel a 250 million bushel reduction in the USDA's annual feed/residual usage estimate to 5.450 billion bushels is fully justified as a result of today's June 1 corn stocks estimate. Based on our other demand estimates, this puts our 2019/20 U.S. corn ending stocks estimate at 2.368 billion bushels vs USDA last at 2.103 billion. The addition of 265 million bushels to the old crop balance sheet is the equivalent of adding roughly 1.5 million acres to the new crop balance sheet.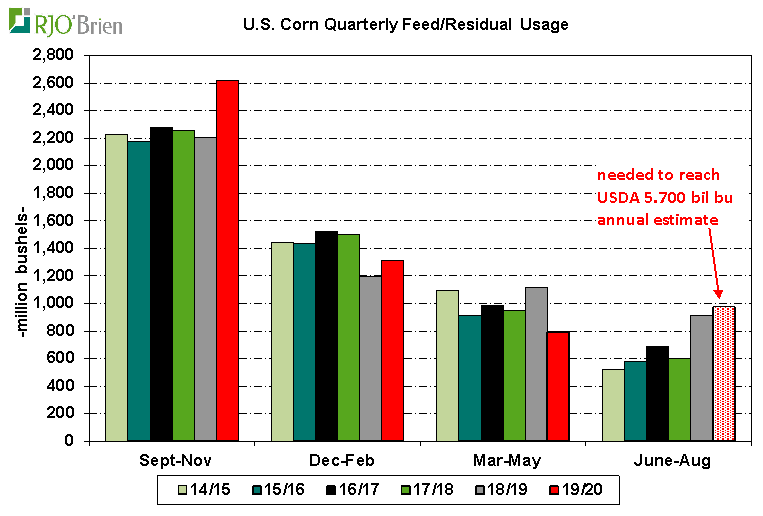 However, that's where the negative implications of today's USDA reports end. The USDA provided the shocker of all shockers when it comes to acreage estimates in lowering U.S. corn planted acreage by 5.0 million acres to 92.006 million from the March estimate of 96.990 million, easily making it the largest March to June decline on record, with the exception of the 1983 PIK program-impacted 9.5 million cut. Besides the 1983 situation, the previous largest March to June corn acreage reduction was 3.3 million acres in 1995. In a year without widespread planting issues, a decline of this magnitude simply came out of left field. Needless to say, today's corn acreage estimate was massively below the average trade estimate of 95.2 million acres, reflecting an expected 1.8 million acre decline from March and, accordingly, making it the most significant "bullish surprise" on record for the Acreage report.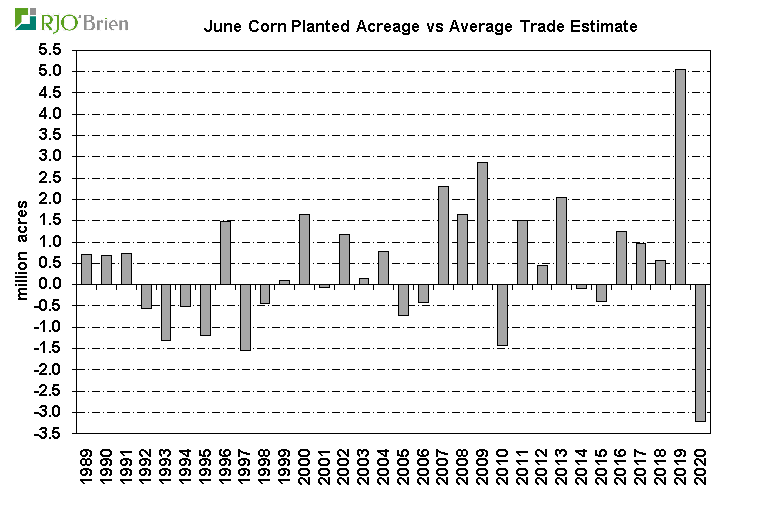 The state-level acreage changes were almost entirely to the downside as detailed in the following table. All of the top-producing states saw declines from March, including NE down 700k acres, SD down 600k, IL and IN down 400k acres, MN down 300k, KS down 200k and IA, MO and OH down 100k. The one state which did see planting issues this spring, ND, led the acreage decline with an 800k acre cut from the March estimate.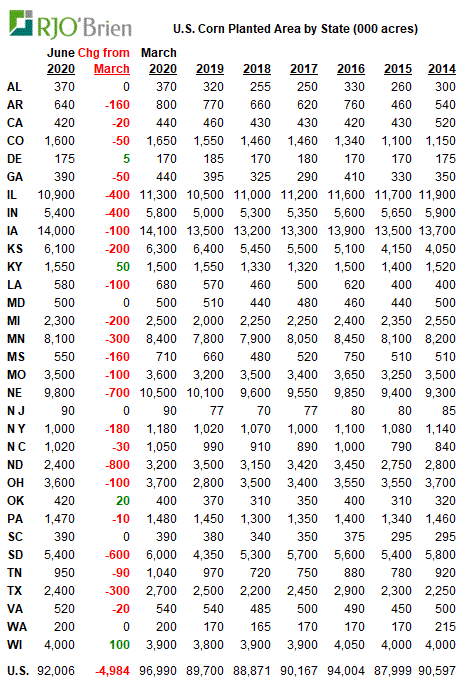 While 2020/21 corn planted acreage is still estimated to be up 2.3 million acres from last year's 89.7 million and the highest since 2016, cutting 5 million acres from previous expectations does have a considerable impact on reducing the long-held aggressively fundamentally-bearish view of the new crop situation. Those anticipating a "finding" of corn acreage in future reports probably shouldn't hold their breath, either, has history certainly does not support that view.

Since 1990, there have been 11 years in which USDA lowered their estimate of U.S. corn acreage from the March to the June report. Of those 11, 10 saw another decline from the June report to final planted acreage numbers by some degree. The only increase in final corn acreage following a decline in June was by 300k acres in 2010. Additionally, regardless of the March to June revision, final corn acreage has been lower than the June estimate in each of the last seven years. Accordingly, today's acreage number, as shocking as it may be, must be used as the baseline for this year's crop ideas moving forward.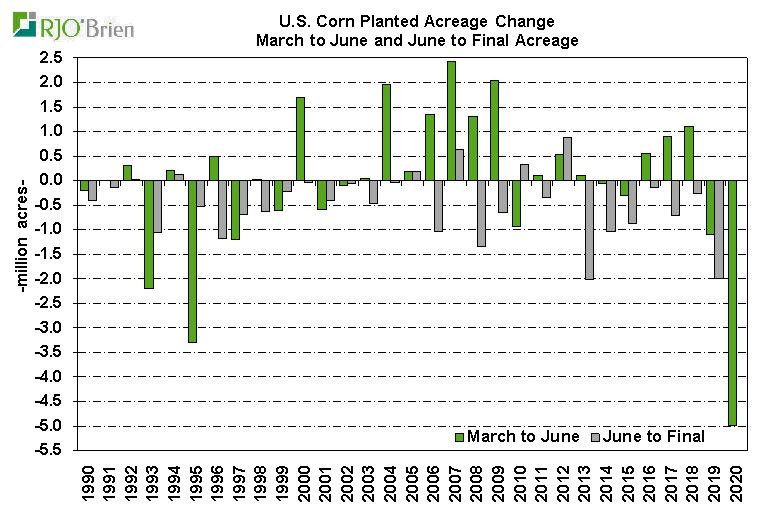 However, something we can debate moving forward is the USDA estimate of harvested corn acres today of 84.023 million acres, which they will assume in the July WASDE report per protocol, but we feel is likely to prove too low if planted acreage is not further lowered down the road. Today's planted/harvested acreage numbers reflect an expected harvesting percentage of 91.3%, down substantially from the USDA's previous too-high assumption of 92.4%, but below those of 2013/14-2018/19 of 91.5-92.3%, with the average being 91.8%. In years without crop issues, the harvesting percentage is typically in the 91.7-92.0% range. Given last year's historic issues, the 90.7% harvesting percentage was the 2nd lowest since 2007. While it may not seem like much, a 91.8% harvesting percentage vs the USDA's 91.3% assumption today adds roughly 500k acres and around 80 million bushels to production.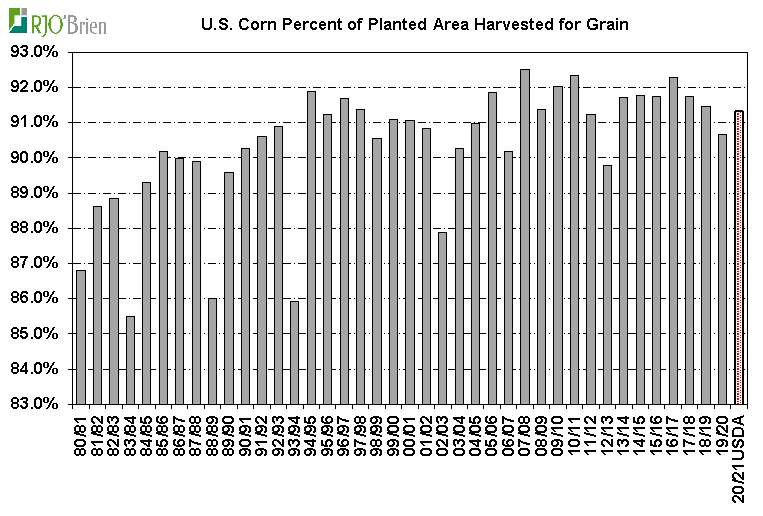 Turning to the balance sheets, which USDA will next update on July 10 incorporating implications of today's reports as deemed necessary, we see 2019/20, old crop ending stocks at 2.368 billion bushels vs USDA last at 2.103 billion as a result of our lower feed/residual usage and corn for ethanol usage expectations, but higher export ideas than USDA. Today's lower-than-expected planted acreage estimate solidly scales back the overtly bearish fundamental structure of the 2020/21 balance sheet from previous expectations, but does not shift it to an outright bullish stance either. Based on our new crop demand ideas, we see 2020/21 U.S. corn ending stocks in a 2.650-2.750 billion bushel range, with the stocks/usage ratio at 18.1-18.6% vs our 2019/20 estimate of 17.5% and the 2014/15-2018/19 period's ratios ranging from 12.6-15.7%. However, this is considerably "less bearish" than the USDA's latest 2020/21 reflection of ending stocks at 3.323 billion bushels with a 22.5% stocks/usage ratio. With funds holding historically large net short positions in corn, a moderation of those shorts would appear warranted based on today's reports and the current weather outlook, as balance sheet ideas turn back to a more "typical" stance relative to recent years from previous ideas of historically large ending stocks for 2020/21. Accordingly, a return to the long-held overall price range of $3.25-$3.75 appears warranted for the time being until a better handle on the July-August weather situation and yields, accordingly, is at hand. We would note an increase in the average yield assumption of only 2.5 bushels/acre from the USDA's current 178.5 pencil allows new crop ending stocks ideas to move back to 3.0 billion bushels.

Looking specifically to the July 10 report, we feel USDA's 2019/20 ending stocks estimate could move up towards 2.250-2.300 billion bushels from 2.103 billion currently on lower feed/residual usage and corn for ethanol usage, but with revisions more modest than we're expecting in the end. In the same vein, applying today's Acreage report numbers, while, accordingly, pulling back new crop feed usage ideas a bit, could put the USDA's 2020/21 ending stocks around 2.600 billion bushels vs 3.323 billion bushels currently.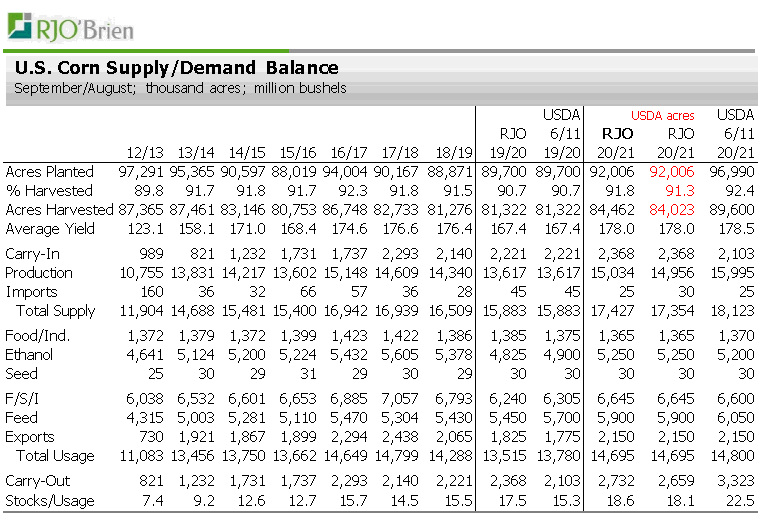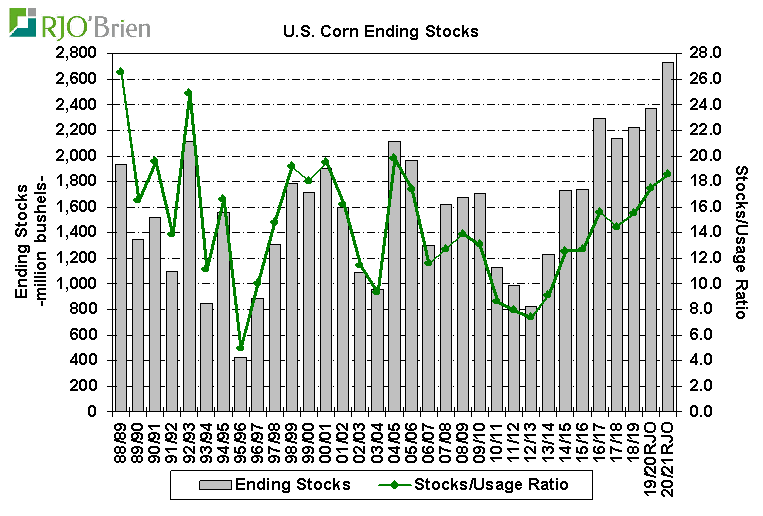 Soybeans

Today's USDA reports for soybeans weren't nearly of the same magnitude or surprise as was the case for corn. Quite frankly, they were essentially a non-event from the perspective of potential/likely USDA balance sheet revisions relative to current estimates. While the market was anticipating a larger soybean acreage increase than reflected today, the numbers, nonetheless, maintained the status quo, which, in effect, was a "non-bearish" report, allowing for soybeans to rally along with corn.

USDA reported June 1 U.S. soybean stocks at 1.386 billion bushels, right in line with the average trade estimate of 1.392 billion, putting the 3rd quarter residual at -26 million bushels, and while it is common for the March-May residual to be negative, a bit of an odd situation statistically exists regarding today's report. Final crush, export and import data for the quarter are still not available, so there is still room for some slight tweaking of the numbers, but it is interesting today's June 1 stocks estimate is marginally above what we calculated to be June 1 stock based solely on demand of 1.381 billion bushels. This is the first time a reported quarterly stocks figure has been larger than stocks indicated by actual demand as there is always some "residual" loss factor which results in reported stocks being below demand-indicated stocks. Again, the numbers are minimal at only 4-5 million bushels, so it's possible in the end for the difference to be zero, but over the last 10 years, the difference between reported June 1 stocks and stocks based solely on "known demand" has been 75-174 million bushels, in significant contrast to the current situation. The USDA has been assuming a historically minimal 4 million bushel annual residual in their balance, with today's June 1 stocks report doing nothing to alter that view. Accordingly, there is nothing specifically related to the June 1 stocks report which would alter the USDA's 2019/20 ending stocks estimate, but other factors impacting export and crush expectations may do so in the July 10 WASDE report.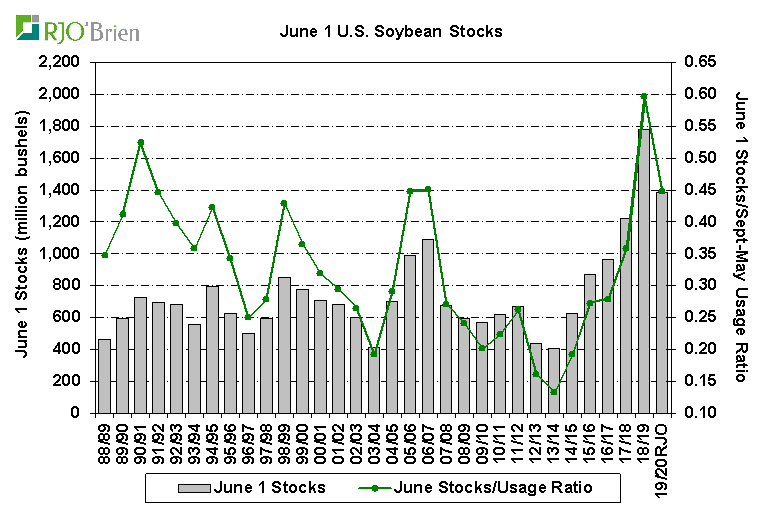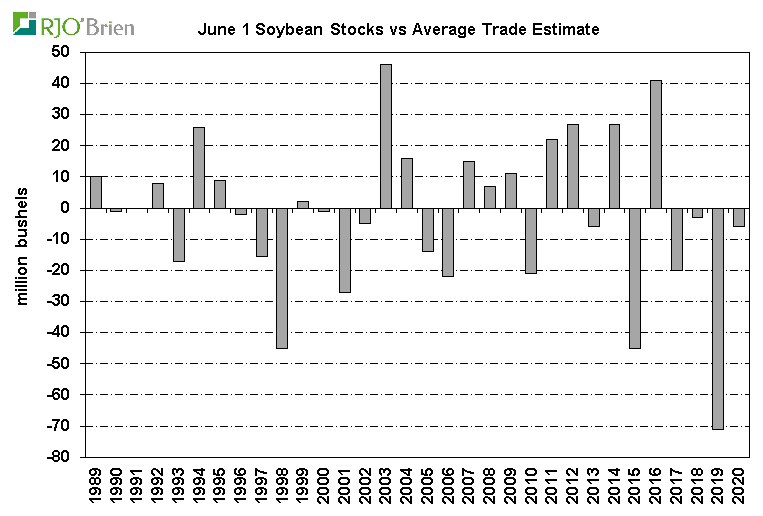 Similarly, the USDA's 83.825 million acre soybean planted area estimate was less than the market was generally looking for based on the average trade estimate of 84.716 million, but was up marginally from the USDA's March estimate of 83.510 million. Moreover, the USDA indicated their view of 2020/21 soybean harvested area at 83.020 million acres, which also was up marginally from their current balance sheet reflection of 82.8 million acres. While a bit more soybean acreage was expected to show up in today's report, the report itself did nothing to alter the views of the 2020/21 balance sheet in place prior to today.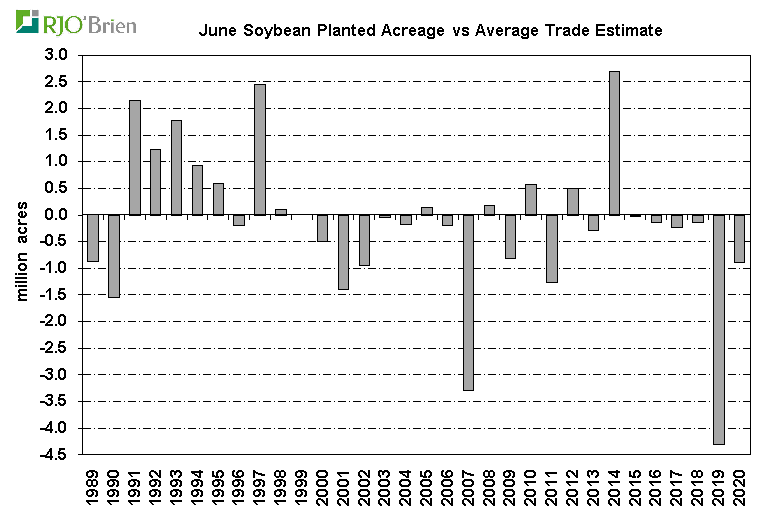 State-level soybean acreage changes from the March report were much more of a mixed bag than was the case for corn. While ND also struggle mightily, with acreage reduced 600k acres from March, major corn belt states were mixed with modest increases in KS and IN of 300k acres from March, while IA, MI and WI were up 100k, but MN and OH were unchanged, while IL and NE were down 100k acres, with MO and SD down 200k.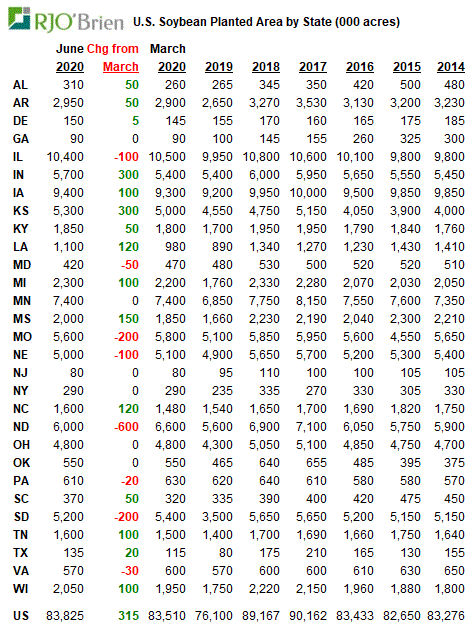 As with corn, while some may feel the lower-than-expected soybean acreage opens the door to potentially higher acreage in the end, history certainly does not support that view, either. The last five times soybean acreage increased from March to June, all recent years in 2018, 2016, 2015, 2014 and 2013, final acreage proved lower than the June estimate. In fact, of the 18 years since 1990 USDA raised estimated soybean acreage from the March to June reports, 15 ended up with final acreage below the June estimate. Accordingly, not seeing any reason for a considerable revision from today's numbers based on planting conditions/progress, we will assume the USDA's acreage ideas going into the crop-estimating season in the months ahead.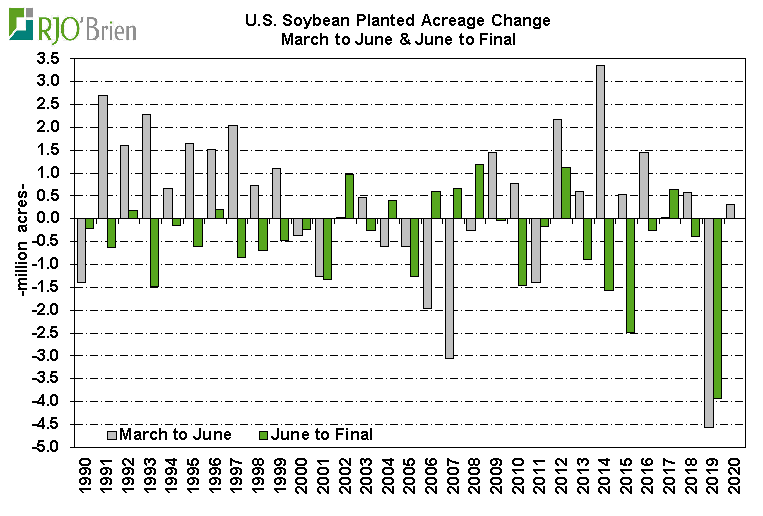 For the balance sheets, we are estimating 2019/20 demand slightly lower than USDA given the continued slow pace of export shipments, despite sales on the books supporting the USDA's annual estimate of 1.650 billion bushels, while the record crush rates last year in July and August gives pause to the potential to move any higher from the USDA's 2.140 billion bushel estimate with board crush margins below each of the five years at this time of the year. We see 2019/20 U.S. soybean ending stocks at 613 million bushels vs USDA last at 585 million. For 2020/21, assuming the USDA's acreage estimates, but an average yield of 50.3 bushels/acre vs USDA at 49.8, our crop ideas are 50 million bushels larger than USDA and putting 2020/21 total supplies at 4.804 billion bushels vs USDA at 4.725 billion and 4.476 billion last year. Our higher supplies ideas allow for an offset of our higher demand (export) expectations than USDA, keeping our 2020/21 ending stocks estimate at 409 million bushels vs USDA last at 395 million.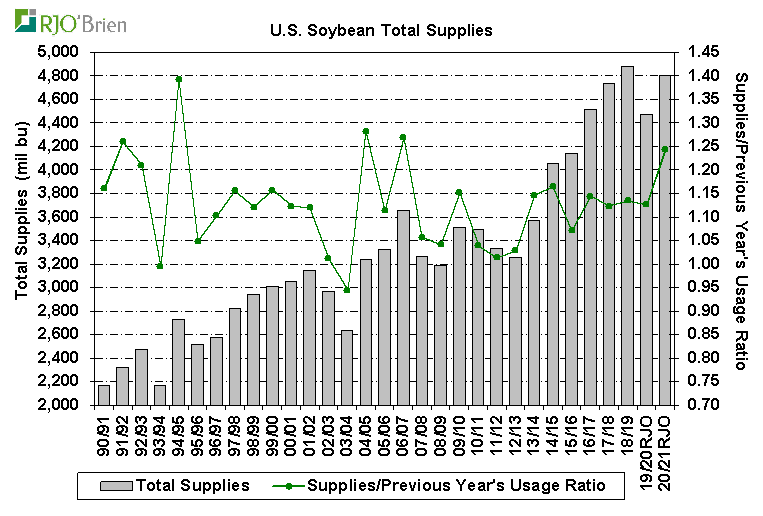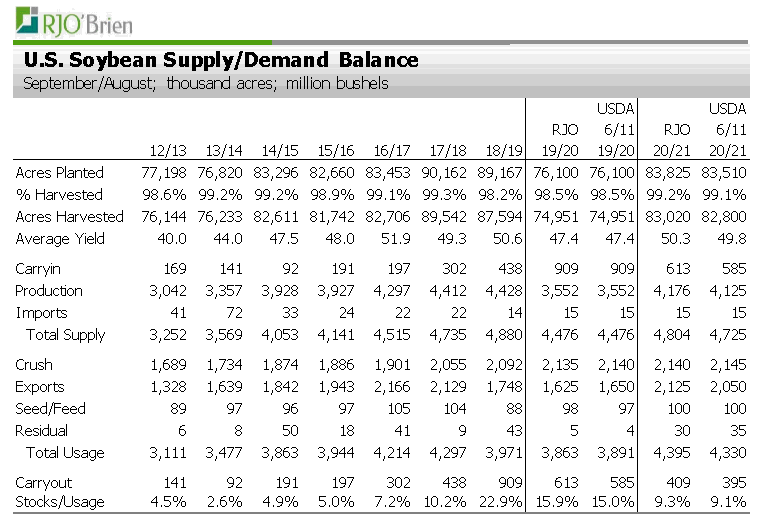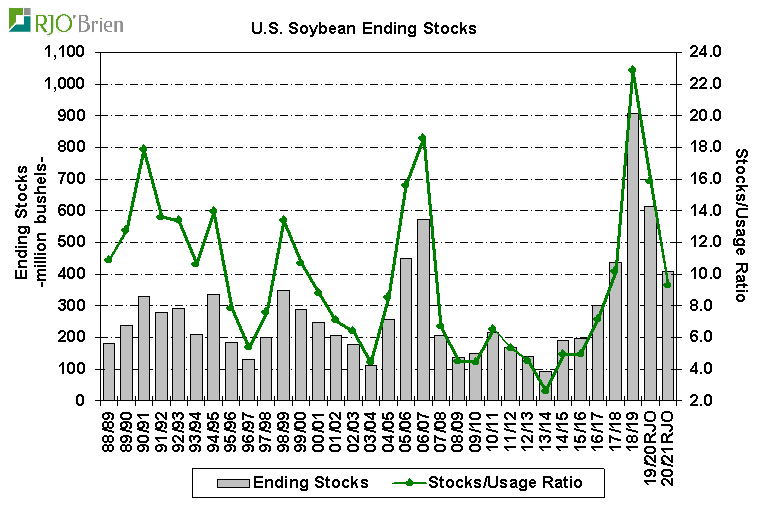 Wheat

The June 1 stocks report has held a long history of adding bushels to the old crop balance sheet with feed/residual usage proving lower than the USDA and market participants indicated heading into the report. Today was no exception with June 1 stocks of 1.044 billion bushels coming in sharply above market expectations of 980 million and even our industry-high estimate of 996 million, with the March-May (4th quarter) implied feed/residual coming in at a record negative -95 million bushels. Heading into today's report, total 1st-3rd quarter feed/residual usage was 175 million bushels, but today's June 1 stocks figure slashed that by 95 million bushels to only 81 million bushels vs the USDA's latest balance sheet assumption of 135 million. The June 1 stocks "bearish surprise" was the largest for the report in 30 years. In total, the June 1 stocks report added 61 million bushels to the old crop balance sheet relative to the USDA's last 2019/20 ending stocks estimate of 983 million bushels, largely wiping out the modest fundamental improvement relative to the last few years and had the residual impact of essentially adding an effective 1 million acres to the new crop balance sheet, as well.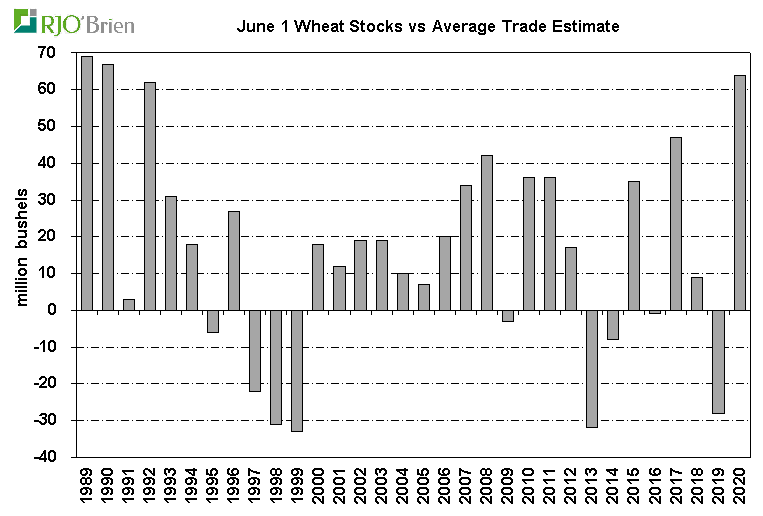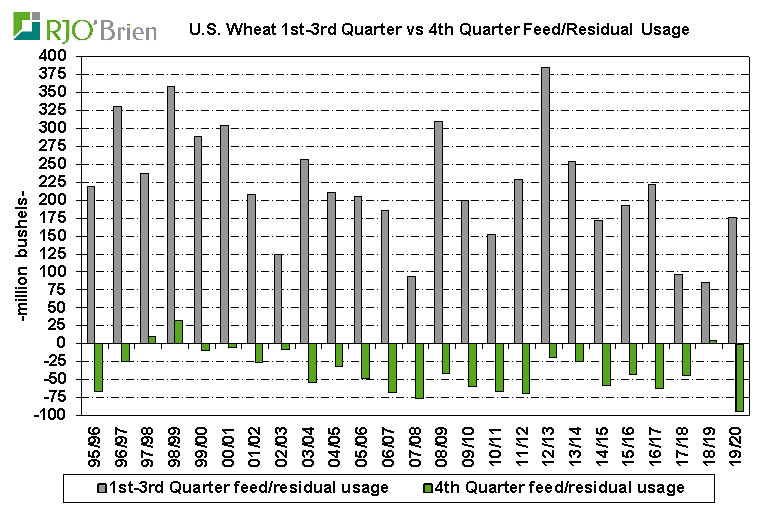 The increase in old crop stocks helped offset the larger-than-expected decline in 2020/21 acreage, as "other spring" wheat acres were lowered more than anticipated from the March report, while an atypical reduction in winter wheat acreage, albeit modest, was seen, as well. USDA lowered "other spring" wheat planted acres to 12.200 million from 12.590 million in March, while the average trade estimate was 12.551 million. The most significant cut was in Montana at 300k acres, while ND declined only 100k from March in what was feared to potentially be larger decline given this spring's planting issues. Durum area was raised 210k acres from March to 1.500 million, though. While far from a game-changer, total winter wheat area was lowered 225k acres, going against a solid history for at least some increase to be reflected in the June update, and working to a 165k acre decline in HRW, 59k acre decline in SRW and essentially unchanged white winter wheat area.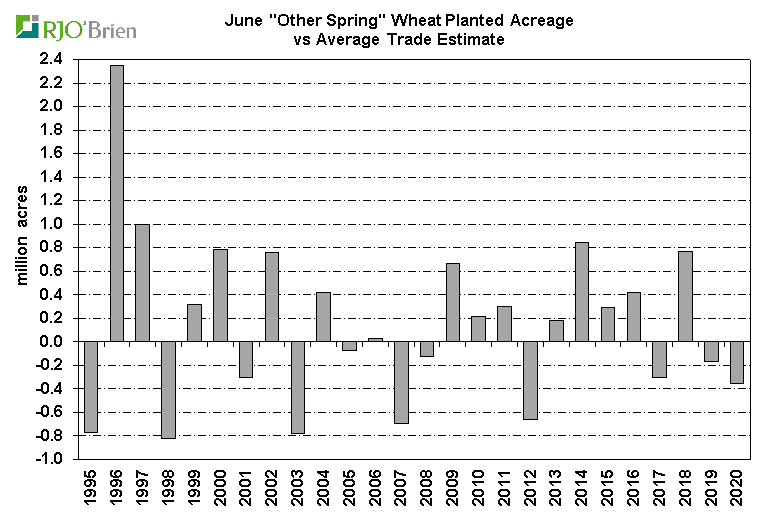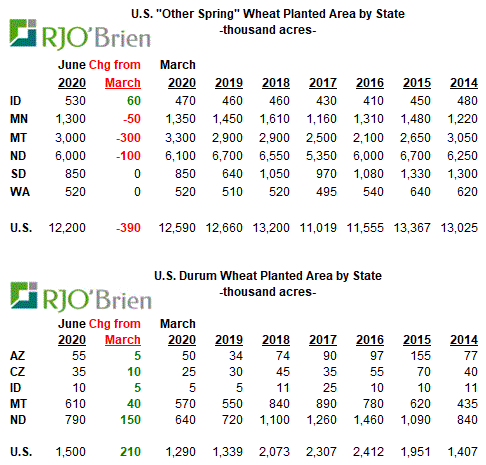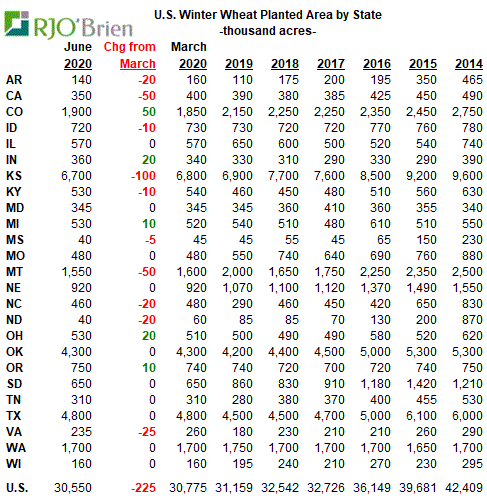 All together, the USDA put all wheat planted area are 44.250 million acres vs the average trade estimate of 44.718 million and 44.655 million in March. However, the USDA's first official estimate of harvested acreage at 36.678 million acres was a bit more than one million acres below the current balance sheet assumption of 37.7 million acres. We will address the particulars our by-class production ideas in our pre-report write-up for the July 10 reports, as USDA will be providing their first objective estimate of the spring wheat crop at that time. For now, though, based on today's acreage update, we have the all wheat crop at 1.838 billion bushels vs USDA last at 1.877 billion, but the decline from the USDA's ideas is more than offset by the increase in old crop stocks, putting our 2020/21 total supplies estimate at 3.012 billion bushels vs USDA last at 3.000 billion. Based on our new crop demand ideas, we see 2020/21 U.S. wheat ending stocks at 942 million bushels vs USDA last at 925 million, again with a modest fundamental improvement from last year indicated as the new marketing year gets underway.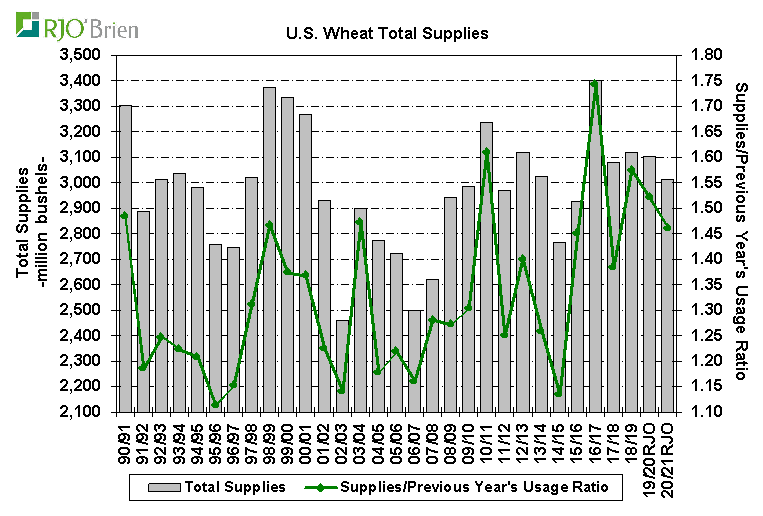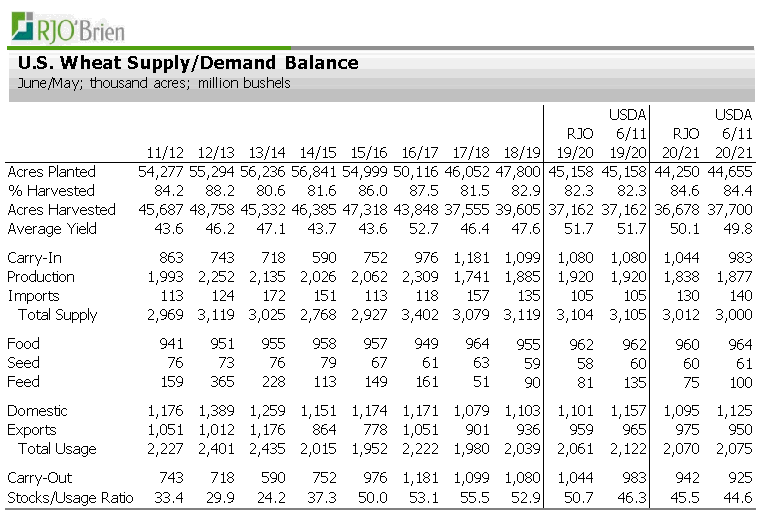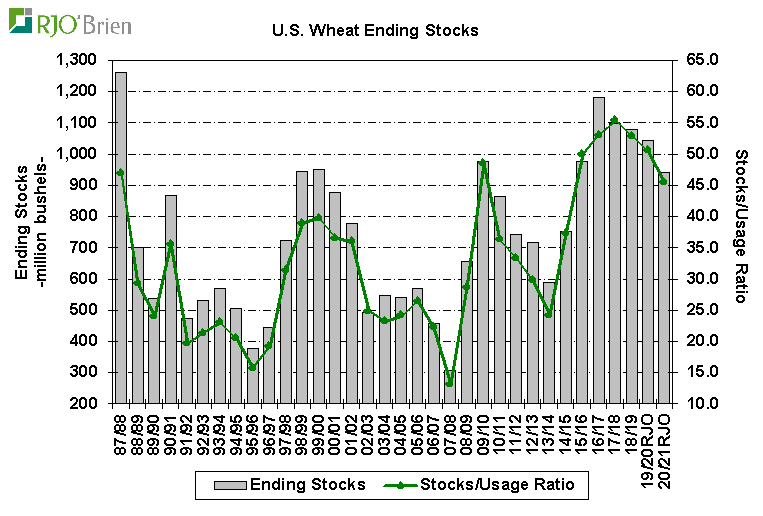 On a final note on today's reports, the most unexpected/intriguing/baffling revelation, perhaps, was the sharp cut in expected total crop acreage from the USDA's March ideas as well as from levels seen in recent years under similar/normal planting seasons. By far, the 5.0 million acre decline in corn from March led the way, but total major crop acreage declined 7.1 million acres (2.7%) from farmers' intentions a mere three months earlier without any significant planting issues. The generally burdensome nature of the grain balance sheets supported a reduction on planted area from a pure "what's needed" perspective, but quite frankly we never expected to see voluntary reductions in area as indicated by today's numbers. Perhaps some of this "lost" planted acreage will be found in future updates, but as we've discussed, that appears unlikely from a historical perspective and with limited means to do so now until the January Annual Crop Production Summary.