Betting odds for year-end tax deal jump to 35% after House easily passes its tax bill 
Merkel's 4-party coalition negotiations are proving difficult
PBOC successfully defends the 4% level on Chinese 10-year bond yield
U.S. housing starts expected to rebound after hurricane disruptions
Betting odds for year-end tax deal jump to 35% after House easily passes its tax bill -- The House on Thursday approved its version of the tax reform bill by the relatively comfortable margin of 227-205.  All but 12 Republicans voted for the bill.  Most of the Republican opposition came from members in high-tax states such as New York, New Jersey, and California who are opposed to the phase-out of the deduction for state income taxes.
Meanwhile, the Senate Finance Committee on Thursday continued the mark-up of its bill and the Committee is expected to vote by Friday to approve the bill and send it to the floor of the Senate.  Senate Majority Whip Cornyn has said that he expects the full Senate to consider the bill in the week after Thanksgiving.  If and when the Senate approves a tax bill, then the House and Senate would then have to hold a conference to agree on a single bill and both houses of Congress would then have to pass that compromise bill.
The fact remains that the Senate's bill will take precedence because the Senate will have the most trouble passing a bill.  The Senate must pass a bill that meets the rules of reconciliation.  In addition, the support of only two Republican Senators can be lost, which means that nearly every Republican Senator has significant leverage to affect the final outcome.
Various Senate Republicans are likely to come out in opposition to the bill in one respect or another in order to score some attention from their constituents.  Wisconsin's Senator Johnson has already said he opposes the bill because it doesn't give a large enough tax cut to pass-through business entities.  However, the Senate's tax bill is likely to be massaged in whatever way that is necessary to get it approved by at least 50 Senators plus Vice President Pence as the tie-breaker if necessary.
The betting odds for the approval of a tax bill by end-end jump sharply by +8 points to 35% on Thursday after the House easily passed its bill, according to PredictIt.org.  The odds are much better at 64% for passage by March 31, 2018.  We continue to expect Congress to approve a tax bill by early 2018 since it has become an almost existential issue for the Republicans to pass a tax cut of some kind.
Meanwhile on the spending front, there are only three weeks left until there will be a U.S. government shutdown unless Congress approves new spending authority when the current continuing resolution (CR) expires on Dec 8.  Republican leaders seem to be moving towards passing another short-term CR until either year-end or January in order to provide some extra time for Congress to try to pass tax reform.  Once tax reform is done, then Republican leaders will be in a better position to figure out what compromises with Democrats will be necessary to get new spending authority approved.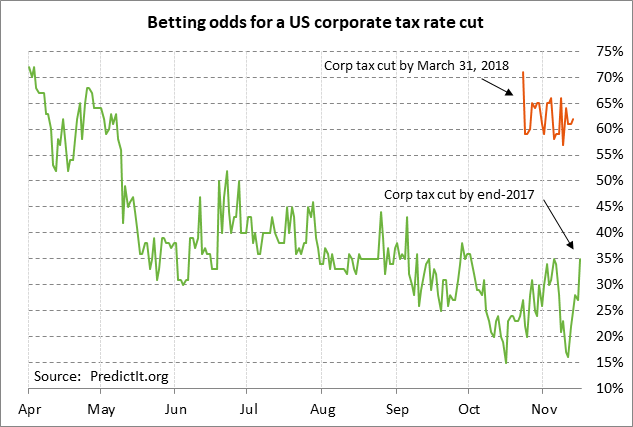 Merkel's 4-party coalition negotiations are proving difficult -- German Chancellor Merkel set a self-imposed deadline of Thursday night for an agreement to begin formal coalition talks, although that deadline might slip into Friday.  Ms. Merkel's Christian Democratic Union bloc, which fared poorly in the recent German election, is seeking to form a coalition government with the Free Democrats and the Greens.  The Greens are proving to be the main sticking point with a demand for a phase-out of coal.  If the parties believe they have enough in common to have a reasonable chance of forming a coalition government, then they will agree to begin formal coalition talks.
However, if the parties this week decide that there is no real chance of forming a coalition and give up talks, then the markets will become more worried about German politics.  In that case, Ms. Merkel will either have to (1) convince the opposition Social Democrats to enter a new coalition even though they have already ruled out that possibility, (2) try to rule with a minority government, or (3) call new elections.
PBOC successfully defends the 4% level on Chinese 10-year bond yield -- The People's Bank of China this week was able to halt the surge in the 10-year Chinese government bond yield by injecting a hefty 820 billion yuan ($120 billion) into the banking system, the most in 10 months.  The 10-year yield on Tuesday reached a 3-year high of 3.99% but then dropped by -5 bp on Wed/Thu to 3.94%.
The Chinese 10-year bond yield has soared by +40 bp in the past several weeks due to fears that the government will more aggressively pursue its deleveraging campaign now that October's Communist Party Congress is over.  In addition, banking system liquidity has tightened up with the 1-year Shibor interbank rate rising by another +8.6 bp this week to a new 2-1/2 year high of 4.54%.
The PBOC likely wanted to defend the 4% yield level to prevent the downward spiral in bond prices that might have occurred if the 4% psychological level had been breached.  The PBOC does not want a surge in bond yields to cause a stock market crash or a surge in the yuan.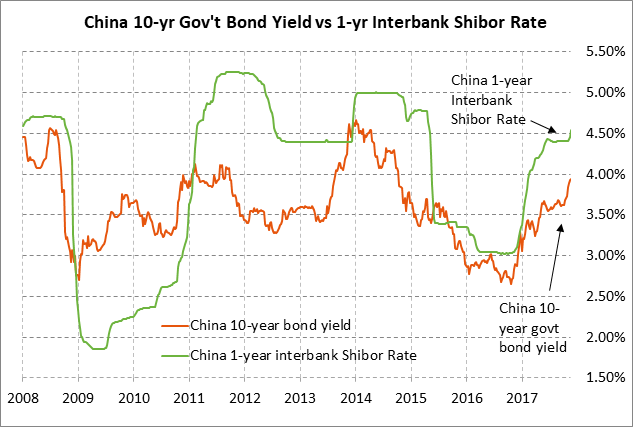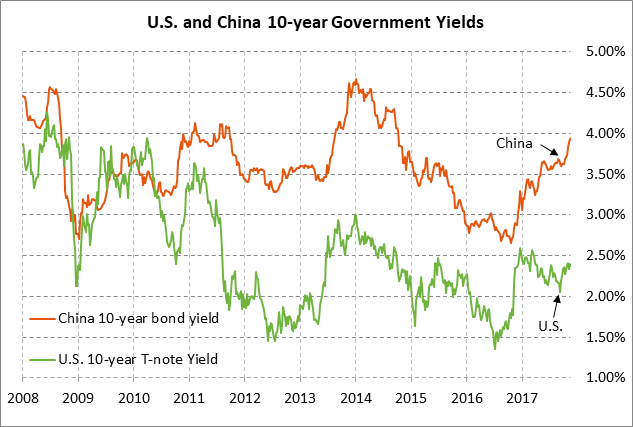 U.S. housing starts expected to rebound after hurricane disruptions -- The market consensus is for today's Oct housing starts report to show a +5.6% increase to 1.190 million, more than recovering Sep's -4.7% decline to 1.127 million.  Housing starts in October are expected to recover after hurricanes caused disruptions to home-building plans in September.  U.S. home builder confidence quickly rebounded in Oct-Nov with an overall 6-point rise in the National Association of Home Builders Housing Index to 70, which was only 1 point below the 12-year high of 71 posted in March.  That rebound in confidence is likely to translate to increased home building activity.