U.S. PPI and CPI reports could shift Fed outlook
Treasury's X-date falls in March
30-year T-note auction to yield near 2.77%
BOE at Thursday's meeting may ramp up its rate-hike warning
Weekly EIA report
U.S. PPI and CPI reports could shift Fed outlook -- Today's Aug PPI report and Thursday's CPI report could shift the market's view of whether the Fed will defer a December rate hike due to low inflation.  The sharp decline in the U.S. inflation statistics since winter has caused the market to substantially reduce expectations for another Fed rate hike by year-end.  The market is currently discounting the odds for a Fed rate hike by December at only 48%, which is substantially below the odds that were as high as 80% in March.
The U.S. CPI has fallen by a full percentage point to +1.7% y/y from Feb's 2.7% and the core CPI has fallen by -0.6 points to 1.7% from Jan's +2.3%.  Meanwhile, the PCE deflator has fallen by -0.8 points to +1.4% y/y from Feb's +2.2% and the core PCE deflator has fallen by -0.5 points to +1.4% y/y from the Jan-Feb level of +1.9%.
The PPI is in stronger shape than either the CPI or PCE deflator but the PPI has also declined.  The PPI in July fell to a 6-month low of +1.9% y/y from April's +2.5%, and the core PPI in July fell to a 4-month low of +1.8% from May's +2.1%.  The consensus is for today's Aug final-demand PPI to jump to +2.5% y/y from July's +1.9%, and for the Aug core PPI to jump to +2.1% y/y from July's +1.8%.
As for inflation expectations, the 10-year breakeven inflation expectations rate has risen by about +10 bp in the past two weeks to a 3-3/4 month high of 1.85%.  The rise in inflation expectations has been caused in part by higher gasoline and oil prices.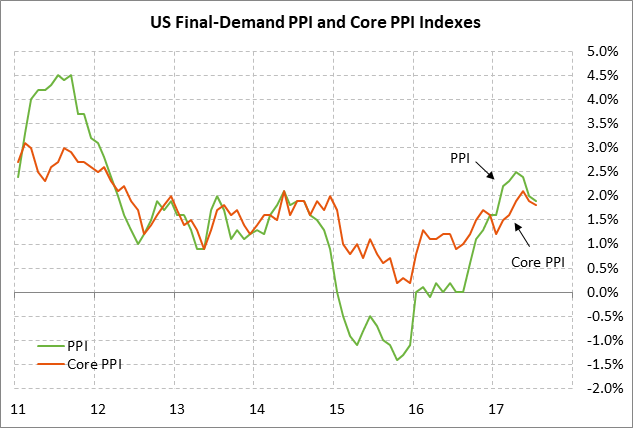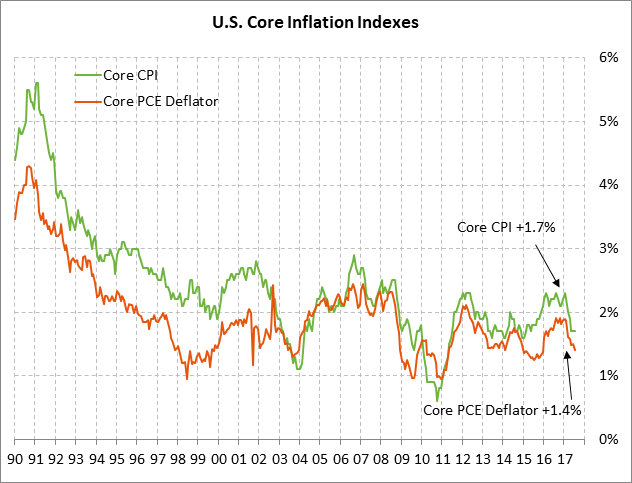 Treasury's X-date falls in March -- The Bipartisan Policy Center (BPC) on Monday said that the Treasury's new X-date will likely fall in March 2018.  However, the group said there is a great deal of uncertainty about the X-date due to hurricane spending and the possibility of tax changes, along with the usual difficulty of estimating incoming tax revenues.  On the X-date, the Treasury will essentially be in the position of a bankrupt company that can no longer borrow money and does not have enough cash on hand to meet all of its financial obligations.  The BPC's estimate of a March 2018 X-day is in line with most Wall Street estimates.
Senate Majority Leader McConnell on Wednesday made the point that Democrats do not have as much leverage as suggested by the recent fiscal deal.  While both the CR and debt ceiling suspension expire on Dec 8, there will only be the threat of a government shutdown on Dec 9 since the Treasury can use emergency measures to delay the X-date until March 2018.  Democrats in December will therefore have only a government shutdown to use as leverage, not the potential for a Treasury default due to debt limit constraints.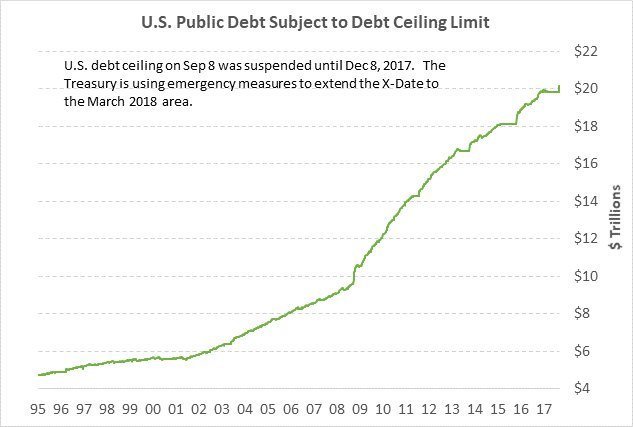 30-year T-note auction to yield near 2.77% -- The Treasury today will sell $12 billion of 30-year T-bonds in the first reopening of the 2-3/4% 30-year T-bond of August 2047, thus concluding this week's $56 billion coupon package.  Today's 30-year T-bond issue late Tuesday was trading at 2.77% in when-issued trading, which translates to an inflation-adjusted yield of 0.85% against the current 30-year breakeven rate of 1.92%.
The 12-auction averages for the 30-year are as follow:  2.28 bid cover, $7 million in non-competitive bids, 6.0 bp tail to the median yield, 22.3 bp tail to the low yield, and 49% taken at the high yield.  The 30-year is moderately popular among foreign investors and central banks.  Indirect bidders, a proxy for foreign buyers, have taken an average of 62.6% of the last twelve 30-year T-bond auctions, which is moderately above the average of 60.9% for all recent Treasury coupon auctions.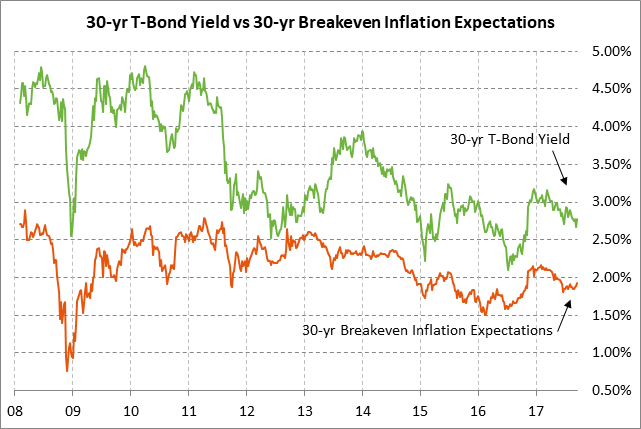 BOE at Thursday's meeting may ramp up its rate-hike warning -- The market consensus is that the Bank of England's Monetary Policy Committee at its meeting on Thursday will leave the base rate unchanged at 0.25%.  The base rate has been at 0.25% since August 2016 when the BOE cut the rate by -25 bp due to the June 2016 Brexit vote.  The odds for a rate hike at Thursday's meeting are negligible at about 3%, according to OIS rates.
However, the BOE on Thursday might step up its warning about the potential for higher rates to address inflation, regardless of Brexit uncertainties.  BOE Governor Mark Carney after the BOE's last meeting on Aug 3 said that policy may need to be tightened by a "somewhat greater extent" than investors anticipate.  In addition, two of the nine MPC members at the last meeting voted for a rate hike (i.e., Michael Saunders and Ian McCafferty).  It is possible that a third member, Andy Haldane, might vote for a rate hike this week, thus making the vote 6-3 for an unchanged policy.
The case for a rate hike strengthened on Tuesday after news that the UK's Aug CPI rate rose by +0.3 points to match May's 5-1/4 year high of +2.9% y/y, which was stronger than market expectations of +2.8%.  The Aug core CPI rose by +0.3 points to a 5-3/4 year high of +2.7% y/y.  UK inflation continues to be pushed higher by Brexit-related weakness in sterling.  Tuesday's stronger-than-expected UK CPI report caused GBP/USD to rally sharply to a new 1-year high and close the day up +0.91%.  The CPI report accelerated market expectations to 100% for a BOE rate hike by August 2018 from last week's timing of Feb 2019.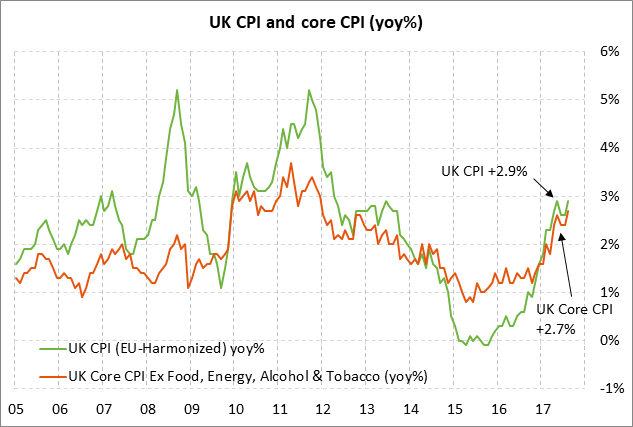 Weekly EIA report -- The market consensus for today's weekly EIA report is for a +4.8 mln bbl rise in crude oil inventories, a -3 mln bbl decline in gasoline inventories, a -2.4 mln bbl decline in for distillate inventories, and a +4.7 point increase in the refinery utilization rate to 84.4%.  The EIA report will continue to be highly distorted by the shutdown of refineries in the Gulf of Mexico area due to Hurricane Harvey, although those refineries are starting back up at a faster-than-expected rate, which will help to eventually boost gasoline inventories and bring down crude oil inventories.