Weekly global market focus
Markets wait to see if US/China will hold September trade talks
Italian-German bond yield spread soars to 6-week high on new Italian elections 
Weekly global market focus -- The U.S. markets this week will focus on (1) any developments on the US/Chinese trade front as the markets wait to see if the two sides will meet in September, (2) the dollar as the market continues to worry about whether the Treasury will engage in intervention against the dollar, (3) Sep crude oil prices, which fell to a 7-month low last Wednesday on trade tensions and a bearish weekly EIA report but then recovered later in the week as Saudi Arabia said it would cut exports in September to support oil prices, (4) the tail end of Q2 earnings season with only 11 of the S&P 500 companies reporting this week, and (5) key U.S. economic reports including Tuesday's July CPI report (core CPI expected unchanged from June's +2.1% y/y) and Thursday's July retail sales report (expected +0.3% and +0.4% ex-autos).
The European markets will focus on (1) Italy's snap election and last Friday's +29 bp surge in the Italy-German yield spread to a 6-week high, (2) any Brexit developments as the EU refuses to reopen the withdrawal agreement as demanded by Prime Minister Johnson, (3) the glacial US/EU trade talks, (4) expectations for Wednesday's German Q2 GDP report to show a decline of -0.1%, and (5) weak expectations of -1.4% m/m for Wednesday's Eurozone June industrial production report.
The Asian markets will focus mainly on US/Chinese trade developments and whether the PBOC is now pursuing a stable yuan after the 2.6% depreciation seen in the past 1-1/2 weeks.  China's July industrial production report on Tuesday night (ET time) is expected to ease to +6.0% y/y from June's +6.3% and July retail sales is expected to ease to +8.7% y/y from June's +9.8%.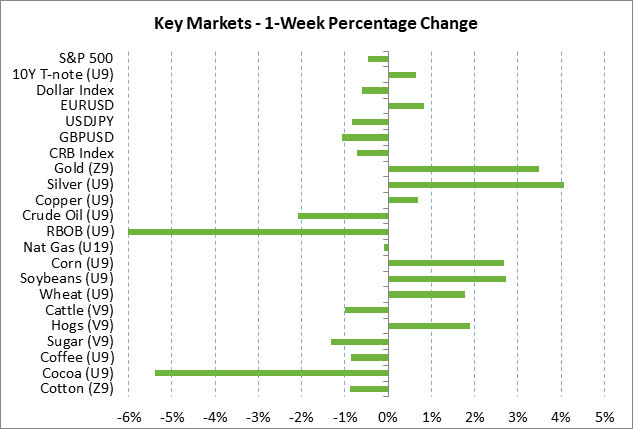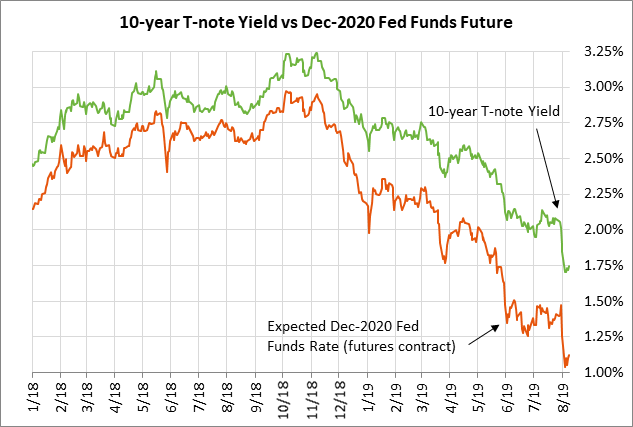 Markets wait to see if US/China will hold September trade talks -- President Trump last Friday said he was fine with canceling September's trade talks and with halting sales to Huawei.  Mr. Trump said, "I'm not ready to make a deal," and it is "fine" if next month's trade talks with China are canceled.
Mr. Trump also said that "We're not going to be doing business with Huawei."  That comment seemed to confirm Bloomberg's report last Thursday that the Commerce Department has halted consideration of some 50 license applications by U.S. companies to start selling products again to Huawei.
However, the White House pushed back on that interpretation later Friday and said that President Trump was only talking about federal agencies not buying from Huawei and that he was not referring to a shutdown of U.S. private-company sales to Huawei.  Nevertheless, the Trump administration's approval of U.S. sales to Huawei seems unlikely as long as China refuses to buy large amounts of U.S. farm products.
The U.S. Trade Representative's office early this week is expected to release the list of the $300 billion of Chinese products that will be subject to the new 10% import tariff on Sep 1 that President Trump announced last Thursday.
If those U.S. tariffs go into effect on September 1, then the markets will be waiting to see how China retaliates.  Chinese retaliation could include (1) higher tariffs on U.S. products, (2) obstruction and boycotts of U.S. products sold in China, (3) the naming of U.S. companies such as FedEx to China's new unreliable entity list, and (4) the shutdown of rare earth exports to the United States.
The markets were relieved later last week after the PBOC through its daily yuan fix indicated that Chinese authorities at least temporarily want the yuan to stabilize near current levels.  The Chinese yuan has depreciated by 2.6% since President Trump's announcement on Aug 1 of a new 10% tariff on $300 billion of Chinese goods effective Sep 1.  The markets will be relieved if the PBOC stabilizes the yuan near current levels in order to prevent capital flight panic and the outbreak of a downward spiral in the Chinese yuan and stock market.
The markets last Friday were relieved to hear Mr. Trump say that "we don't have to" devalue the dollar through intervention because lower interest rates from the Fed would have the same effect.  Nevertheless, the markets remain on guard for the possibility that Mr. Trump may yet instruct the Treasury to intervene against the dollar.  That intervention would probably have little sustained effect unless the Fed reinforces the move by cutting interest rates more sharply than expected.
However, a new U.S. policy of a weak dollar could kick off a bout of global currency instability, as well as some possible capital flight from dollar-denominated stocks and bonds from foreign investors who become worried about the possibility of a sustained drop in the value of their investments.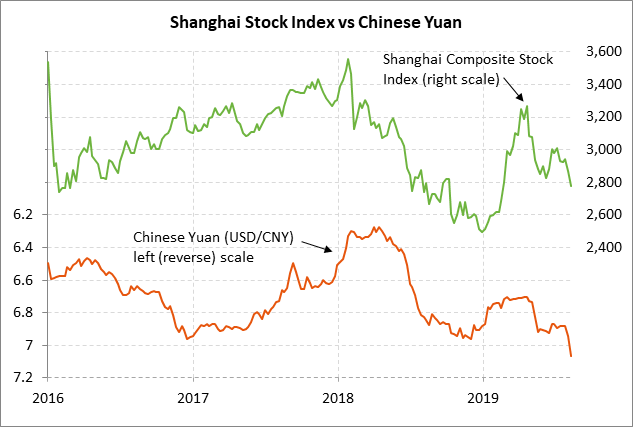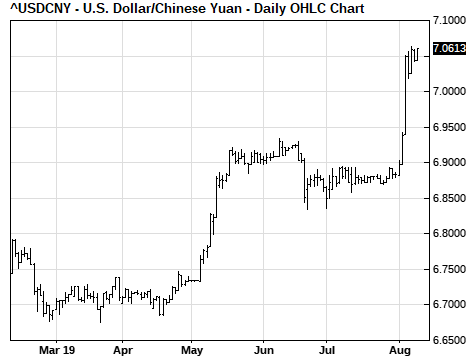 Italian-German bond yield spread soars to 6-week high on new Italian elections -- The Italian-German 10-year bond yield spread last Friday soared by +29 bp to 238 bp after League party leader Salvini late last Thursday called for a snap election, which could come in October.  The League is polling at about 40% and is seeking a new election to try to grab full control of Parliament without a partner.
If the League can gain control of Parliament, the markets are worried that Mr. Salvini will exceed EU budget deficit limits and create a nasty showdown with the EU.  In addition, even though Mr. Salvini last Friday said that leaving the euro "has never been in the works," his party's platform in the last election called for "a shared path toward a negotiated exit" from the euro, which it described as "the main cause of our economic decline, a currency tailored for Germany and multinationals, and contrary to the needs of Italy and small businesses."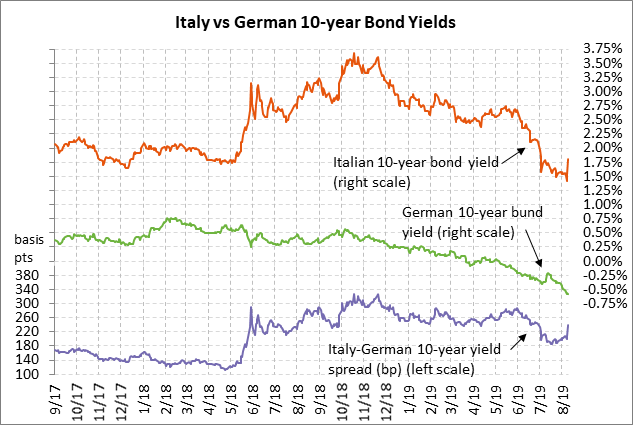 Capitol Commodity Services/R.J. O'Brien & Associates, LLC Disclaimer: This material has been prepared by a sales or trading employee or agent of R.J. O'Brien and is, or is in the nature of, a solicitation. This material is not a research report prepared by R.J. O'Brien's Research Department. By accepting this communication, you agree that you are an experienced user of the futures markets, capable of making independent trading decisions, and agree that you are not, and will not, rely solely on this communication in making trading decisions. DISTRIBUTION IN SOME JURISDICTIONS MAY BE PROHIBITED OR RESTRICTED BY LAW. PERSONS IN POSSESSION OF THIS COMMUNICATION INDIRECTLY SHOULD INFORM THEMSELVES ABOUT AND OBSERVE ANY SUCH PROHIBITION OR RESTRICTIONS. TO THE EXTENT THAT YOU HAVE RECEIVED THIS COMMUNICATION INDIRECTLY AND SOLICITATIONS ARE PROHIBITED IN YOUR JURISDICTION WITHOUT REGISTRATION, THE MARKET COMMENTARY IN THIS COMMUNICATION SHOULD NOT BE CONSIDERED A SOLICITATION. The risk of loss in trading futures and/or options is substantial and each investor and/or trader must consider whether this is a suitable investment. Past performance, whether actual or indicated by simulated historical tests of strategies, is not indicative of future results. Trading advice is based on information taken from trades and statistical services and other sources that R.J. O'Brien believes are reliable. We do not guarantee that such information is accurate or complete and it should not be relied upon as such. Trading advice reflects our good faith judgment at a specific time and is subject to change without notice. There is no guarantee that the advice we give will result in profitable trades.