Markets wait to see if Fed Chair Powell will implicitly endorse a rate cut at July 30-31 meeting
US/China officials hold telephone trade talks
10-year T-note auction to yield near 2.06% 
Markets wait to see if Fed Chair Powell will implicitly endorse a rate cut at July 30-31 meeting -- Fed Chair Powell today will deliver the first day of his semi-annual testimony to the House Financial Services Committee.  Mr. Powell will then appear tomorrow before the Senate Banking Committee.
The market is expecting Mr. Powell to stick with the Fed's recent theme that it is willing to act on the downside risks to the U.S. economy.  However, the risks don't look quite as bad as they did a few weeks ago since the U.S. and China on June 29 agreed to restart their trade talks and since last Friday's June payroll report was surprisingly strong at +224,000.
However, we expect the Fed to proceed with a 25 bp rate cut at the July 30-31 meeting.  That rate cut can be justified in the sense that the Fed's last rate hike in December was probably one step too far and can therefore be reversed without a great deal of commotion.  In addition, the market is discounting the odds of a rate cut at the July 30-31 meeting at 100%, which means that both the stock and bond markets would likely have a temper tantrum if the Fed surprises the markets and does not cut rates a notch.
The Fed also has to think about the heavy rate-cut pressure from President Trump.  The Fed obviously wants to preserve its independence and prove its willingness to stand up to political pressure.  On the other hand, if the Fed on July 30-31 did not cut rates and President Trump went ahead with his threat to demote Mr. Powell as Fed Chair, the Fed as an institution would be severely wounded.  Fed officials do not want to find out how much damage could be done to the Fed's hard-won reputation as an independent guardrail against politically-inspired and inflationary monetary policies.  A rate cut at the July 30-31 meeting would at least buy the Fed a little time to fight another day.
While the Fed is likely to go ahead with its July 30-31 rate cut, we believe that the Fed will then be much stingier with any additional rate cuts.  The outlook at present is only mildly negative and a rate cut as an insurance policy isn't a bad idea.  However, the economic and inflation outlooks are not currently bad enough to be confident that the Fed will carry out the market's expectation for three rate cuts through 2020.  The market is currently expecting 57.5 bp of rate cuts through the end of 2019 and a further 30 bp of rate cuts in 2020.  The Fed dots, by contrast, are expecting only one rate cut in 2019-20 and then a reversal with a rate hike in 2021.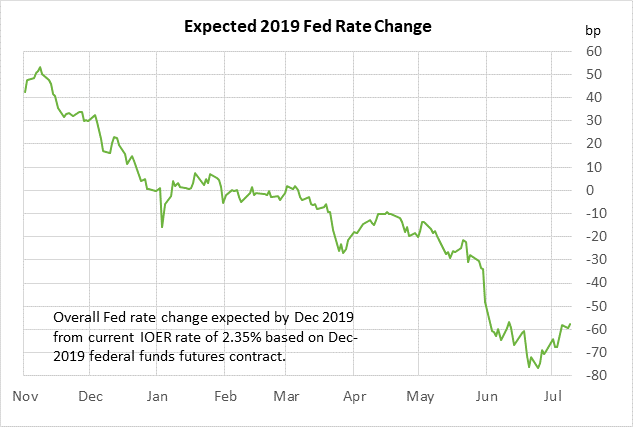 US/China officials hold telephone trade talks -- USTR Lighthizer and Treasury Secretary Mnuchin on Tuesday held a telephone conversation with their Chinese counterparts, Chinese Vice Premier Liu and Commerce Minister Zhong.  White House economic advisor Kudlow characterized the telephone call as "constructive" but said no details are yet available about more meetings.  He added, "Hopefully we can pick up where we left off but I don't know that." The markets are waiting for face-to-face meetings as a stronger sign that the US/Chinese trade talks will in fact resume.
China could be dragging its feet on restarting talks until it sees whether the U.S. will follow through with President Trump's promise to allow U.S. companies to start selling components again to Huawei that don't involve national security.  China can't be encouraged so far about that promise since Commerce Secretary Wilbur Ross on Tuesday confirmed that Huawei will remain on the "entity list" and that U.S. companies will have to apply for licenses to sell products to Huawei.  Mr. Ross added that licenses will be reviewed with a "presumption of denial."  Meanwhile, the U.S. side is undoubtedly unhappy that China has yet to commit to any major purchases of U.S. ag products.
There was some good news on USMCA on Tuesday.  White House economic advisor Kudlow said that the White House will not formally submit the text of the USMCA to Congress, thus starting a mandatory review period, until House Speaker Pelosi says she is ready.  Approval of the USMCA is more likely if Ms. Pelosi can move at her own pace in trying to get her caucus to consider and approve the treaty.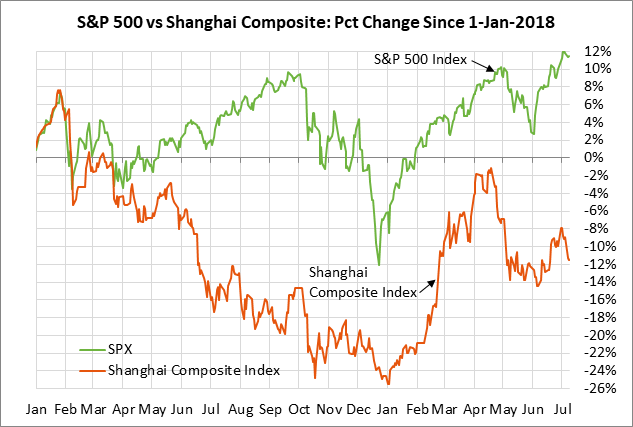 10-year T-note auction to yield near 2.06% -- The Treasury today will sell $24 billion of 10-year T-notes in the second and final reopening of the 2-3/8% 10-year T-note of May 2029 that the Treasury first sold in May.  The Treasury will then conclude this week's $78 billion coupon package by selling $16 billion of reopened 30-year T-bonds on Thursday.
The benchmark 10-year T-note yield on Tuesday edged to a new 3-week high of 2.070% and closed +1.7 bp at 2.065%.  The 10-year T-note yield has now rebounded higher by +12.7 bp from last Wednesday's 2-3/4 year low of 1.938%.  The upward rebound in the 10-year T-note yield was prompted by last Friday's stronger-than-expected June payroll report of +224,000, which caused the market to significantly dial back expectations for Fed easing this year.
The 12-auction averages for the 10-year are as follows:  2.47 bid cover ratio, $19 million in non-competitive bids taken by mostly retail investors, 4.3 bp tail to the median yield, 24.7 bp tail to the low yield, and 46% taken at the high yield.  The 10-year T-note is fairly popular among foreign investors and central banks.  Indirect bidders, a proxy for foreign buyers, have taken an average of 63.7% of the last twelve 10-year T-note auctions, which is moderately above the median of 60.8% for all recent Treasury coupon auctions.