USTR releases details on next round of tariffs although Trump says decision is not yet final
Treasury market shakes off Chinese dumping threat 
China's industrial production and retail sales expected to edge lower
USTR releases details on next round of tariffs although Trump says decision is not yet final -- The U.S. stock market fell sharply on Monday after China went ahead with its retaliation by raising tariffs on about $60 billion of U.S. goods. The S&P 500 index on Monday fell to a new 6-week low and closed the day sharply lower by -2.41%.  The S&P 500 VIX Volatility index on Monday closed sharply higher by +4.51 at 20.55% but remained below last Thursday's 4-1/4 month high of 23.38%.
The Trump administration on Monday scrambled to try to limit the stock market fall-out from the latest round of US/Chinese tariffs.  Treasury Secretary Mnuchin said that the US/Chinese trade talks have not broken down and that he is working on a date to go to China for the next round of talks.  Meanwhile, President Trump on Monday said that he plans to meet with Chinese President Xi on the sidelines of the G-20 Summit in Japan on June 28-29.
After Monday's close, the U.S. Trade Representative's Office released the details of President Trump's proposal to slap tariffs of up to 25% on the remaining $300 billion of Chinese goods not already subject to penalty tariffs.  The USTR's notice opened up a 30-day public comment period capped by a public hearing on June 17.  The only good news on Monday was that President Trump said that he has not yet made a final decision about whether he will go ahead with the new 25% tariffs, although last Friday he threatened to put those new tariffs into effect in just 30 days.
If Mr. Trump goes ahead with the 25% tariff on $300 billion of Chinese goods in 30 days as threatened, then the U.S. would have a 25% tariff on virtually all U.S. imports from China by the time that Mr. Trump meets with Mr. Xi in late June.  Once Mr. Trump slaps tariffs on all Chinese products, then China may simply decide to wait until the end of the Trump presidency to negotiate a trade deal, whenever that may be.  The markets could therefore be facing at least another 1-2/3 years with big tariffs on US/Chinese products.
Mr. Trump's quick Chinese tariff trigger in the past week raised the odds that Mr. Trump will go ahead with the separate decision about whether to slap tariffs on autos imported into the U.S., a decision that is due by May 18.  The US/EU and US/Japanese trade talks are progressing at a snail's pace and Mr. Trump may again lean on tactic of using tariffs to try to pressure U.S. trade partners into delivering trade concessions.
The EU is certainly concerned that Mr. Trump might go ahead with auto tariff even before the US/EU talks get off the ground because EU Trade Commissioner Malmstrom on Monday said the EU will be ready to retaliate "quite rapidly" to any U.S. tariffs on EU autos, adding, "We are already preparing a list of possible items that would be on that [retaliation] list."  The EU has previously said that it would hit the U.S. with retaliatory tariffs on 20 billion euros of U.S. products if the U.S. goes ahead with the auto tariff.  The EU continues to be upset about the U.S. tariffs on EU steel and aluminum that were imposed last year.
Mr. Trump's quick Chinese tariff action raised market suspicions that the Mr. Trump and his advisors see tariffs not just as a short-term negotiating tool but also as a long-term tool to try to reduce the U.S. trade deficit and prevent a loss of U.S. jobs.  There is suspicion, despite elementary economic theory to the contrary, that the U.S. is seeking to permanently disengage from China economically and refrain from providing any mutual benefits to a country that the administration seems to view as an existential threat.  If that is the case, then the prospects for a settlement of the US/Chinese trade war during the Trump presidency would be slim.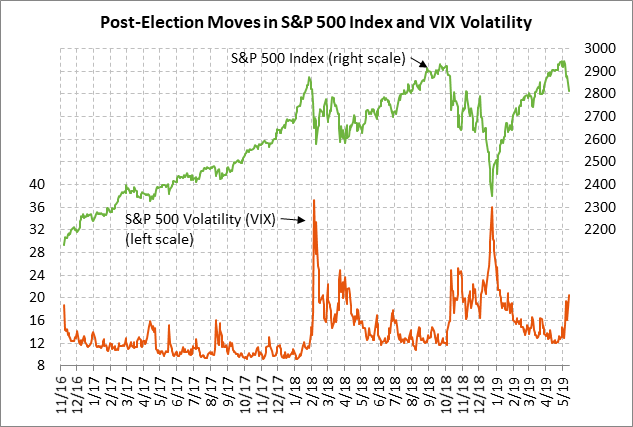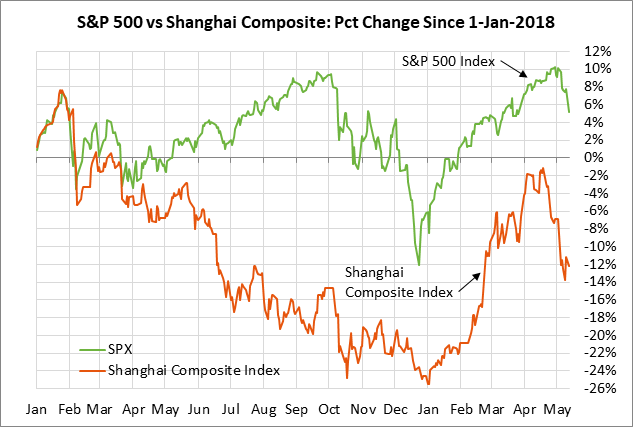 Treasury market shakes off Chinese dumping threat -- The Treasury security market on Monday took notice of a tweet from Hu Xihin, editor in chief of the state-run Global Times, saying that, "Chinese scholars are discussing the possibility of dumping U.S. Treasuries and how to do it specifically."  The fact that the tweet came from the chief editor of the Global Times was noteworthy since the Global Times was the only news outlet that warned that the US/Chinese trade talks were deadlocked several days before that became public knowledge, underscoring the news outlet's access to top-level Chinese government thinking.
The possibility that China could start dumping some of its massive hoard of Treasury securities comes up frequently when US/Chinese relations are under stress.  However, that is only a last-resort threat since if China were to start dumping Treasury securities and driving U.S. Treasury yields higher, China would take heavy losses on the remainder of its Treasury portfolio.  The threat would only work if China were to suddenly dump its entire portfolio of $1.13 trillion worth of Treasury securities, which account for about 5% of all outstanding Treasury securities.  The Treasury market on Monday largely shook off the Chinese government's reminder about its potential leverage through the Treasury market.
China's industrial production and retail sales expected to edge lower -- The consensus is for Tuesday night's (ET) Chinese April industrial production report to fall to +6.5% y/y from March's +8.5% and for April retail sales to edge lower to +8.6% y/y from March's +8.7%.  The Chinese markets will be sensitive to any weaker-than-expected economic data given the vulnerable state of the Chinese economy and stock market in the midst of the current US/Chinese trade tensions.  China's PMI data showed some encouraging increases in March but then fell back again April, keeping the markets on edge about whether Chinese economic growth will continue to slide.  China's PMIs are currently just above the boom-bust level of 50.0.  The April manufacturing new orders sub-index rose to an 8-month high of 49.2 but remained below the expansion-contraction level of 50.0.