Mueller Day could be underwhelming for the markets
Momentum continues for US/Chinese trade deal on reports of new round of face-to-face talks
U.S. retail sales expected to rebound sharply after 4-month slump 
Mueller Day could be underwhelming for the markets -- The markets are braced for a potentially volatile day depending on what transpires on the Mueller front.  Attorney General Barr is scheduled to give a press conference this morning and the redacted Mueller report is due to be released by the Justice Department later in the day.  President Trump said he may hold a press conference today as well.  Washington is certainly in a frenzy ahead of today's report.
Attorney General Barr in his initial summary letter said that the Mueller report did not find evidence of collusion between the Trump administration and the Russians.  However, the Mueller report said it found evidence on both sides as to whether President Trump obstructed justice and Special Counsel Mueller did not draw a final conclusion on that issue.
The key information in today's redacted Mueller report will therefore be whether there is enough evidence of obstruction for the House Democrats to begin an impeachment inquiry.  An impeachment inquiry would dramatically dial up the political uncertainty in Washington and would therefore be a bearish factor for stocks.
However, an impeachment attempt by House Democrats still seems unlikely given that the Mueller report sounds inconclusive on the issue and since House Speaker Pelosi has downplayed the possibility of impeachment.  In addition, there is little reason for the House to impeach since the Senate would be highly unlikely to convict by the necessary two-thirds majority.  On that basis, the markets may continue to show generally little reaction to the twists and turns in the Russia investigation and related matters.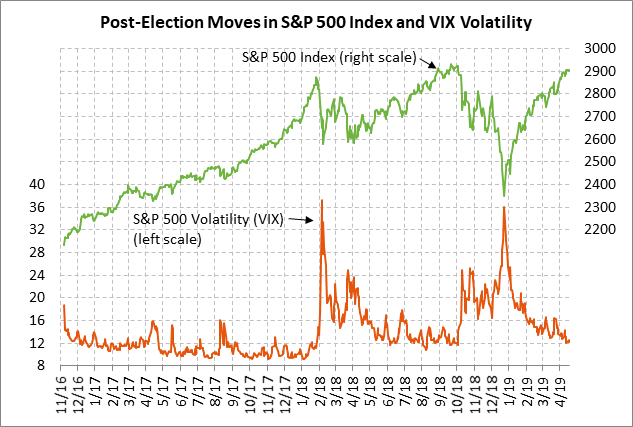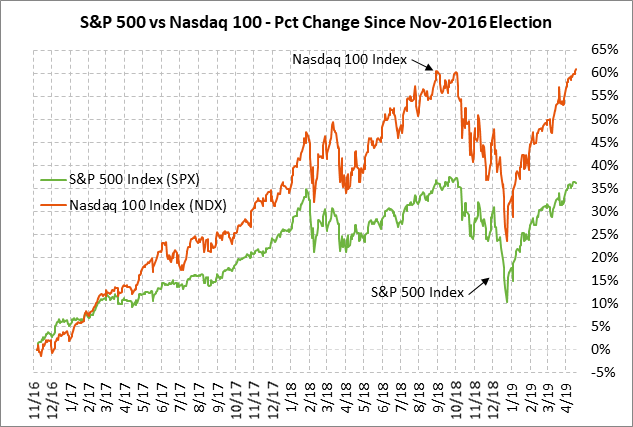 Momentum continues for US/Chinese trade deal on reports of new round of face-to-face talks -- The markets were encouraged by momentum for a US/Chinese trade deal after reports about the tentative scheduling of a new round of face-to-face talks.  Both the Wall Street Journal and Bloomberg reported that Lighthizer/Mnuchin will travel to China for talks in the week of April 29 and that Chinese Vice Premier Liu will travel to Washington for talks the following week (May 6).
Bloomberg reported that the U.S. and China are aiming to reach an agreement by early-May, allowing Presidents Trump and Xi to sign the deal later in May.  Bloomberg said that the Trump administration wants to announce an agreement during Mr. Liu's visit to Washington in the week of May 6 and the timing of a Trump/Xi signing summit later in the month.
The main outstanding issue appears to be which penalty tariffs will be left in place after the trade agreement is signed.  The U.S. is apparently willing to drop the second round of tariffs on $200 billion of Chinese goods, but plans to keep in the place the first round of 25% tariffs on $50 billion of Chinese goods.
China therefore apparently intends to keep in place the retaliatory tariffs that it imposed in response to the first round of U.S. tariffs on $50 billion of Chinese goods.  Reports emerged this week that the U.S. is asking China to shift those retaliatory tariffs away from agriculture products to other goods.  The Trump administration presumably does not want to go into next year's election season with China still imposing heavy tariffs on most U.S. agriculture products.
Meanwhile on the Japanese trade front, Japanese Trade Minister Motegi after his Monday/Tuesday meetings with USTR Lighthizer said he expects to return to the U.S. next week for another round of talks.  Mr. Motegi may accompany Japanese Prime Minister Abe who will be in Washington next week for a summit with President Trump.
In this week's first round of US/Japanese trade talks, the focus was on agriculture and autos.  The two sides also agreed to take up digital trade in future negotiating sessions.  However, Japan apparently wants to limit the talks to those areas and wants to wrap up an agreement fairly quickly.  Mr. Motegi said, "The possibility that there'll be other areas raised for negotiation is very low.  The U.S. side said they don't expect to include in the negotiations areas that will take a long time.  Matters that would require systemic reforms in Japan would take a very long time."  
Mr. Motegi brushed off questions about whether there will be a currency agreement as part of the US/Japanese trade deal.  He said that a currency agreement was the remit of Japan's finance minister and Treasury Secretary Mnuchin.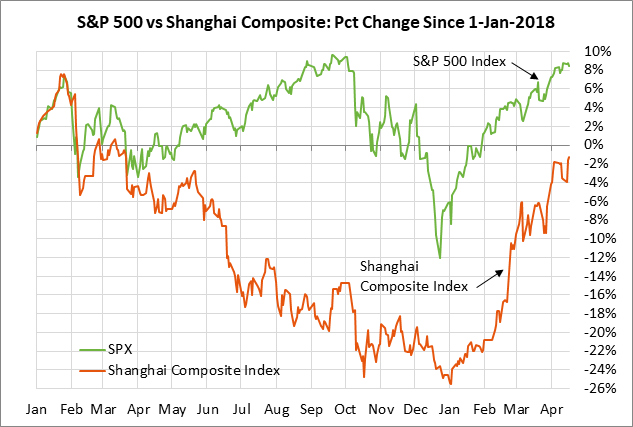 U.S. retail sales expected to rebound sharply after 4-month slump -- The consensus is for today's March U.S. retail sales report to show a solid increase of +1.0% and +0.7% ex-autos following Feb's weak report of -0.2% and -0.4% ex-autos.  The markets are hoping that March will be the beginning of a revival of consumer spending, which has been in a slump since November.  Over the 4-month period of November through February, U.S. retail sales showed a net decline of -1.1%.
U.S. consumer spending was hurt in late 2018 and early 2019 by (1) the sharp downside correction in the stock market in Q4, (2) the widespread talk about whether a U.S. recession was imminent, (3) higher gasoline prices, and (4) the U.S. government shutdown that lasted from December 22 through January 25.  However, U.S. consumer confidence and spending now looks set to improve given (1) the sharp rally in stocks seen so far in 2019, (2) the continued strength in the U.S. labor market, and (3) optimism about interest rates and mortgage rates after the Fed in January dropped its rate-hike regime and adopted a neutral policy for 2019.