U.S. auto tariff recommendation due by Sunday
Trump raises the possibility of a tariff deadline extension
Congress dares White House on another shutdown
PM May's ultimate Brexit strategy overheard in a bar?
U.S. CPI expected to ease slightly
U.S. auto tariff recommendation due by Sunday -- The markets are bracing for the Commerce Department sometime before Sunday's deadline to release its recommendations on whether the U.S. should impose a tariff of up to 25% on imported autos on national security grounds.  The President will then have 90 days to make a final decision.  The global stock markets will likely sell off sharply if the U.S. ultimately goes ahead with auto tariffs on the EU, Japan and other countries since autos are a significant macroeconomic sector and since U.S. auto tariffs (and retaliatory tariffs) would hurt earnings for most global auto companies.
Trump raises the possibility of a tariff deadline extension -- President Trump on Tuesday provided some relief to the markets by saying that he could see himself delaying the March 1 tariff deadline.  He said, "If we're close to a deal where we think we can make a real deal and it's going to get done, I could see myself letting that slide a little while," but generally speaking he is "not inclined" to delay tariffs.
U.S. officials are currently in Beijing for mid-level trade talks through today and high-level talks on Thursday and Friday with USTR Lighthizer and Treasury Secretary Mnuchin in attendance.  If this week's talks go well and a deal isn't far away, then the ideal situation for the markets would be a delay of the March 1 tariff deadline and a Trump/Xi summit in mid to late March to formally declare victory on an agreement.  Alternatively, if this week's talks go poorly, Mr. Trump might go ahead with the March 1 hike in the tariffs to 25% from 10% on $200 billion of Chinese goods as a hammer to break loose bigger Chinese concessions on the difficult structural issues.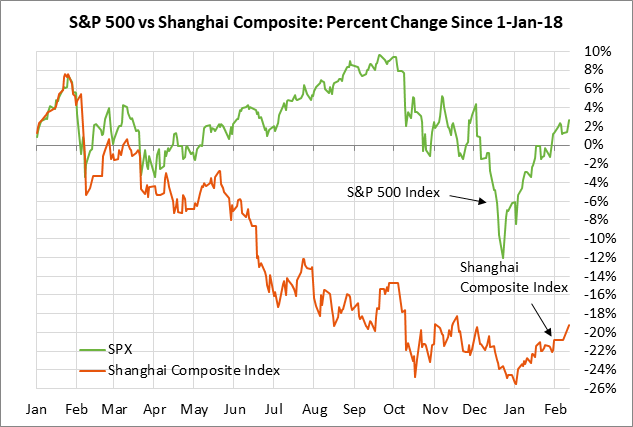 Congress dares White House on another shutdown -- Congress today will start examining the written bill on Monday night's bipartisan border security deal.  President Trump on Tuesday said he wasn't happy with the bill, but he also said "I don't think you're going to see a shutdown."  That suggested that Mr. Trump may grudgingly sign the bill.  The White House is leaving open the possibility of pocketing the $1.6 billion of fencing provided by the bipartisan border security bill and then using either an executive order or an emergency declaration to get additional wall funding.  Congress should be able to easily pass the bill if Mr. Trump is not opposed.
The markets are hoping that Washington will approve the border security deal and the spending bills before a new government shutdown begins at midnight this Friday when the continuing resolution expires.  The good news is that the spending bills under consideration for passage this week would authorize spending for the rest of the fiscal year.  That means that the markets would not need to worry about another government shutdown until October 1 when the new fiscal year begins.
While a government shutdown threat may nearly be over, the markets must still worry about the more serious issue of a debt ceiling increase.  The debt ceiling will have to be raised by mid-summer, according to the Bipartisan Policy Center, or the Treasury will start defaulting on its financial obligations.  Notably, the U.S. public debt this week will go above $22 trillion for the first time ever without any discernible concern in Washington in either party about how the U.S. will address its ever-rising national debt.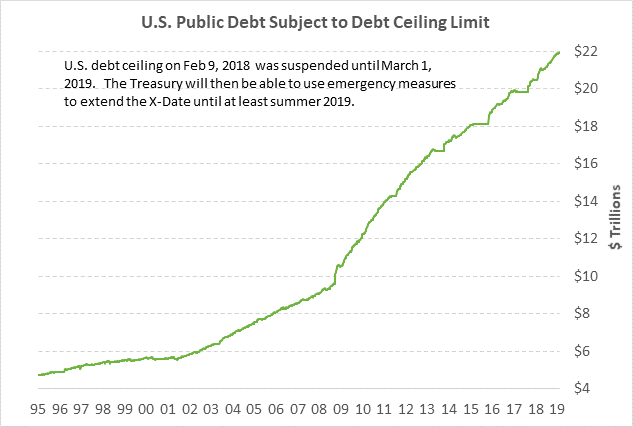 PM May's ultimate Brexit strategy overheard in a bar? -- An ITV news broadcaster on Tuesday reported that he overheard UK chief Brexit negotiator Olly Robbins in a Brussels bar saying that Prime Minister May's strategy is to run down the clock until a few days before the March 29 deadline and then present Parliament with the two options of either passing her Brexit separation plan or accepting a long postponement of the Brexit deadline.  Her hope would be that pro-Brexit members of her party would rather vote for her Brexit separation agreement than roll the dice on what might happen during a long delay of the Brexit deadline, such as a second referendum.
The report had the ring of truth since Ms. May is clearly running down the clock, whether on purpose or because she has no better option right now.  Ms. May on Tuesday said that if she does not have a Brexit plan that can pass Parliament by February 26, then she will allow amendment votes on Feb 27.  One of those amendments could be the plan to ensure that a no-deal Brexit doesn't happen by extending the Brexit deadline in the event that Parliament cannot pass a Brexit separation plan by the March 29 deadline.
The betting odds for a no-deal Brexit are currently at 7/4 (37% probability), up from 25% a few weeks ago, according to oddschecker.com.  Since Parliament on Jan 29 overwhelmingly defeated Ms. May's Brexit separation bill, GBP/USD has fallen by -2% to a 3-week low.  The markets are concerned that the UK/EU Brexit brinkmanship means that a resolution might not come until just a few days before the March 29 deadline, causing even more damage to the UK economy and uncertainty for the UK and EU financial markets, or that the UK/EU might actually blindly stumble into a no-deal Brexit.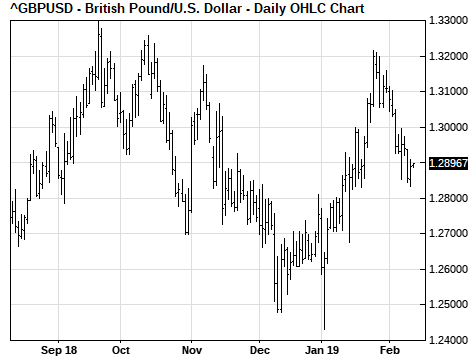 U.S. CPI expected to ease slightly -- The consensus is for today's Jan headline CPI to ease to +1.5% y/y from Dec's +1.9% and for the core CPI to ease to +2.1% y/y from Dec's +2.2%.  The headline CPI will fall due to weak energy prices, while the core CPI is expected to cool a bit due to slower economic growth and lower overall demand.  A cooler CPI will give the Fed more cover for its rate-hike pause.  The Fed's preferred inflation measure, the PCE deflator, in November was at +1.8% y/y (headline) and +1.9% (core), slightly below the Fed's +2.0% inflation target.  The Dec PCE deflator report has been delayed by the Dec/Jan government shutdown.