Weekly market focus
US/Chinese face-to-face trade talks finally begin
Powell raises hopes for a Fed pause
No progress as yet on ending the U.S. government shutdown
Weekly market focus -- The U.S. markets this week will focus on (1) US/Chinese trade talks today and Tuesday in Beijing, (2) the ongoing U.S. government shutdown, (3) further assessment of whether the Fed is willing to pause its rate-hike regime during a busy week of Fedspeak and the Dec 18-19 FOMC minutes on Wednesday, (4) the Treasury's sale of $78 billion of 3-year, 10-year and 30-year securities, (5) whether the U.S. stock market can extend last Friday's recovery rally as investors return in full force after the holidays, and (6) oil prices, which recovered modestly to a 3-week high last Friday.
In Europe, the focus will mainly be on Brexit as the UK Parliament returns to session this week and is due to vote next week on Prime Minister May's Brexit separation plan.  The markets will assess Thursday's release of the minutes from the Dec 12-13 ECB meeting for any hints that the ECB believes it may have to delay its first rate hike.  The Euro Stoxx 50 index last Friday was boosted by the sharp U.S. stock market rally and closed the day sharply higher by +2.95% after posting a 2-week high.
In Asia, the Chinese markets will mainly watch the US/Chinese trade talks and the prospects for a deal before the March 1 deadline.  Chinese economic data this week includes inflation and lending data on Wednesday night.  The Chinese markets will also react to the Chinese central bank's 100 bp cut in the bank required reserve ratio last Friday, which will free up a substantial amount of liquidity and lending power for Chinese banks.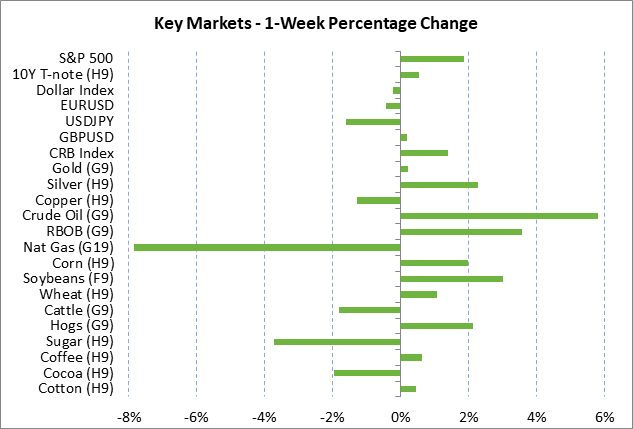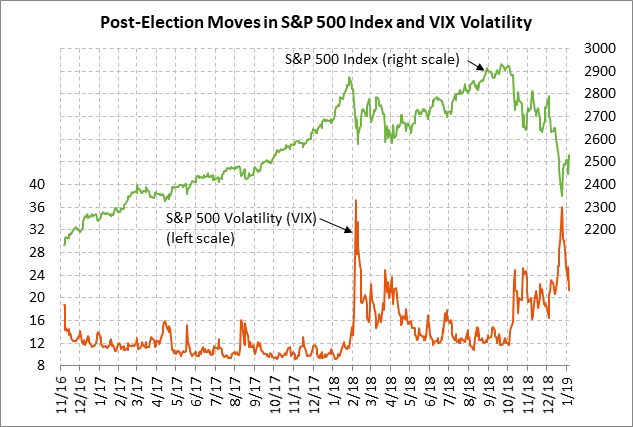 US/Chinese face-to-face trade talks finally begin -- Trump administration officials will hold deputy-minister level talks on Monday and Tuesday in Beijing with their Chinese counterparts.  The U.S. delegation will be led by Deputy USTR Jeffrey Gerrish.  The talks are expected to be more technical in nature.  USTR Lighthizer and Chinese Vice Premier Liu He, President Xi's top economic advisor, are expected to meet later this month, a meeting that carries more hope for key breakthroughs.  President Trump has designated USTR Lighthizer as his lead negotiator for a US/Chinese trade deal.
Market hopes for a US/Chinese trade deal improved after President Trump on Dec 29 tweeted that he had a long telephone call with President Xi and that "big progress" is being made on a trade deal. The odds for a US/Chinese trade deal seem to have improved because China has taken a number of measures to placate the U.S. such as buying U.S. soybeans and LNG, passing stronger IP enforcement penalties, dropping the penalty tariff on U.S. autos, implementing a third round of cuts in import and export tariffs in an economy-opening initiative, and expressing some willingness to water down its "Made in China 2025" industrial program.  Yet, the 3-month ceasefire is already more than one-third over and negotiators have only another 8 weeks to make a deal before the March 1 deadline arrives.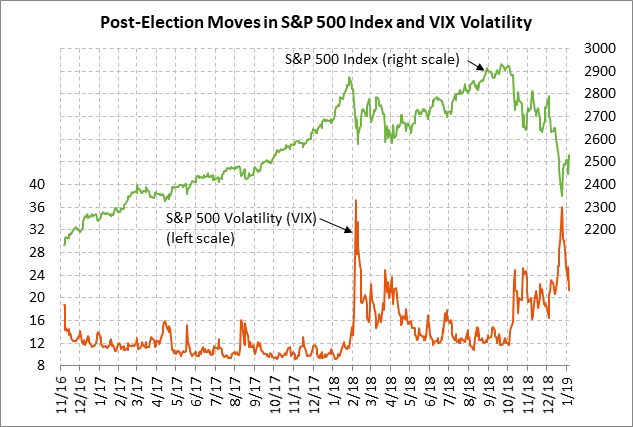 Powell raises hopes for a Fed pause -- The markets this week should be able to get a better sense of whether the Fed is willing to pause its rate-hike regime since there are a total of nine speaking engagements by Fed officials this week including Fed Chair Powell on Thursday before the Economic Club of Washington and Fed Vice Chair Clarida on Thursday evening before the Money Marketeers of NYU.
The markets will gauge whether the Fed is running a coordinated PR campaign to communicate a softer monetary policy view to the markets or whether Fed Chair Powell was freelancing his comments last Friday.  Mr. Powell last Friday gave the markets hope that the Fed is willing to pause its rate-hike regime when he said he is "listening sensitively to the message that the markets are sending."  He also said, "With the muted inflation readings we've seen, we will be patient as we watch to see how the economy evolves."  He added that "there is no preset path for policy."
The markets were also encouraged to hear that the Fed would be willing to consider slowing its balance sheet reduction plan if that became necessary.  Mr. Powell said that the Fed wouldn't hesitate to shift its policy if necessary to meet its statutory goals and "that would include the balance sheet."  However, he added that he doesn't think that the balance sheet reduction program is "an important part of the story of the market turbulence that began in the fourth quarter of last year."
The S&P 500 index last Friday rallied sharply by +3.43% on Fed Chair Powell's dovish comments.  However, last Friday's very strong payroll report of +312,000 was a reminder that the U.S. economy is so far still showing above-potential GDP growth.  Indeed, the Dec federal funds futures contract last Friday on a yield basis rose sharply by +10 bp to 2.34%, reversing part of last Thursday's -17 bp plunge to 2.24%.  As of last Friday, the federal funds futures market was discounting a 22% chance of a -25 bp rate hike by year-end and a full chance of a rate cut by the end of 2020.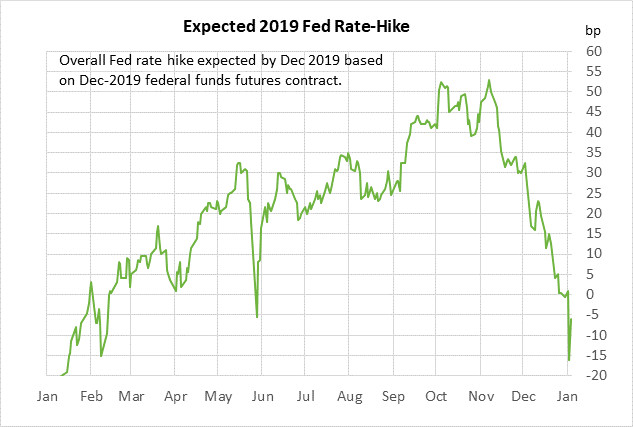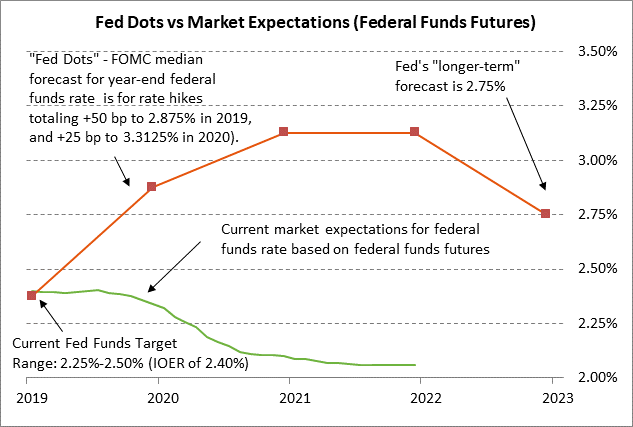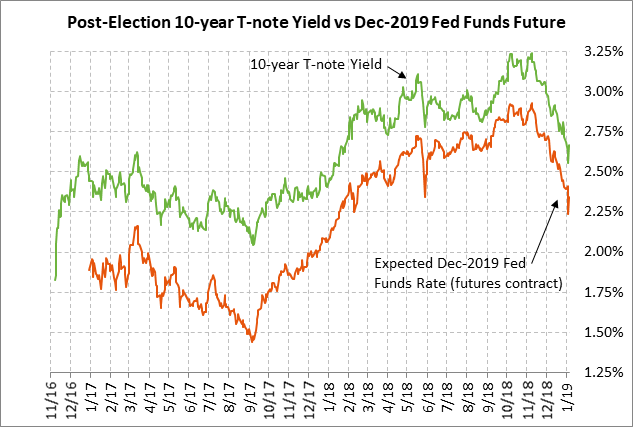 No progress yet on ending the U.S. government shutdown -- No progress was reported in a meeting held on Saturday by Vice President Pence and other administration officials with staff members of Democratic leaders.  President Trump last Friday raised the possibility of the shutdown lasting months or years and he is also talking up his idea of declaring a national emergency and having the military build his wall, although the legality of that move is in question. 
The partial U.S. government shutdown that began on Dec 22 is now in its third week.  White House Chair of the White House Council of Economic Advisors Kevin Hassett last Thursday said that the partial government shutdown is trimming U.S. GDP growth by about 0.1 point every two weeks.