Mueller fireworks could start soon
FOMC expected to leave policy unchanged
Treasury auctions 30-year bonds with yield just below last Friday's 4-1/4 year high
EIA report
Mueller fireworks could start soon -- The Mueller team has been quiet in recent weeks due to the Justice Department's guidance that prosecutors should not take any actions that could influence an election in the 60 days before that election.  Now that the 60-day quiet period ahead of yesterday's mid-term election is over, the Mueller investigation could have some pent-up developments to report, such as new indictments or perhaps even a release of findings (either way) on collusion or obstruction of justice.
Trump campaign aide Roger Stone recently said that he expects to be indicted and the main question would be whether any such indictment includes other top Trump team members.
The other main question is whether President Trump will fire any top Justice Department officials now that the election is over.  Top Senate Republicans prevailed upon Mr. Trump not to fire Attorney General Jeff Sessions before the mid-term elections.  Now that the election is over, however, Mr. Sessions could be fired soon.  That would bring into question who would be in charge of the Mueller investigation since a new (unrecused) attorney general could take over control of the Mueller investigation from Deputy Attorney General Rosenstein.
Mr. Trump could also fire Deputy Attorney General Rosenstein and/or Special Counsel Mueller, also bringing into question the future of the Mueller investigation.
Indeed, Special Counsel Mueller may be planning to announce new indictments or findings very soon in order to beat President Trump to the punch in case Mr. Trump is planning to fire any Justice Department officials with a view towards hobbling the investigation.
The stock market of course doesn't like uncertainty.  That means that any Mueller allegations that potentially implicate President Trump in any impeachable offenses are likely to be greeted bearishly by the stock market.  By contrast, any Mueller actions that do not directly implicate President Trump are likely to have only a muted impact on the stock market.
FOMC expected to leave policy unchanged -- The unanimous consensus is that the FOMC at its 2-day meeting that begins today will leave its monetary policy unchanged since the Fed just raised its funds rate target by +25 bp to 2.00%/2.25% at its last meeting in September.  The Fed today will not release updated forecasts and Fed Chair Powell will not hold a press conference.
Starting with December's FOMC meeting, however, Mr. Powell will start giving a press conference at every FOMC meeting.  That means that every meeting starting in December will be 100% live for a Fed policy change.  The Fed in the past has preferred to make policy changes at one of its every-other meetings that was accompanied by a press conference so that the Fed Chair had an opportunity to explain the move.
While the Fed this week is expected to leave its policy unchanged, the market is discounting a 100% chance of a 25 bp rate hike to 2.25%/2.50% at the next FOMC meeting on Dec 18-19, according to the federal funds futures market.  That would be the fourth and final rate hike of 2018 and would make good on the Fed-dot median forecast for four rate hikes in 2018.
Since a December rate hike is already perceived to be a done deal, the big question for the markets is how much the Fed will raise rates in 2019.  The median Fed-dot forecast is for three 25 bp rate hikes in 2019, which would bring the funds rate target to 3.00%/3.25% by December 2019.  However, the markets are 25 bp less hawkish and are expecting only two rate hikes in 2019, leaving the funds rate at 2.75%/3.00% at the end of 2019.
The markets then expect the Fed to halt its rate-hike regime in 2019 with the funds rate target at the terminal level of 2.75%/3.00%.  The Fed, by contrast, expects to raise its funds rate target by another +25 bp in 2020, leaving the funds rate at 3.25%/3.50% by the end of 2020, which would be a full 50 bp higher than the market's expected terminal level of 2.75%/3.00%.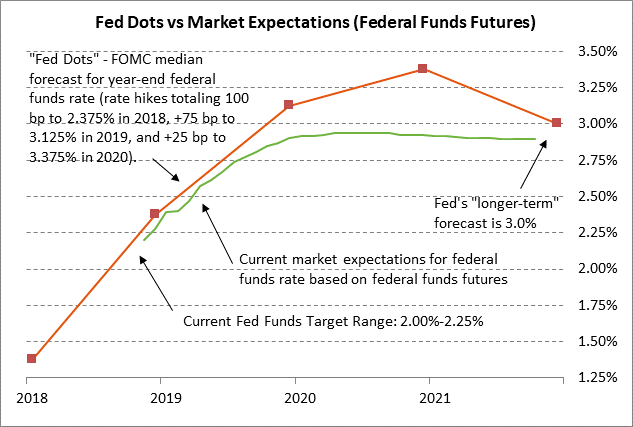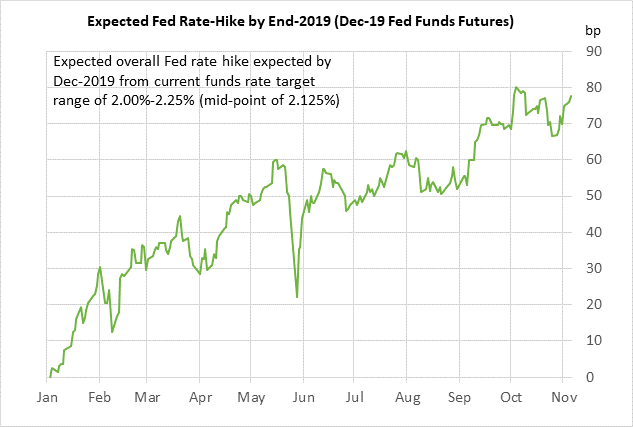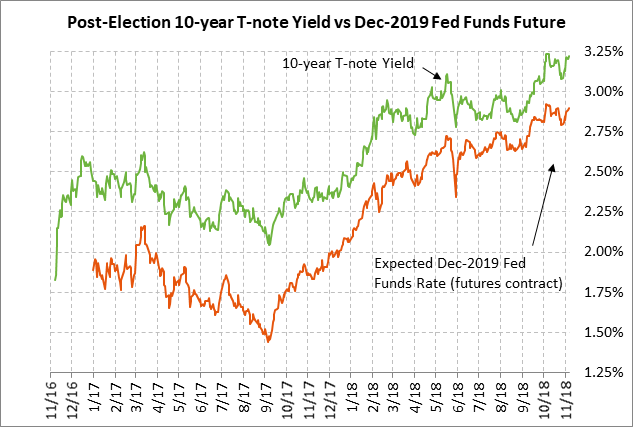 Treasury auctions 30-year bonds with yield just below last Friday's 4-1/4 year high -- The Treasury today will sell $19 billion of 30-year T-bonds, concluding this week's $83 billion quarterly refunding operation.  The benchmark 30-year T-bond yield yesterday closed slightly higher by +1 bp at 3.44%, which was only 2 bp below last Friday's 4-1/4 year high of 3.46%.  The current 30-year bond yield of 3.44% translates to an inflation-adjusted yield of 1.33% against the current 30-year breakeven inflation expectations rate of 2.11%.
The 12-auction averages for the 30-year are:  2.39 bid cover ratio, $6 mln in non-competitive bids, 4.2 bp tail to the median yield, 38.2 bp tail to the low yield, and 38% taken at the high yield.  The 30-year is slightly below average in popularity among foreign investors and central banks.  Indirect bidders, a proxy for foreign buyers, have taken an average of 62.5% of the last twelve 30-year T-bond auctions, which is mildly below the median of 63.2% for all recent Treasury coupon auctions.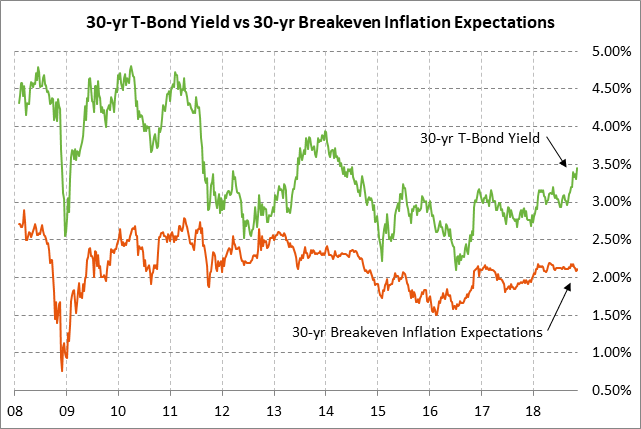 EIA report -- The market consensus is for today's weekly EIA report to show a +2 mln bbl rise in U.S. crude oil inventories, a -1.8 mln bbl decline in gasoline inventories, and a -2 mln bbl drop in distillate inventories.  U.S. oil production in last week's EIA report rose by +2.8% w/w to match the early-Oct record high of 11.2 million bpd.