Weekly global market focus
OPEC makes no new move to boost production
FOMC unanimously expected to raise rates this week
2-year T-note yield at 10-year high ahead of today's auction
Weekly global market focus -- The U.S. markets this week will focus on (1) US/Chinese trade tensions after China on Saturday canceled this week's tentative US/Chinese mid-level trade talks and as President Trump at any time could make good on his threat to officially announce tariffs on another $267 billion of Chinese goods, (2) whether the U.S. and Canada can reach a NAFTA agreement before Sunday's (Sep 30) deadline, (3) the Tue/Wed FOMC meeting which is unanimously expected to produce a rate hike and where the markets will mainly be watching for the extent to the Fed signals the likelihood of its fourth rate hike of the year in December, (4) oil prices as the OPEC Joint Monitoring Committee at its meeting this past weekend in Algiers took no new action to boost output to address high oil prices, (5) Washington politics with the supplemental Kavanaugh hearing on Thursday and with any fresh developments on the Russian investigation, (6) expectations that Congress this week will be able to wrap up spending bills to prevent a government shutdown this Sunday (Sep 30), (7) the Treasury's sale of T-notes on Monday, Tuesday and Thursday, and (8) another light earnings week with only eight of the S&P 500 companies scheduled to report.
The oil markets will be watching to see whether President Trump meets with Iranian President Rouhani when they are both in New York this week to attend UN General Assembly meetings, which could raise some outside hopes for a US-Iranian rapprochement that could lead to the eventual end of U.S. sanctions.  Secretary of State Pompeo over the weekend said that Mr. Trump was willing to meet but that the initiative would have to come from Mr. Rouhani.  President Trump has multiple bilateral meetings scheduled this week in New York with various world leaders including Japanese Prime Minister Abe.
In Europe, the markets will be watching Brexit developments after Prime Minister May's Brexit plan was shot down by the EU last week and as unconfirmed weekend reports emerged that Ms. May's aides are discussing the possible need for a snap election in November.  Ms. May has an uphill battle to build support for her Brexit plans at the Conservative Party's annual conference that begins this coming Sunday.
The markets will be pleased today that German Chancellor Merkel over the weekend was able to smooth over a tiff in her government about the fate of former domestic intelligence chief Maassen.  The coalition parties agreed to move Mr. Masssen to a new job at the same pay.  The controversy over Ms. Merkel's intent to fire Mr. Maassen had an outside chance of leading to a rupture of the coalition government and early elections.
Italy's populist government is facing crunch time as it must produce a 2019 budget by Thursday's deadline that satisfies the disparate campaign promises of the League and Five Star parties while remaining within EU fiscal guidelines on annual budget deficits and total national debt containment.  A budget outline is due by Thursday with details to follow in early October and parliamentary passage by year-end.
In Asia, the markets will continue to closely watch trade tensions and whether the Asian stock markets can extend last week's upside recoveries.  Japan's Nikkei index in the past two weeks has soared by +6.9% to a new 8-month high in part due to relief that Prime Minister Abe last Thursday won another term as LDP leader and that Abenomics will continue.  China's Shanghai Composite last week recovered from Tuesday's 2-1/2 year low and closed the week up +2.50% on short-covering and hopes for various government stimulus measures to offset the new round of U.S. tariffs that go into effect today.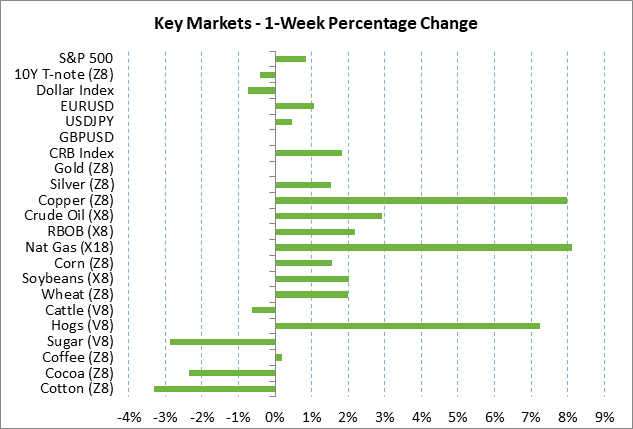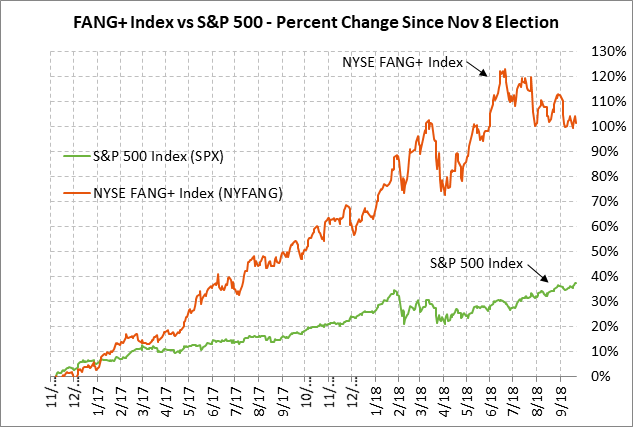 OPEC makes no new move to boost production -- The OPEC+ Joint Ministerial Monitoring Committee at its meeting this past weekend in Algiers made no new move to boost production and thus rejected President Trump's call last week for higher production to cap oil prices.  The Committee simply committed to the current plan of boosting production by another 500,000 bpd to meet the original production cut agreement target.  However, Saudi Arabia made no commitment to further boost production as Saudi Arabia's oil minister said that the country is already meeting demand with its current production level and that OPEC may face an oversupply situation in 2019 due to increased non-OPEC production.
FOMC unanimously expected to raise rates this week -- The market is discounting a 100% chance that the FOMC at its Tue/Wed meeting will raise its funds rate target by another +25 bp to 2.00/2.25%, according to the federal funds futures market.  The main question this week will be any change in the odds for the Fed's fourth rate hike at its December meeting based on the new set of Fed-dot projections and Fed Chair Powell's post-meeting press conference.  The market is currently discounting the odds at over 90% for December's fourth rate hike of the year.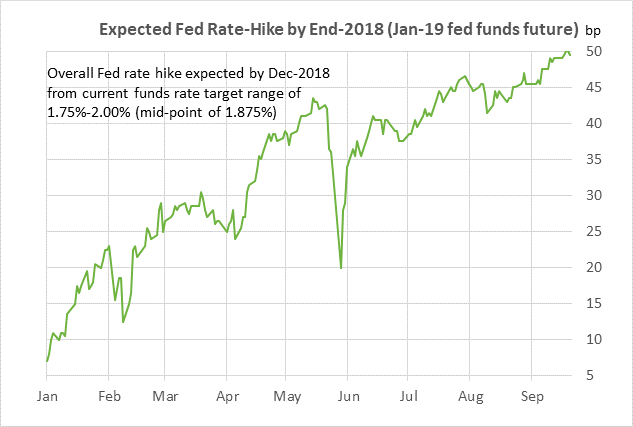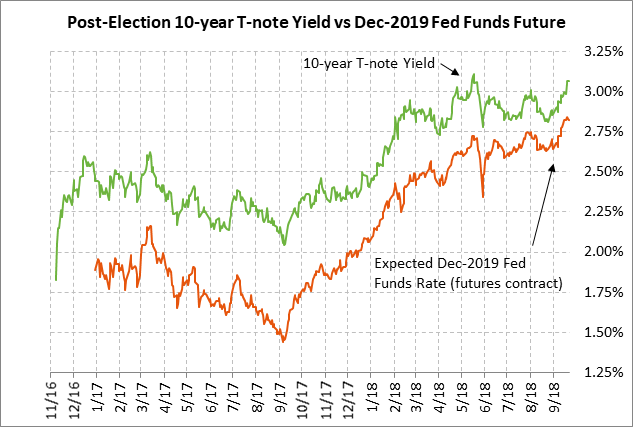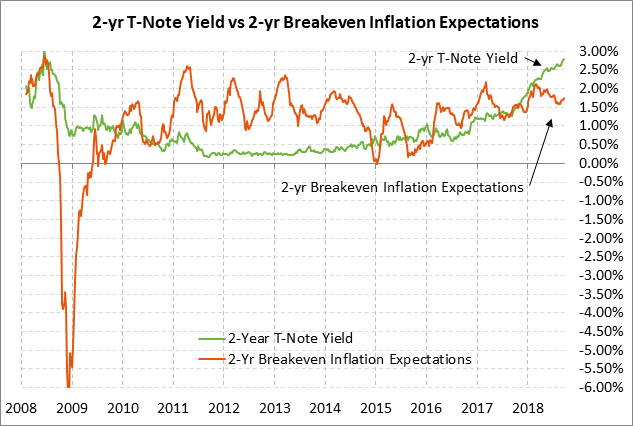 2-year T-note yield at 10-year high ahead of today's auction -- The Treasury today will sell $37 billion of 2-year T-notes, which is $1 billion larger than August's auction and $11 billion larger than the $26 billion size that prevailed during 2015/17.  Today's 2-year T-note issue was trading at 2.82% in when-issued trading late last Friday afternoon, which is a 10-year high.  The 12-auction averages for the 2-year are:  2.81 bid cover ratio, $287 million in non-competitive bids to mostly retail investors, 3.4 bp tail to the median yield, 26.9 bp tail to the low yield, and 68% taken at the high yield.   The 2-year is the least popular security among foreign investors and central banks with indirect bidders taking an average of only 44.6% of the last twelve 2-year auctions, far below the median of 63.5% for all recent Treasury coupon auctions.
Attachment file(s):