Dollar rallies to 1-1/2 year high as fundamentals continue to favor the dollar
Trump team will review draft auto tariff report today
Stone associate says he expects to be indicted by Mueller within the "next couple of days"
Dollar rallies to 1-1/2 year high as fundamentals continue to favor the dollar -- The dollar index on Monday extended last week's rally to decisively post a new 1-1/2 year high and close the day +0.66% higher.  Meanwhile, EURUSD fell to a new 1-1/2 year low and closed the day sharply lower by -1.04%.  USDJPY consolidated below the late-Oct 9-month high with the yen finding support on some safe-haven demand with Monday's sharp sell-off in stocks.
The dollar index on Monday rallied to a new 1-1/2 year high as the dollar continues to benefit from very favorable interest rate differentials and strong comparative economic growth.  On the economic front, the U.S. economy in Q3 showed strong GDP growth of +3.5% in Q3, while GDP growth lagged in the Eurozone and Japan.  The Eurozone Q3 GDP showed weaker-than-expected growth of only +0.8% (q/q annualized) as Italy's economy ground to a halt and as Germany's economy was disrupted by the auto sector and weak exports.  Meanwhile, tonight's Japan Q3 GDP report is expected to show a -1.0% decline (q/q annualized) due to natural disasters and weaker exports to China.
On the interest rate front, the dollar continues to enjoy a strong advantage.  The Fed is in the midst of a multi-year rate-hike regime and a reduction of its balance sheet.  At the same time, the ECB has another 6 weeks to go on its QE program and the ECB has said it will then hold its balance sheet constant indefinitely by rolling over maturing securities.  The market is not expecting the ECB's first rate hike until the second half of 2019.
Meanwhile, there is no sign that the BOJ plans to cut back on its extraordinarily easy monetary policy involving its massive QE program and its 10-year JGB target of zero.  The BOJ is not likely to take any decisive tightening measures for at least another year until it sees whether there is a recession in response to the hike in October 2019 of the national sales tax to 10% from 8%.
The Fed, by contrast, is so far intent on raising interest rates until the funds rate is above its estimated neutral rate of 3.00%.  The Fed has kept up its hawkish tone despite the recent trade tensions, slower Chinese economic growth, and the U.S. stock market correction.  The market is discounting a 100% chance of another +25 bp rate hike to 2.25%/2.50% at the next FOMC meeting on Dec 18-19.  The market is then expecting two more rate hikes in 2019, while the median Fed-dots forecast is for three rate hikes in 2019 and another rate hike in 2020, bringing the funds rate to 3.25%/3.50% by late 2020.
The dollar also saw strength on Monday on European political woes involving Brexit and Italy's budget.  Prime Minister May is expected to have a very difficult time getting the UK Parliament to approve her emerging Brexit deal with the EU, which could be released as soon as today.  The UK must accept an exit deal within the next day or two if there is to be a special EU summit in November to ratify the deal.  If there is no exit deal this week, then EU approval would slip to December or possibly even January, getting perilously closer to the March 2019 exit date.
Meanwhile, Italy's populist leaders appear intent on rejecting any compromise with the EU on reducing its proposed 2019 budget deficit of 2.4% of GDP.  Today is the deadline for Italy to submit a revised budget and League leader Salvini on Monday said that "The budget doesn't change because the EU sends us letters."  If Italy doesn't cut its budget, then the EU is likely to begin a disciplinary process that could eventually result in Italy paying a fine of 0.2% or GDP or more.
The Italian bond market does not appear to be panicked by the likelihood that Italy will refuse to cut its budget deficit or that the EU will begin disciplinary procedures.  The Italian 10-year government bond yield on Monday rose by +3 bp to 3.44%, but is still 25 bp below the mid-Oct 4-3/4 year high of 3.69%.  The Italian-German 10-year bond yield spread on Monday rose by +4 bp to 304 but is still 23 bp below the mid-Oct 5-1/2 year high of 327 bp.  The iShares Italy stock ETF on Monday closed sharply lower by -2.00%.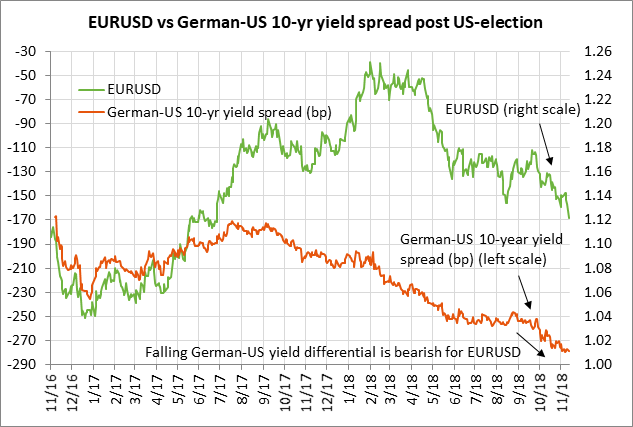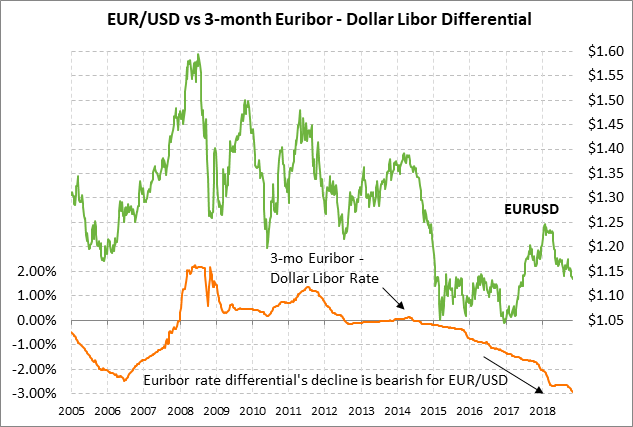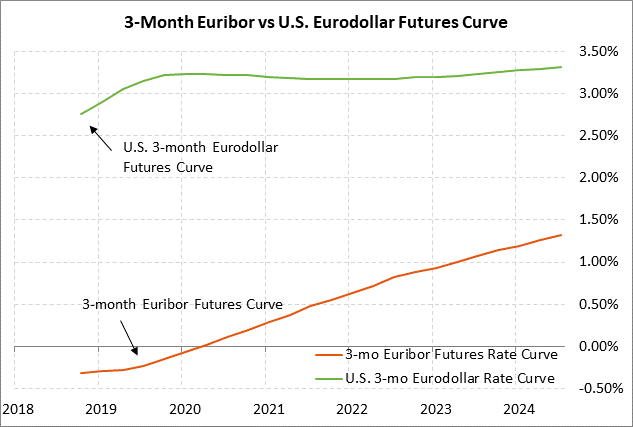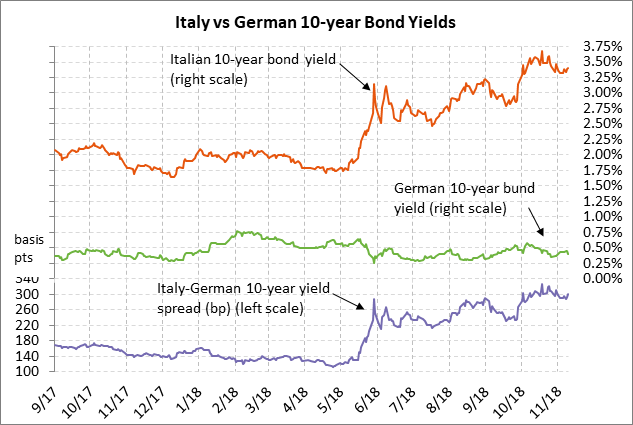 Trump team will review draft auto tariff report today -- Bloomberg on Monday reported that President Trump today will meet with his team to discuss a draft report by the Commerce Department on whether the administration should levy tariffs on U.S. auto imports.  President Trump has threatened to slap a 25% tariff on U.S. auto imports, which would be highly disruptive to the global auto industry and hurt economic growth in countries hit by the tariffs.  The Commerce Department has a deadline of February for its report, but Mr. Trump could nevertheless announce auto import tariffs any time.  European Commission trade chief Cecilia Malmstrom will be in Washington later this week to meet with USTR Lighthizer as a prelude to formal US/EU trade negotiations that are due to begin in mid-January.
Stone associate says he expects to be indicted by Mueller within the "next couple of days" -- Jerome Corsi, an associate of former Trump aide Roger Stone, said on a YouTube livestream on Monday that he expects to be indicted by Special Counsel Mueller within "the next couple of days" for giving false information to federal investigators.  Roger Stone some time ago said that he also expects to eventually be indicted.  
It remains to be seen whether the Mueller team might announce any new indictments on a person-by-person basis, or whether the Special Counsel might announce a blockbuster indictment involving a group of persons.  With the negative investor sentiment seen on Monday, the stock market could take a hit on any significant new Mueller indictments.
R.J. O'Brien & Associates, LLC Disclaimer: This material has been prepared by a sales or trading employee or agent of R.J. O'Brien and is, or is in the nature of, a solicitation. This material is not a research report prepared by R.J. O'Brien's Research Department. By accepting this communication, you agree that you are an experienced user of the futures markets, capable of making independent trading decisions, and agree that you are not, and will not, rely solely on this communication in making trading decisions. DISTRIBUTION IN SOME JURISDICTIONS MAY BE PROHIBITED OR RESTRICTED BY LAW. PERSONS IN POSSESSION OF THIS COMMUNICATION INDIRECTLY SHOULD INFORM THEMSELVES ABOUT AND OBSERVE ANY SUCH PROHIBITION OR RESTRICTIONS. TO THE EXTENT THAT YOU HAVE RECEIVED THIS COMMUNICATION INDIRECTLY AND SOLICITATIONS ARE PROHIBITED IN YOUR JURISDICTION WITHOUT REGISTRATION, THE MARKET COMMENTARY IN THIS COMMUNICATION SHOULD NOT BE CONSIDERED A SOLICITATION. The risk of loss in trading futures and/or options is substantial and each investor and/or trader must consider whether this is a suitable investment. Past performance, whether actual or indicated by simulated historical tests of strategies, is not indicative of future results. Trading advice is based on information taken from trades and statistical services and other sources that R.J. O'Brien believes are reliable. We do not guarantee that such information is accurate or complete and it should not be relied upon as such. Trading advice reflects our good faith judgment at a specific time and is subject to change without notice. There is no guarantee that the advice we give will result in profitable trades.